Last Updated on January 16, 2019 by
In this Natural Remedies article, we're taking a look at a healing plant, and diving into aloe vera for hair loss treatments. Many gels, lotions, and shampoos contain aloe, which is extracted from a succulent plant species named Aloe Vera. This plant has been used in herbal medicine for centuries. It is still very popular, known for its widespread use in the modern alternative medicine.
Many people claim Aloe Vera is able to aid or cure a multitude of ailments. Some of this may just be marketing hype. Some of it may very well be the true. We think it is probably a mix of both.
What's Here?
There is no denying Aloe Vera is a unique plant with a natural composition that contains many healing properties. Some of these properties are meaningful to sufferers of hair loss. Aloe Vera for hair loss is a relevant part of a holistic approach to treatment. It is an excellent way to maintain a healthy scalp environment. This is conducive to preventing hair from further shedding.
Up first on our informational page, we've got an easy to read comparison chart of our favorite Aloe Vera products for hair. Then we dive in a little more to each recommended products in our aloe for hair loss review section.
If you want to know more about Aloe and how to use it for hair, keep scrolling to our informational sections further on. Happy reading!
Top 10 Aloe Hair & Scalp Products Comparison Chart
Here is our comparison table of the best Aloe Vera hair products. In our review section further down the page, we take a closer look at all of the options in our chart. They are listed in order of ascending price per ounce.
[table "11nbspresponsivecollapse" not found /]
Top 10 Aloe Hair & Scalp Products Review Section
Here are the top 10 products that can be easily applied topically for a healthy scalp and hair. The great thing about Aloe Vera is that it is a multi-purpose herbal treatment that can be used for healing injuries such as sun burns, insect bites, as a face wash, shaving cream, make-up remover, hand sanitizer, and a variety of other uses. You'll see Gels and Oils, and even a few hair treatments that contain Aloe Vera as one of the top active ingredients.
Fragrance free with no added colors, this is a perfect gel option for scalp moisture at an extremely low cost.
Approximate Cost per oz: $0.44
Aloe Content: 95%
Other Ingredients: Triethanolamine, Carbomer, Tetrasodium EDTA, DMDM Hydantoin, Diazolidinyl Urea.
Lily of the Dessert is a smooth and gentle aloe vera gel that will help add moisture to your skin and encourage hair growth. Keep in mind that the gels can cause stickiness, so if you have longer hair, you might consider a water based product, shampoo, or apply the gel at night, and wear some sort of hair covering to bed.
Approximate Cost per oz: $0.64
Aloe Content: 99%
Other Ingredients: Vitamin A, Vitamin C, Cholecalciferol, Vitamin D, Carbomer, Disodium EDTA, Caprylyl Glycol, Phenoxyethanol, Sorbic Acid.
Do not ingest.
This Skin and Body spray gives you a different option of aloe for your hair. This is made with primarily water base, which helps your scalp and hair to absorb the aloe at a faster rate than gels. It's also almost 100% Aloe Vera, containing only three other ingredients at extremely minimal levels to help with stabilization and preservation.
Approximate Cost per oz: $1.18
Aloe Content: 99.75%
Other Ingredients: Citric Acid, Asorbic Acid, and Vitamin C
Dr. Adorable is one of the few companies that produce pure Aloe Vera oil for a reasonable price. Not only will this feel great massaged into your scalp, it is also serves as a great skin moisturizer. When massaged into the hair, Aloe Vera also serves as a deep conditioner. It can be used to nullify chapped lips, sun burns, itchey or inflammed skin, and of course treat scalp conditions.
Approximate Cost per oz: $0.97
Aloe Content: 100%
Other Ingredients: None.

Aubrey Organics is a brand that makes a few more of our natural product lists on Hold the Hairline. Their reputation for creating strong and effective products without harmful chemicals can be greatly trusted. They suggest keeping one on hand for use on the go, and one in your fridge for a scalp cool-down.
Approximate Cost per oz: $2.09
Aloe Content: 98%
Other ingredients: Grapefruit Extract, Cyamopsis Tetragonoloba.
So if you're looking to take shortcuts you may as well go the shampoo route. It may not be as effective as creating a hair mask with aloe vera but you'll still get some benefit. Buying this shampoo allows you to take care of this aloe vera treatment business in the shower.
Apex Crown is a shampoo designed for those suffering from genetic hair loss. Aloe vera is one of the main ingredients in their shampoo. It also has some other helpful ingredients such as ketoconazole, saw palmetto, biotin, and caffeine.
Approximate Cost per oz: $1.18
Aloe Content: 2nd Listed Ingredient
Other Ingredients: Ketoconazole (0.1%), Biotin, Seed Butter, Saw Palmetto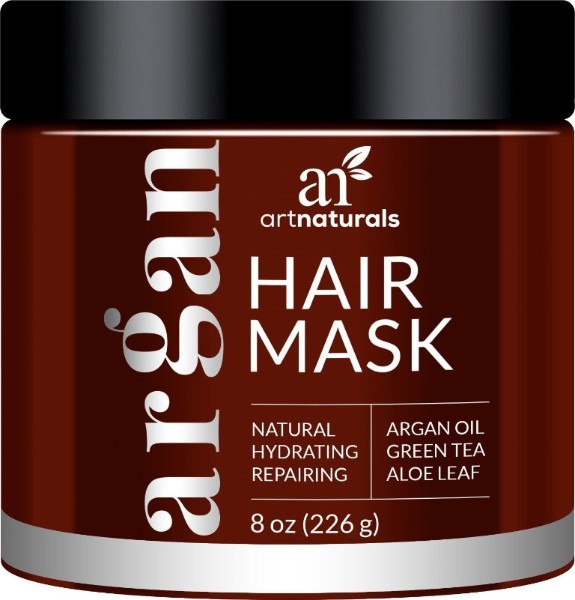 Another option besides a gel or shampoo is a hair mask, which can help add etra hydration to your scalp and hair for strength and health. After shampooing your hair, apply the mask and leave it on for up to 5 minutes before rinsing. You'll want to do this a few times a week. The main ingredient in this mask is argan oil, but it also lists Aloe Leaf, which of course is why it made our list.
Approximate Cost per oz: $1.61
Aloe Content: Lower Listed Ingedient
Other Ingredients: Green Tea, Sage, Argan Oil
This is the second product from Seven Minerals to make our list, this one boasts of the ability to help ease pain also. When sprayed onto your scalp, not only can it help simulate hair growth and promote healthy strands, but it can also easy dryness and pain.
Approximate Cost per oz: $1.66
Aloe Content: 3rd Listed Ingredient
Other Ingredients: Magnesium Oil, Purified Water
Black castor oil is formulated for naturally curly hair to help with frizz control. It's especially made for women of color, and can help to keep hair moisturized without weighing it down. The Aloe Vera in this oil can help with hair loss and increase hair growth.
Approximate Cost per oz: $0.99
Aloe Content: 2nd Ingredient
Other Ingredients: Jamaican Black Castor Oil, Vitamin E
Here we have a duo that contains Aloe Vera that helps to make sure that you're getting nourishment in both parts of your washing routine. It is a concentrated mix, so you can use it daily. With the other ingredients packed into this, it'll help your hair become thick and full.
Approximate Cost per oz: $2.07
Aloe Content: 1st Ingredient
Other Ingredients: Coconut Extract, Vitamin B5, Orange Peel
---
Aloe Vera for Hair Loss Treatment
As you probably know, there is a great deal of misinformation on the internet. For natural remedies, this seems to be particularly true. Herbal remedies and their effectiveness in treating hair loss is one such topic. An important distinction to be aware of when researching hair loss solutions is that hair loss is a blanket term. It is used to describe all manner of conditions that cause hair follicles to fall out.
Male pattern baldness or female pattern baldness, are specific conditions which are purely caused by an individual's genetics. Many herbal manufacturers will claim their herbal supplements work as a treatment for hair loss. This may very well be true. But what type of hair loss they are talking about?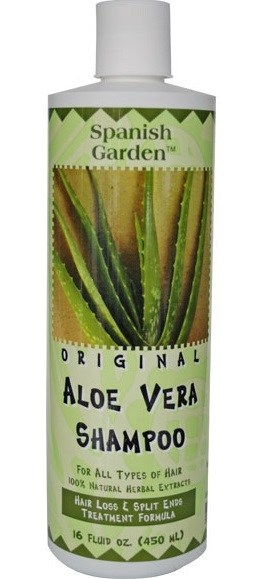 Aloe Vera, for example, is excellent in treating temporary hair loss caused by certain scalp conditions. Another example is a Vitamin B deficiency, which is another kind of hair loss that can be cured with the right supplement.
Candidly speaking, very little amount of scientific research has been collected on the effectiveness of Aloe Vera extracts in medicinal applications. If you are researching methods of curing genetic balding, it is critical to understand that herbal treatments don't have many clinical studies to read through. Since there is a lack of supporting evidence that such herbal treatments do indeed prevent hair loss caused by genetics, personal experimentation is required.

Nonetheless, there are those individuals out there who claim they have had significant results using Aloe Vera. Some say they stopped hair loss from progressing and even regrown hair. While we remain pretty skeptical when it comes to these sorts of claims, we do acknowledge that Aloe Vera is wonderful for the skin. It is also effective in relieving scalp conditions (some of which contribute to hair loss).
Aloe Vera has many healing properties. It has been used for centuries to cure a number of ailments. The bottom line is if you are searching for a natural remedy to hair loss, it is certainly couldn't hurt to throw Aloe Vera into the mix. Wait and observe if you notice results after an extended period. 6 months or longer is ideal. At the very least you'll have very healthy looking hair.
Aloe Vera for Hair Growth

If you're mainly interested in Aloe for hair growth, it can make sense it use it to make a deep conditioning hair mask. Its ability to enhance hair growth has become a popular use. You'll be surprised to find Aloe in many beauty products such as shampoos, conditioners, creams, and other such items. There is a reason it is one of the key ingredients.
It contains over 20 minerals and many vitamins like B vitamins, A, C, and E. All of these combine for a potent hair stimulus. How does Aloe promote hair growth? It increases blood circulation to the scalp, providing hair follicles with the nutrients they need to grow strong, thick hair.
It also balances the pH level of the scalp, so isn't to acidic for hair growth and is just the right environment. Furthermore, it also aids against hair loss, is a great moisturizer for the scalp, reduces sebum, eliminates dandruff, and acts as a deep conditioner for the hair. All those factors contribute to why Aloe Vera for hair growth is so effective. A clean scalp and blood circulation to the scalp is robust, nothing can prevent strong, faster hair growth.
What Can Aloe Vera do for Hair Loss?
Aloe Vera can aid users in maintaining a healthy scalp environment which is a foundational part of a smart approach to hair loss prevention. Shampoos containing Ketoconazole, an ingredient proven in clinical studies to reduce scalp DHT, are harsh on the scalp. It is essentially like dropping a nuke on your scalp and will result in an irritated, itchy, and red scalp if used consecutive days or if your scalp is sensitive.
This can ultimately lead to dandruff where it is thought that scalp DHT can build up in high concentrations leading to accelerated shedding. Aloe is perfect for countering this irritant and keeping the scalp healthy and happy.
Reasons to Try Aloe Vera for Hair Loss
Eliminate seborrhea and dandruff
Stimulates hair growth cycle
Unclogs hair pores
Keeps scalp and hair moisturized
Balances pH levels
Improve appearance of hair
Aloe Vera acts as both a natural conditioner and natural moisturizer. Many hair loss shampoos contain Aloe Vera in their ingredients for its moisturizing properties. Some information indicates that the neyzome aloe vera contains helps promote new hair growth in some people, but we caution you not to put too much faith in this information.
What's in Aloe Vera?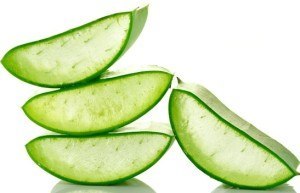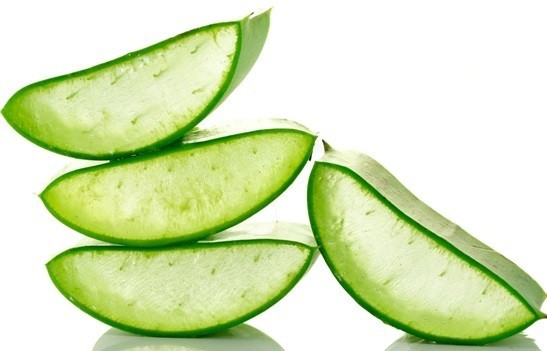 Aloe's composition contains choline, mucopolysaccharides, and choline salicylate. Choline is a nutrient known for its moisturizing benefits and also acts a protective shield preventing further irritation. Mucopolysaccharides is shown to help heal certain wounds, has moisturizing properties, and some studies have indicated it improves circulation. Choline salicylate is the primary active component in Aloe Vera. It is an anti-inflammatory substance that reduces irritation and swelling. These three components when left on the scalp for a period of time help restore the scalp to a healthy condition which is necessary for healthy hair growth.
For temporary forms of hair loss, such as from poor nutrition, hormonal imbalances, scalp conditions, stress, and medication, a natural remedy like Aloe Vera may be effective. If your hair loss is caused, or partly caused by a scalp condition, Aloe Vera will likely help you. Generally your scalp can either be too dry or two oily. Aloe Vera will help return the scalp to a healthy condition, allowing hair follicles return to normal production.
What Can't Aloe Vera do for Hair Loss?
As a standalone treatment it is unlikely that Aloe Vera will be a one stop solution for genetic pattern baldness. It is highly unlikely that rubbing Aloe Vera on a bald spot on the scalp will stimulate dead hair follicles to begin new hair production. Unless Aloe Vera is part of a hair loss regime, it is also unlikely that it will return thinning hairs to their previous state. The exception to this is if a scalp condition such as seborrheic dermatitis is a primary cause of your hair loss.
Scalp Conditions Treated by Aloe
Aloe Vera applied topically will help combat two scalp conditions that are often experienced by hair loss sufferers. Both of these conditions can clog the pores and irritate hair follicles, which slow down hair growth or cause hairs to grow back weaker.
Dermatitis
Seborrheic dermatitis is specifically known to be a cause of hair loss. Seborrheic dermatitis is a scalp condition may be mistaken for dandruff, but it is on the opposite end of the spectrum. It occurs when the scalp is too oily rather than too dry. It is caused by an overproduction of sebum, a natural oil produced by the body to keep the scalp moisturized.
Regular amounts of sebum are okay, but too much can be damaging to the scalp and hair follicles. Irritation is markedly greater with seborrheic dermatitis and sufferers will notice big patches of white and yellow scaly build-up.
Dandruff
Dandruff is a common scalp condition experienced by both men and women. It occurs when dead skin cells flake off the scalp at a much higher rate than normal. This condition is usually associated with itchiness and dryness. When dandruff is more severe, sometimes large amounts of dead skin build up on the scalp and can create patches of dead skin. Many shampoos have been manufactured to aid dandruff sufferers and eliminate those nasty flakes.
These flakes become quite problematic for folks scratching their heads and like to wear darker colored clothing… who may need to consider a portable mini-vacuum for their shoulders. The problem with some of these shampoos is that they contain harsh chemicals which can do more damage than good.
The nice thing about Aloe Vera is that it helps treat dandruff and is kind to the scalp in the process, safe even for those with extra-sensitive skin.
How to Treat the Scalp with Aloe Vera
While shampoos and conditioners may seem like the best route, most studies suggest that aloe gel alone should be applied directly to the scalp and left on for an extended period of time. This can be difficult to achieve with shampoo or condition unless you enjoy sitting in your shower for 30+ minutes.
The best way to use Aloe Vera is the leave it on for an extended period of time to ensure the aloe sinks into your scalp and your hair reaps the benefits. A general rule of thumb is to leave it in your hair until it entirely dries, then washing it. Leaving it on overnight is also a thorough way of treating the scalp with aloe.
This being said, although there are many aloe products available on the market, those that are most effective in treating hair loss are aloe oils and gels. Aloe oil can be applied to the scalp much like a conditioner.
Using Aloe Vera Oil
Massage the oil into your scalp typically after a shower. You will want your hair to be at least a little wet before massaging the oil in (unless you are rocking a shaved head or very short hair).
Treating the hair with Aloe Vera is much like using a leave-in, deep conditioner for the hair. The only difference, is instead of just working it through your hair you'll also want to massage it into the scalp. Then you will reap all of its healing benefits. The hair will become hydrated, and appear more silky. The scalp will be cleansed and irritation will be resolved.
Aloe Vera for Hair Loss Treatment Steps
Purchase an aloe oil or gel that contains at least 95% aloe content.
After washing your hair, massage the aloe vera substance into your hair thoroughly, making sure your hair is fully saturated from the roots to tips. You can use a thick toothed brush to work it into the hair and scalp.
Apply heat using a shower cap and hair dryer for about 5 minutes. Alternatively you can simply let the aloe sit in your hair until it dries, or even overnight.
Rinse out the aloe. After the treatment is complete, rinse out your hair thoroughly.