Last Updated on August 11, 2020 by Hold the Hairline Team
What if there was a way to dramatically improve the appearance of your hair without paying thousands of dollars and undergoing surgery for a hair transplant? If that got your attention, you're in the right place. While it wasn't always the case, hair concealers actually work nowadays. Some of the best hair loss concealer products even deliver great results and are easy to apply.
See the before and after pictures below for an idea of the kind of results you can expect.
Scientific studies have brought a variety of hair loss treatments to the table but taking pills or applying minoxidil is a pain. Certainly, hair transplants are still the most hands-off solution but not everyone can afford them.
There has been a high demand for less expensive options. Believe it or not, some of the best hair loss concealers give similar-looking results.
Hair loss concealers aren't a perfect solution. You've still got to apply it every morning (or have someone help you).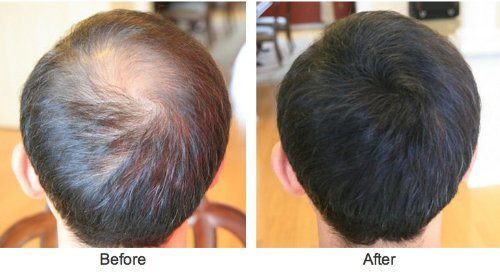 That being said, hair loss concealers are a smart way to buy yourself a few more years of great, full looking hair. Furthermore, due to the competition in this product category, prices are better than ever.
This makes long term refills and application even more affordable.
Note that the products discussed here are independently chosen by our editors. At no extra cost to you, Hold the Hairline may get a share of the revenue if you buy anything featured on our site.
Comparison Table: 10 Top Rated Hair Loss Concealers
Here is our comparison table of the best hair loss concealers. In our closer look section further down the page, we take a closer look at these 10 popular options.
We're keeping this page up to date to reflect current prices, quality, and popularity.
A Closer Look: 10 Best Hair Loss Concealers
This section goes more in-depth about the products in the comparison table. We have listed them below from lowest to highest priced.
It's always wise to use quality hair loss concealer. Not only are quality hair loss concealers the safest option but also have the best results. These products have passed safety tests. They will not affect the tissues of your scalp or the health of your existing hair.
Use a hair loss concealer with keratin-based fibers. These fibers combine with hair using static electricity. This gives you the most natural look.
Keep in mind that the choice of the best hair building fibers for you is a process of trial and error. It's also important to match the color of the concealer with the color of your hair to prevent major goof-ups. The tiger hair look is never the way to go.
Without further ado, let's get into our picks for the best hair loss concealer products ever.
Finally Hair is like Costco's Kirkland of hair loss concealers. If you want to buy in bulk, you can get hair fibers for less and in any color, you can dream of.
Available in over 20-shades, you have the power to customize your look. Find the right color that best suits your hair. Hair loss concealers are notorious for clumping.
This hair loss product has anti-clump properties to offset the issue.
It does not clump, absorb moisture, or make your hair look flat.
This product offers a completely natural look. You'll be able to maintain volume and style your hair as normal.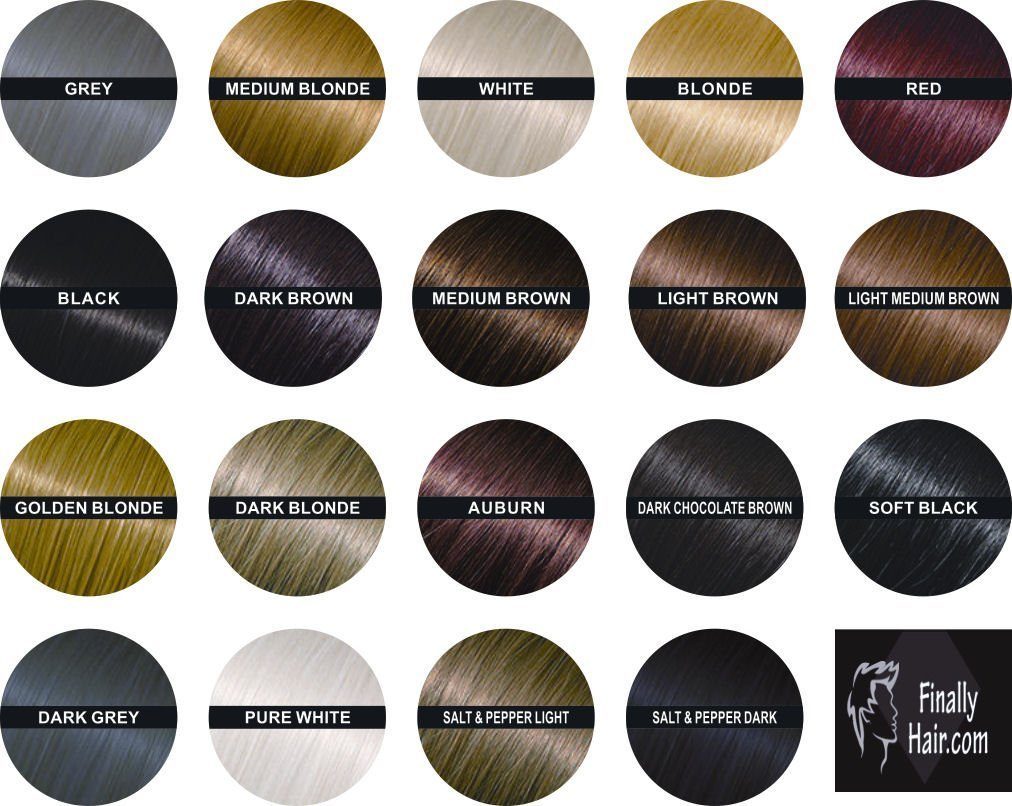 Finally Hair is a hair loss concealer made up of hair building fibers. These fibers cover your thinning hair or bald spots in an instant. The hair fibers use a base of protein-based keratin.
They're designed to match the color of your hair. They also cover any thinning spots or embarrassing baldness with a natural look. The fibers work great for both women and men of all ages.
Finally Hair is 100 percent safe. This drug-free hair loss product offers a cost-effective, prudent alternative. Why take the risk of an expensive hair transplant procedure that may or may not turn out right? Try a more affordable alternative first.
This product has no known side effects. Finally Hair can combat the look of both male and female hair loss. This helps folks suffering from female or male pattern baldness. Finally Hair is an instant solution to balding.
It's advisable to use the product only on dry hair. Pat it well to even out. It's advised to use a hair spray to hold the fibers in place.
Remember to close the lid of the product after use. The fibers dry out fast and you don't want to flush money down the toilet.
Also, watch the weather forecast and carry an umbrella in case of rain. This product can run in wet hair.

Samson makes some great hair fibers for a fair price.
Looking for a refill for your used Toppik bottle? They also sell standalone refills pouches.
If you have been wishing for a natural, voluminous look then buy this product today. The product does not use any type of wool, irritants, or other messy ingredients. It has original hair fibers to provide you with a real look that is undetectable.
This is not a spray bottle. You need to sprinkle the fibers on all the affected spots. Continue doing this until you have full coverage.
You may use a soft brush to aid in evenly spreading the hair fibers. Do not brush it through the scalp.
It's advisable to only apply Samson hair fiber to dry hair. Hold the container like a salt shaker above your head. Start sprinkling the fibers uniformly over the affected areas.
Unsure of how much to pour or how hard to shake the bottle? Practice above a white sink with a few test shakes. This will give you a very good idea of how to use it.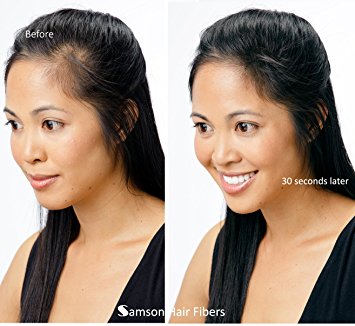 Shake well and sprinkle slowly until you have achieved the desired coverage. Style your hair using a soft brush. Brush gently.
Try not to let the brush touch your bald scalp. This soft brushing motion helps distribute the fibers. It helps the fibers move across the thinning hair spots evenly.

EFFICIENT offers four colors of hair building fibers. Dark brown, light brown, black, and medium brown.
It is one of the less expensive options when it comes to hair loss concealers. Some customer feedback indicates this product doesn't have quite the same quality as a brand like Toppik.
There are some reports of clumping and needing to reapply a second time during the day. Still, if your hair has started thinning and you're looking for a budget-conscious option, EFFICIENT is worth a try.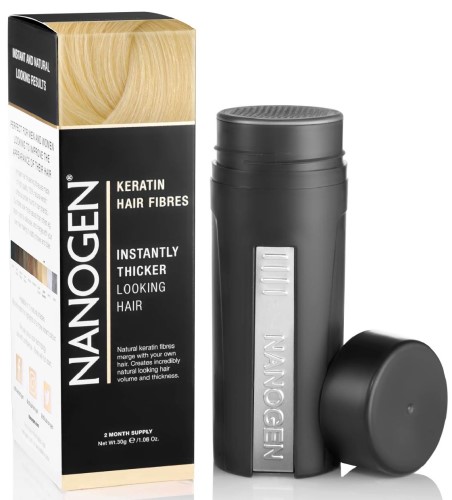 Nanogen hair fibers are 100% natural Keratin to help build volume and thickness to your hair. The fibers are currently available in 10 different hair color shades. They also offer two different sizes.
They are safe for minoxidil users and sensitive skin. They easily made the cut for best baldness concealers. The Nanogen Shampoo pairs with it to remove the Keratin fibers from your hair.
Buy them as a set to achieve that full hair look you've missed.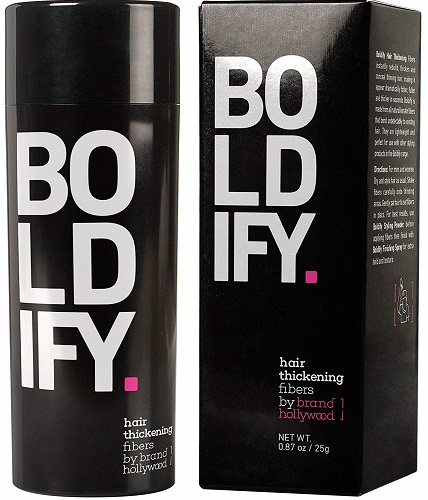 This formula is one of the most popular and well-reviewed hair fiber products on Amazon. As far as hair loss concealer reviews go, this has some of the best word of mouth recommendations out there.
These ultra-lightweight fibers blend effortlessly with your own natural hair. Boldify claims, "NO ONE will ever know you're using them".
Wind, sweat, and rain resistant, Boldify fibers will last until your next shower. Make sure your hair is completely dry and doesn't have any product like wax or gel in it before applying.
Done right, it will have a transformative effect on your appearance.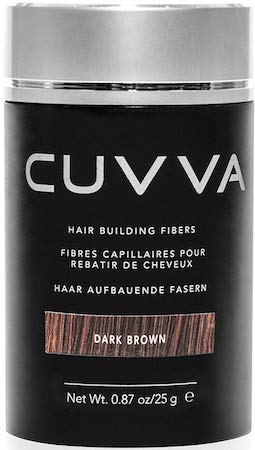 CUVVA is a step up in quality (and price) from the other best hair loss concealers so far in this list.
They offer the usual colors: dark brown, light brown, medium brown, and black. Their formula uses high-quality organic proteins that attach to hair follicles.
Another thing we like about CUVVA is there 100% money-back guarantee. If you're not happy with the results after trying it out for 2-3 days, get your money back.
XFusion is the more affordable sister product to the more well-known TOPPIK. This reputable hair concealer production company goes by the name of Spencer Forrest. XFusion is our pick for the best hair loss concealer spray.
XFusion costs less than Toppik but is an excellent product with the same standard of quality.
XFusion excels when it comes to customer choice. They offer 9 colors and 8 sizes, so you can get exactly what color you need and buy in bulk if you so choose.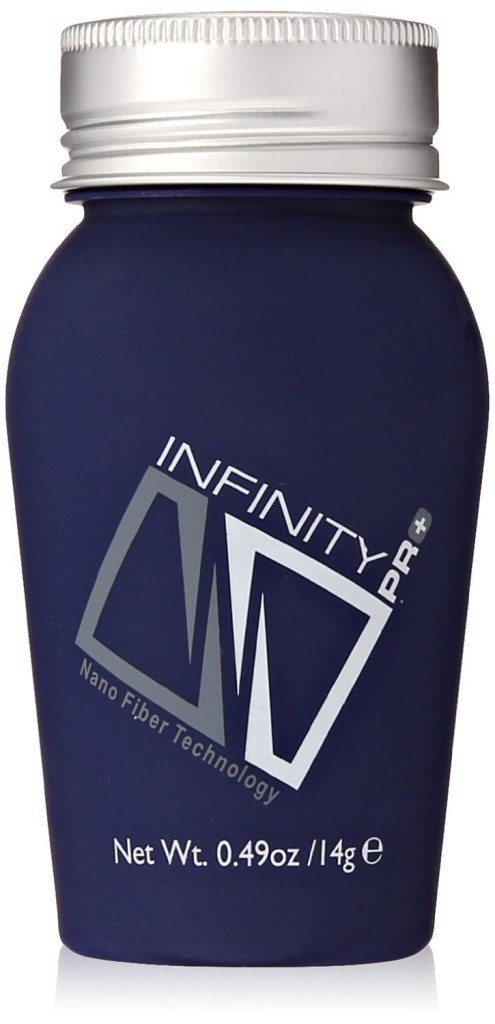 Created by Nano Fiber Technology, Infinity Hair Loss Concealing Fibers has topped the list. They offer 10 different colors of hair fibers.
Once you start using this hair loss concealer product, you'll likely settle with this one. There are few other hair loss concealers that will offer the same results.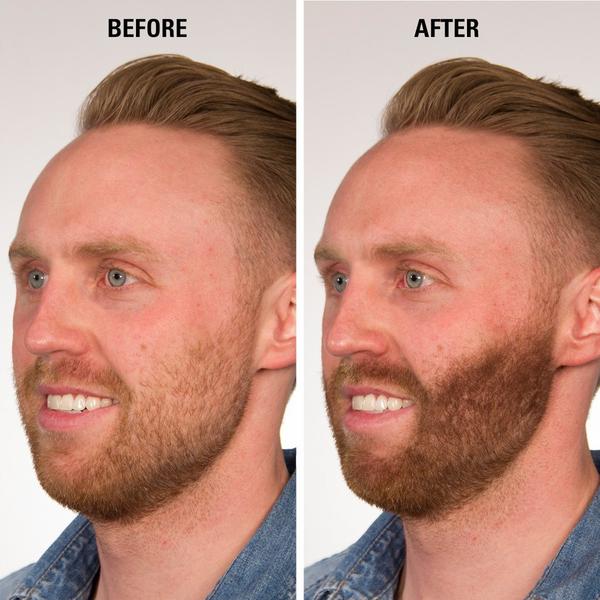 This product builds amazing density into your existing hair. It's effective in offering unnoticeable coverage to your balding spots. All you have to do is shake the bottle well, apply it on the baldness spots, style, and go! This product has plenty of positive hair loss concealer reviews.
Infinity Hair Loss Concealing Fibers comes close to completely eliminating the appearance of thinning hair. It's a great choice for both men and women.
These fibers last! This product is our pick for the best waterproof hair loss concealer. Apply the hair fibers in the morning and they hold up through sweat, wind, and rain. It's completely unnoticeable, even within inches. All you will notice is thicker-looking hair.
The product makes thinning hair look thick and full. Fibers stick to existing hair and fill in balding and thinning spots.
The Infinity Hair Loss Fibers comes in a 28 Gram supply. It will last six to eight weeks or 40-80 applications. This will depend on the amount and severity of the thinning areas.
The advantages of using Infinity's Hair Concealer product includes:
Instant solution to thinning hair
Gives the appearance of thicker, fuller hair in few seconds
Safe and easy to apply
Rain, wind, and sweat resistant
It is at least worth trying out in the bathroom mirror to see the results for yourself.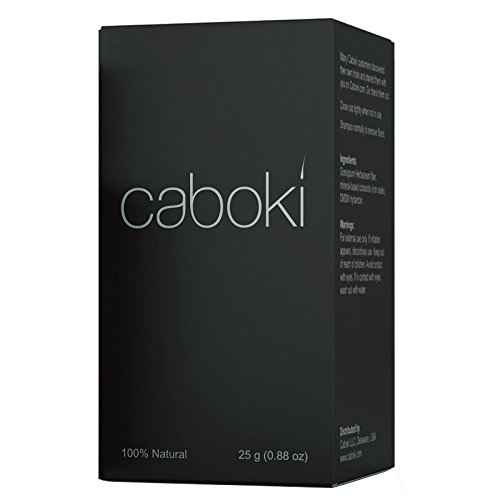 Caboki is a series of charged micro-fibers that bind to the hair shafts. This creates a denser, fuller appearance. According to the manufacturer, these micro-fibers have two different elements. Iron oxide-based natural colorants and Moroccan Gossypium Herbaceum fiber. If you're just starting to get a bald spot on top, this is one of the best bald spot concealers out there.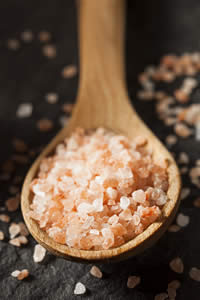 These elements allow the product to create a natural, healthy appearance. They also make it capable of withstanding sweat, rain, and windy
conditions.
According to the manufacturers, this hair loss product differs from others in the following ways:
Caboki particles, different from other micro-fiber concealers, are negatively charged, not positively charged. Negatively charged particles experience a firmer bond with the hair follicle.
Their solid charged bond won't break apart like a positively charged product is prone to.
Caboki's negatively charged fibers are more apt to stay bonded with the hair shaft. This makes clumping a non-issue. This combination also eliminates the dull, or flat appearance associated with other hair loss concealer products.
One downside to this product is it's not approved for 24-hour use. It's advised that you don't keep your hair styled with this product for more than ten hours
This is because the air will not circulate through your hair and may result in damage to your hair.
By only using natural elements, Caboki avoids problematic ingredients. You won't find any harmful fillers, synthetic dyes, or artificial preservatives here. Other hair loss concealer products use these to lower costs.

TOPPIK is the most well-known hair concealer product on the market. The price reflects the notoriety. But, if you're looking for the gold standard, this is it. It is our pick for the best hair concealer for thinning hair.
TOPPIK utilizes a shaker bottle for the application of its fibers. These fibers are Keratin proteins, which always keep a natural static charge.
This helps them form stronger bonds to your thinning hair follicles. This makes your hair appear full and healthy. It's easy to remove with any shampoo.
These fibers are water and wind-resistant. But, if heavy rain is in the forecast we would suggest bringing an umbrella.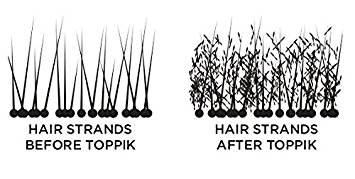 This product is very effective. Sprinkle a bunch of fibers on your remaining hair follicles, it will look like you have a full head of hair. You may even get some compliments in which you can respond, "Just my good genetics I guess."
In all seriousness, this is a good product that will buy you a few more years of good looking hair.
This is also a great product for women. It works as a quick touch up for hair, masking grey roots in-between appointments, and other such uses.
TOPPIK comes in 9 color shades so you can get an exact match and make it look completely natural.
Hair Loss Concealer Guide Part I: What is a Hair Loss Concealer & How To Use
Hair loss concealers have become an alternative or supplement to hair transplants. They are instant, effective, and very affordable. There are many options and color styles available. All work to help cover up those balding spots.
Avoiding surgery is a positive aspect of using a hair loss concealer. The other benefit is the fibers' ability to blend in with existing hair. This prevents drawing unnecessary attention to your solution.
When going out or spending time with friends and family, you don't want to worry about your hair loss.
These hair building fibers offer a more natural solution than a cheap-looking wig. It's also a better option than that unsightly comb-over.
It Is Not Your Fault and Can Happen At Any Age
Millions of people across the world both young and old suffer from hair loss. Hair loss can be embarrassing to anybody. It even affects an individual's self-confidence. There are many different reasons for hair loss and balding. They can include age, styling damage, genetic make-up, lifestyle, and stress. These are only a handful of the many causes. Unfortunately, no one is safe, both men and women can experience hair loss.
Balding and hair loss is a problem that is commonly seen in old age.
For some individuals, unfortunately, hair loss is a problem that has to be dealt with in their early years. It can be much more embarrassing to experience balding at a young age.
No matter what the reasons are, there are several ways you can approach hair loss. Some attempt to maintain or even trigger re-growth of their natural hair with drugs. Alternatively, many individuals opt for cosmetics like thickening shampoos and concealers.
When the root of the cause is genetic, the only way to have the hair grow back on its own is by stimulating the hair follicles. This sends the signal that they must regrow hair. Minoxidil and Finasteride are two proven drugs that can have this effect.
Hair loss isn't a result of poor nutrition or lifestyle choices. Genetics play a major role in hair loss and when it begins to occur. Though it is more common in men, balding and hair loss affects both men and women.
Hair loss can sometimes lead to issues like depression, anxiety, and lower self-esteem.
Finding a Solution: Hair Transplants Aren't for Everyone
To deal with this condition people often try many hair loss products on the market. Rogaine, getting a hair transplant, spray paint. There are countless options available.
Hair transplants are by far the most effective and longest-lasting treatment option. But, hair transplants aren't for everyone. They are a better idea for men than women. Men have more donor areas compared to women.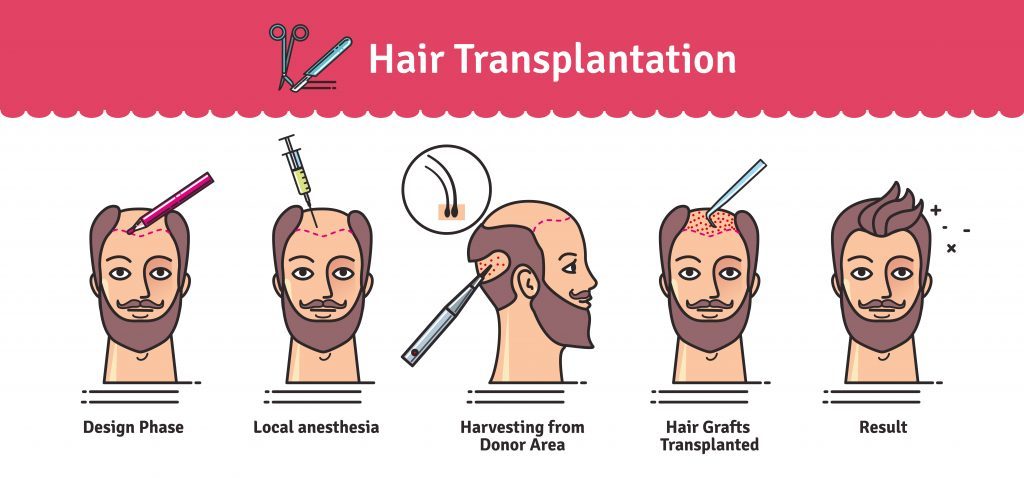 On average, the surgical session is 1000-2000 grafts with a cost of five dollars to six dollars per graph. That's not chump change.
After completing the entire process, new hair will start to grow in around three to four months. The new hair will be mature only after a year. This is a long, expensive, and tiresome process.
Hair Loss Concealer Guide Part II: Types of Hair Loss Concealers
Eliminating baldness without a surgical process is a preferable option for many people. This is where hair loss concealers come into play.
For the last few years, hair loss concealers have become one of the most popular options to hide hair loss. Hence, you'll find dozens of options and suppliers when shopping for a hair loss concealer.
Hair loss concealers hide the effect hair loss has on your scalp. They do not prohibit the growth of the remaining follicles.
Some of the best hair loss concealers make a person's existing hair appear fuller. Even much healthier looking. The thickened hair shafts reduce the visibility of the bald parts of an individual's scalp.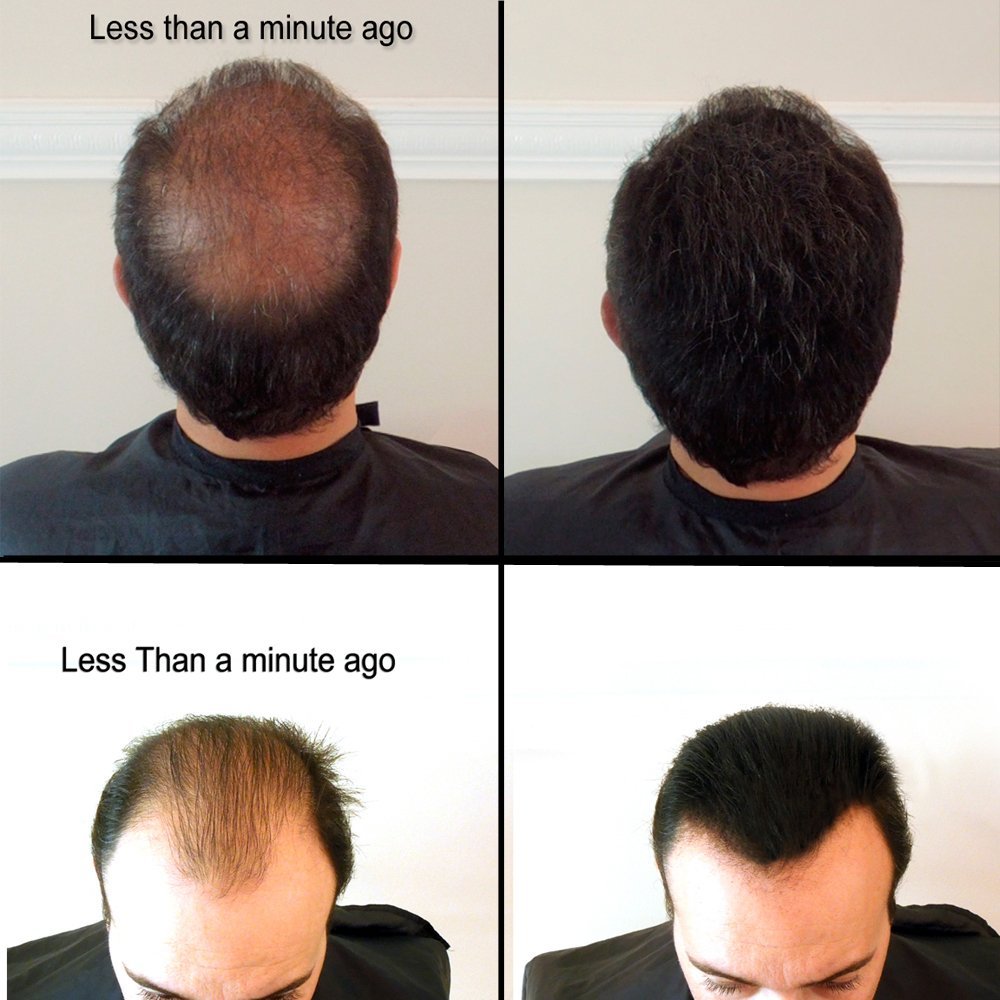 Hair concealers are available in many forms. The powder solids are now the most common. These types of products have come a long way. They are now providing excellent results.
The powder-like formula sticks to the hair by means of static electricity. Hair loss concealers are also available in a cream form. They thicken the hair temporarily and cover the scalp with heavy types of dyes.
Sometimes sprays are a combination of dyes and fibers. The effect of these concealers washes off after the individual shampoos his or her hair. Also, they do not stain your clothes or pillows.
The ones that made our list have the best durability. They hold up better against external agents like the rain and wind.
Best Hair Concealer Types
It is a good idea to be aware of your options before you make a purchase decision.
Sprays
These types of hair concealers are the best products to cover bald spots. They are easy to apply and are effective to color the bald spots on the head. They contain chemicals and color dyes. These give your scalp the same shade as your hair, giving fuller hair look.
These sprays can look artificial and over the top if applied in a hurry. Their ability to resist environmental conditions like heat, wind, and rain is debatable. It's a good idea to avoid the elements as much as possible with these.
Sprinkles and Powder Solids
These types of hair concealers are the best products to cover thinning hair. We recommend these types of concealer products over sprays. These are micro-hair building fibers. Like little magnets, they bind firmly to the existing hair. They are very strong due to static electricity bonding.
They are available in powder form and need to be generously applied. Shake from a dispenser directly on the bald areas, giving a natural finish and hair volume.
Repeating the process several times gives full coverage of the affected spot. It takes seconds to complete this process. These hair loss concealers can are easy to remove by the use of everyday shampoo.
Hair Loss Concealer Guide Part III: Video about How Hair Concealers Work and How to Apply
Here's an example of one of our recommendations, Toppik Hair Fibers, in action!
Hair Loss Concealer Guide Part IV: How to Apply Hair Loss Concealers
Choose the shade that matches the best with your natural hair.
Use the included application tools as instructed.
Be as precise as you can to get the most natural look.
Most fibers are wind and rain resistant. Read materials to see if there's anything you should be aware of as you go about your day.
Enjoy your new look and feel confident about your appearance. 90% of users say they are very pleased with the results.