Last Updated on August 25, 2020 by Hold the Hairline Team
Rogaine is perhaps the best marketed solution to hair loss today. It is an extremely popular treatment. Aside from ill-fitting wigs, it is a favorite even in pop culture to take jabs at, because the use of the product for hair loss is so widely spread and well known. However, more importantly than its notoriety, is whether it cures hair loss. Does Rogaine work? Does it work for women? Furthermore, do the majority of users get good results? We look to answer these questions in the following discussion.
In this informational page, we look at some of the most popular clinical studies done on Rogaine, discuss whether or not Rogaine really works, our take on its validity as a hair loss solution, and the potential side effects. We will also talk about a few other topics: does Rogaine work on facial hair, the difference between Rogaine foam and liquid, and whether or not Rogaine for Women is effective.
For a comparison and list of options of minoxidil products, we suggest checking out our best minoxidil page.
Rogaine Studies and Research
Show me that data. The most important thing when studying any hair loss treatment is looking at the verified results. The great thing about minoxidil (the key ingredient in Rogaine) is that there has been a ton of research done on its effectiveness. Its been around for over 20 years so there's been time for evidence to pile up. Rogaine is one of the few FDA-approved products to help regrow hair. In clinical testing, Rogaine regrew hair in about 9 out of 10 men after 4 months when used twice daily.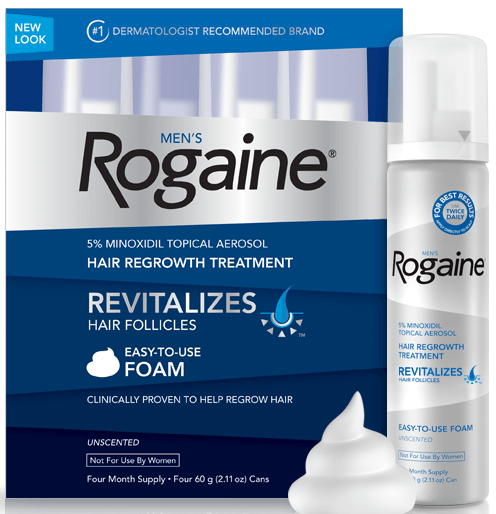 Here is a list of some of the most prominent studies and research:
Top 15 Bestselling Minoxidil Products
Here's an overview of the most popular hair loss products containing minoxidil.
How Does Rogaine Work? How Long Does it Take to Work?
Minoxidil, the primary active ingredient in Rogaine, is an anti-hypertensive vasodilator medication. Quite a mouthful really. This is just a fancy way to say it widens the blood vessels and increases blood flow. You may have heard that minoxidil first came about in the 1950s. It was created by the Upjohn Company and was initially thought to be a cure for ulcers. It was not successful, but was found to be a potent vasodilator.
This eventually led to FDA approval of minoxidil in the form of oral tablets for high blood pressure. It was given the name Loniten. During this road, scientists found that minoxidil had an unusual side effect: unexpected hair growth. This ultimately culminated in FDA approval for hair loss prevention in 1988 under the name Rogaine.
Rogaine works by massaging the medication solution into the scalp, usually twice daily. You want to get about 1ml worth per treatment. That is the equivalent to about half the hollow cap that pops off the top. Rogaine says users should expect to see results in about 4 to 6 months.
Rogaine acts to promote hair growth by causing hyperpolarization of cell membranes. This means it expands blood vessels and potassium channels. The result? Hair follicles are infused with a greater amount of nutrients, oxygen, and blood. This is thought to revive old dormant hair follicles, and keep existing ones healthier by stimulating follicles into an anagen (growth) phase. Hairs in the anagen phase are thicker and more robust.
Minoxidil is seen to have the most dramatic results on subjects who still have a lot of hair, particularly those who have many follicles in the thinning telogen phase. If hair has been dormant for more than 5 years, it is unlikely that the Rogaine will be able to activate renewed growth. The ideal patient would be a 20ish or 30ish year old who is in the beginning or intermediate stages of balding.
Minoxidil is a stimulating hair treatment method, not one that prevents DHT such as Propecia. DHT is the primary cause of male pattern baldness. Just like with most treatments, once you stop using Rogaine, the hair you have gained will go with it. Since Rogaine is no longer keeping the hair alive, it becomes once again susceptible to DHT.
Pros:
Effective, especially for young men.
Stimulates new hair growth and maintains current hair.
Over-the-counter, a doctor's prescription is not necessary.
Cons:
If you stop, hair loss will continue.
Cumbersome to apply to scalp twice a day.
Can be costly long term.
Results, Expectations, and Does Rogaine Work for a Receding Hairline?
Does Rogaine really work? The odds are in your favor. Nearly 90% of men experience hair regrowth after four months of using 5% Rogaine Foam. Clearly, looking at all the compiled evidence, it is easy to see that Rogaine is viable. One of the most popular questions people have is: "How well will it work for me?" Unfortunately, that is not easy to answer. You probably know how the story goes, everyone's body is different, and everyone reacts differently to certain treatments.
The only way to truly know if you will respond well to the treatment is to consistently use Rogaine for 2 times a day for about 6 months. That is the best way to determine what sort of results you can expect from long term use. Fortunately for you, prices have dropped over the years and getting a 6 month supply isn't going to break the bank. Minoxidil is a very low risk drug and side effects from sustained use are nonexistent to minimal. There are two ongoing clinical studies that plan to determine whether or not a patient will respond well to minoxidil. However, this are not complete.
However, it is still important to have the right expectations when making a commitment to use Rogaine. There are a number of ways your hair will respond. Either you will grow a moderate amount of hair back, grow a little back, not regrow hair but maintain the hair you have left, or see no results at all. It is highly unlikely that using Rogaine will accelerate your hair loss, so you can rule that response out.
The worst possible outcome is that you are right where you were before applying Rogaine. On average, about 33% of users get moderate hair regrowth. So you're definitely in the minority if you slap some Rogaine on and wake up the next day with a fro of youthful curls. The most common response people get with Rogaine is slight regrowth or no regrowth but halting further loss. Stopping additional hair loss can be really nice when you think about it, especially if you still have quite a bit of hair left.
Another common question folks have about Rogaine is whether or Rogaine works for a receding hair line. There are very few treatments that stop hair loss at the front of the scalp. Unfortunately for men this is generally where hair loss first becomes noticeable. That being said, Rogaine does appear to at the very least slow down a receding hair line. It is a common misconception that such treatments like Propecia and Rogaine don't prevent front hairline recession. This mainly came about because during FDA approval trials the companies funding the research chose to take hair density samples from the vertex of the scalp.
Therefore, when they were successfully approved by the FDA, they were only allowed to advertise and make claims about the efficacy of the treatment on the vertex area. They could not claim prevention of a receding hair line because that is not the area where samples were harvested. For more information about the receding hair line question, Dr. Berstein has an excellent video you can view by clicking here.
Does Rogaine Work for Women?
Rogaine for Women is a separate product created to prevent hair loss experienced by women. However, it has the exact same active ingredient: minoxidil. Like men's Rogaine, it comes in two versions containing 2% or 5% minoxidil. Women's Rogaine Foam is the only FDA approved regrowth treatment for women. In clinical trials Women's Rogaine regrew hair in about 80% of women. Results are seen in about 3 months, but you'll be able to best judge how your body is going to respond after 6 months. The great thing about Rogaine for Women, as long as you get the 5% solution, is that it is applied once a day.
In our "Rogaine Studies and Research" section, you'll see many studies done on its efficacy for women's hair loss. The results show that this is also an effective solution for female pattern baldness. Even women who are just starting to notice thinning will benefit. Not only does it aid with stimulating new growth, it increases the volume of existing hair. The hair shafts that are thinning will increase in diameter. This in turn will provide you will fuller looking hair with more volume. This makes it much easier to achieve whatever style or look you are going for.
Does Rogaine Work on Facial Hair? The Glorious Rogaine Beard
The big disclaimer here is that anytime you are using a product for offlabel unintended purposes, you're using it at your own risk. If your face turns into a hairy werewolf's that's not Rogaine's fault. Know the risk of side effects and discontinue use if you notice any.
Some people aren't even interested in Rogaine's hair loss applications. They are more curious about Rogaine for beards. Beards are all the rage these days, and not just among hipsters and the like. Not just any beard though, a nice full thick beard is what makes the ladies go crazy. There are guys with less than ideal natural beards that are looking for ways to step up their game.
So they turn to Rogaine. It is a fact that when minoxidil was first discovered and tested for its ability to reduce high blood pressure, it actually had the interesting side effect of extra hair growth. Furthermore, Rogaine has been used in medical cases where patients have lost hair in many different parts of the body other than just the scalp.
Now, just because Rogaine has not been FDA approved for facial hair use, does not mean it is ineffective or dangerous. That being said, use at your own risk because if you get some side effects it is on you for using it for an unintended purpose. The good thing, is that many people have documented their use of Rogaine for beard growth with no side effects and excellent results. The most common side effect is dry skin, though sometimes rashes or other problems crop up.
Though there has not been scientific studies completed on this purpose, there are a few trends that have been identified from widespread use. The first thing to keep in mind is that there needs to be hair follicles on the part of your face you are applying Rogaine to. Rogaine stimulates hair follicles, it doesn't create new ones. Just because hair is not growing doesn't mean there aren't hair follicles there. Unfortunately there's no real way to get a hair follicle density count for a certain part of the face, you just have to experiment and see if you get results.
You'll sometimes notice that pre-Rogaine, facial hair comes in really thin, and/or colorless, and overall just not a desirable thickness or visually noticeable from afar. In the bottom picture featured above, you can see that many hairs are not ideal thickness. In such cases, Rogaine will likely thicken those hairs to your normal hair density of the rest of your facial hair. You'll need to apply Rogaine for about 6 months. If you don't notice anything after that, you can fully blame your genetics for not giving you enough hair follicles to begin with.
Rogaine Side Effects
In over the twenty years Rogaine has been available to the mass market, very few side effects have been reported. Both 5 and 2 percent minoxidil are available OTC, so risk has been determined to be minimal. Overall, minoxidil topically applied is well tolerated. As long as you don't mistake your Rogaine foam for a can of aerosol whipped cream and swig down a mouthful, you should be okay. Often, when just starting out on minoxidil the user will see increased shedding. This is generally seen as a good sign, as the follicles are responding well to it and pushing out dead or thinning hair to make room for new growth.
The most common side effect is a skin rash, dryness, or itchy skin on or around the area where the Rogaine is applied. You should always consult your doctor if you have concerns before beginning to use Rogaine. Rarely the following Rogaine for men side effects have been documented:
Burning itchiness of the scalp
Red or blotchy skin
Increased shedding (temporary shedding is usually a good sign)
Inflammation at the roots of the hair
Swelling of the face or extremities
Increased facial hair growth
There are a few things you can do to help lower the risk of unwanted side effects. For one, using a shampoo like Nizoral will definitely help prevent the itchy scalp that is sometimes caused by Rogaine. Use this shampoo only 2-3 times a week, as it is rather potent. Also, try not to use more than the recommend dosage of 1ml of Rogaine. Apply to dry hair rather than damp hair.
These two things will help prevent you from absorbing any through the skin. Also, make sure to thoroughly wash your hands with soap after a Rogaine application. In rare cases, sometimes too much of the medicine is absorbed into the body. This may result in blurred vision, fainting, irregular heartbeat, lightheadedness, headaches, chest pain, numbness, or swelling of face, feet, hands or lower legs. If any of those side effects occur, you should check with your doctor.
Rogaine for Women Side Effects
Rogaine for Women has the same side effects as the ones for men listed above. Pregnancy and Rogaine is largely unstudied, and it may not be safe for a developing baby. It is best to avoid using Rogaine when pregnant. Most doctors consider that Rogaine is safe to use while breastfeeding your baby.
Rogaine Product Line-Up & Rogaine Foam vs Liquid
Does Rogaine Foam work? Does Rogaine Liquid work? What about 2% vs 5%? There really isn't much of a different between the Foam and Liquid. As long as they both contain the same percent of minoxidil and you massage it into your scalp thoroughly, the results will be the same. Some people prefer one or the other for ease of use. A lot of people enjoy the foam because it acts like a styling agent. Two birds, one stone, right?
The foam formula is newer than the liquid. Complaints about the liquid formula being too runny and causing hair to look greasy prompted Rogaine to come up with this alternative. Some people really prefer the foam over the liquid and the two camps are split fairly evenly. The big thing to remember is if someone is claiming they get way better results with one over the other it is probably a farce. Both formulas contain the same concentration of minoxidil. However, there is one big difference between the foam and the liquid. The foam does not contain propylene glycol which does sometimes cause skin irritation and even an allergic contact dermatitis in some users. Propylene glycol helps the minoxidil penetrate well below the skin's surface to the hair follicle.
Again, Rogaine foam vs. liquid comes down to personal preference. We recommend trying three months of one, then switching for three months to the other. Then you can see for yourself which is best for you and easiest for you to apply. The one case where it makes sense to switch to the foam is if you're scalp is getting destroyed by the liquid and you're getting a lot of irritation from it.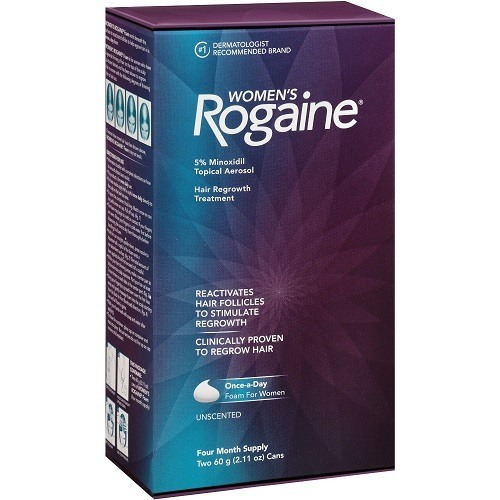 In 1998 Rogaine was first approved by the FDA as a treatment for androgenic alopecia (male pattern baldness) for men. Three years later it received approval for women's use and four years after that it was made available OTC (over-the-counter). Sneakily, Rogaine decided to markup their women's formulas by about 30-40% over the men's even though there's nothing fundamentally different about the products. Anyway, getting back on topic, we generally recommend the foam over the liquid for women as it contains 5% whereas the liquid Rogaine for women only has 2%.
We aren't sure why Rogaine decided to use 2% minoxidil in their liquid formula for women and 5% in their foam. In any event, the research results have indicated that 5% is more effective and that's why we suggest women stick with the Rogaine foam.
Hold the Hairline's Take on Rogaine
No doubt about it, Rogaine is a very useful product. There is no other medication that stimulates hair growth like it that is available over the counter. Alongside Propecia, it is one of the few proven hair loss treatments (and FDA approved). The only thing we don't like about it is that Rogaine is directed to be used twice daily. Using it twice daily is a pain in the ass. If you shower once daily like most of us, that means in the morning or at night you'll have to apply Rogaine again. It is much easier to apply Rogaine to dry hair if you have a shaved head or very short hair. For those with long hair it is much easier to apply Rogaine when the hair is wet. If your long hair is dry, you have to part your hair with a comb to really access and massage it into the scalp.
All-in-all though, most folks will point out the daily inconvenience it is a small price to pay for a better head of hair. Plus, Rogaine has improved the solution many times with the foam and unscented variations. This makes it easier to apply and won't have your significant other wrinkling their nose when you come to bed just after applying. We definitely recommend Rogaine as a top treatment and is a good addition to anyone's hair loss regime.