Last Updated on August 11, 2020 by Hold the Hairline Team
Ketoconazole for hair loss is one of the few proven and viable solutions to combating both hair loss and dandruff simultaneously. Many people have heard of the Nizoral hair loss treatment as it is one of the most popular shampoos. Nizoral also comes in 1% and 2% ketoconazole options. Many hair loss websites will mention this as one of the big three treatments (including Propecia and minoxidil) because of the research done on its effectiveness.
On this page, we take a look at how ketoconazole works against hair loss and some of the clinical studies. Up first, we review some of the best products that contain ketoconazole, including the well-known Nizoral shampoo.
Comparison Table: Top 10 Products with Ketoconazole
Here is our list of the top shampoos that contain ketoconazole in their list of ingredients. We've ordered them by price ascending to make it easy for you to compare features in an unbiased way. In our review section, we take a closer look at the 10 most popular products and have them listed in the same order.
[table "1nbspresponsivecollapse" not found /]
Closer Look: 10 Best Shampoos with Ketoconazole for Hair Loss
Here are our top 10 shampoos that made the cut. Each of these shampoos contains ketoconazole as an integral part of their formula. Nizoral for hair loss is one of the most common shampoo and scalp treatments with ketoconazole. If you're in a hurry we highly suggest picking up a bottle of Nizoral hair loss treatment.
1. Wick & Ström Anti Hair Loss Shampoo
Wick & Ström is a salon-quality hair loss shampoo, that's made for all hair types, and for both men and women. The Ketoconazole within this particular product is rather low, but we don't think that's any reason to overlook it. On top of Ketoconazole, other active ingredients include caffeine and Biotin for follicle stimulation, Aloe Barbadensis Leaf for soothing and moisturizing, and Saw Palmetto Extract which blocks the enzyme that converts testosterone into DHT.
The bonus with this product is that if you're not satisfied with results after 60 days of continual use, the company will refund you the full amount for the product. However, with this perfect mix of vitamins and nutrients, Wick & Ström has made a solution to hair growth that we can get behind. The price is also extremely reasonable for the size and quality of the product.
Approximate Cost: $1.25/Fl Oz
Instructions for Use: Use daily, massage into scalp, and let sit for 2 minutes.
Ketoconazole Content: (0.1%)
2. Nizoral Anti-Dandruff Shampoo
If you are looking for a straightforward ketoconazole shampoo, look no further. Nizoral for hair loss is one of the best shampoos to reduce dandruff and scalp DHT. It is a less expensive product and it does not contain the long list of ingredients that the other options have. It is a simple formula and its main active ingredient is the ketoconazole.
There are many theories on how exactly Nizoral combats hair loss, but it does three things simultaneously. It cleanses the scalp, its anti-fungal properties actively fight off fungus, and it also blocks androgen receptors (very similar to Topical Spironolactone). All three of these play a huge part in the most important factor of all: decreasing inflammation. While you certainly could use Spironolactone to achieve the same result, the fact that this can all be done in the shower with a shampoo formula makes it much more convenient for your daily routine.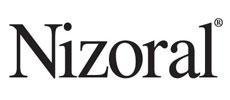 Nizoral has been one of the most popular ketoconazole shampoos for quite some time and is available over the counter in a 1% solution. The only downside we have heard about Nizoral is that some folks experiencing rashes and skin irritation. This could possibly be due to the sodium lauryl sulfate Nizoral contains.
Usually, this chemical is not a problem but when you allow it to sit on your scalp for 5+ minutes that may cause some irritation and drying, especially with combined with ketoconazole (which in and of itself is quite a harsh ingredient). If you follow the instructions above you should be okay, but if you have extremely sensitive skin you may want to try one of the other options.
Approximate Cost: $1.60/Fl Oz
Instructions for Use: 2x/week
Ketoconazole Content: 1% OTC, 2% w/ prescription
3. Signature Black Bottle Men's Anti-Hair Loss Shampoo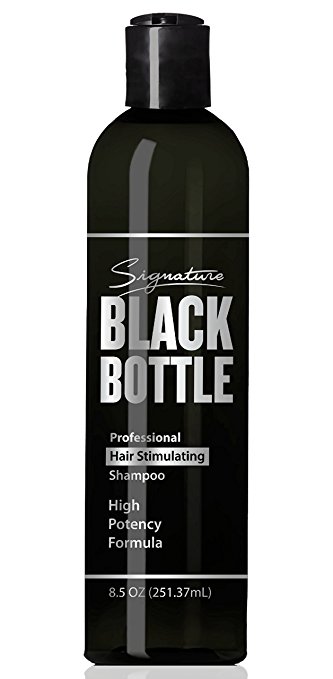 This particular Ketoconazole shampoo is made for men and will prevent hair loss while simultaneously keep your hair healthy. You'll be seeing results after using this shampoo for just a few weeks. The Biotin and Aloe in the mix will help clear toxins from your scalp and promote hair growth while the ketoconazole will do the rest of the heavy lifting. The price is also low, likely because the amount of ketoconazole is lower than many other suggested shampoos.
One of the ingredients that make this product unique is the use of Humulus, or as it's known to the average beer drinker-hops! Research says that the combination of hops and caffeine can help with stimulation, in conjunction with the other active ingredients, this black bottle packs quite the punch.
Approximate Cost: $1.50/Fl Oz
Instructions for Use: Use daily, massage into scalp, and let sit for 2-3 minutes.
Ketoconazole Content: (0.1%)
4. Hair Restoration Laboratories' Professional Strength DHT Blocking Shampoo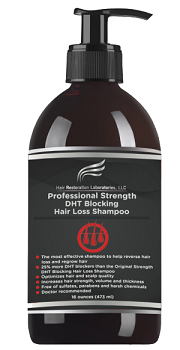 This is a powerful reformulated shampoo from Hair Restoration Labs. Hair Restoration Labs continues to innovate. This new formula contains 25% more DHT blockers than the first version. In addition, they added the integral 1% ketoconazole to make this shampoo truly professional strength. It is one of the few shampoos that contains both ketoconazole and caffeine. Plus, you'll find pygeum bark extract, saw palmetto, pumpkin seed oil in the ingredients lineup. They recommend using their shampoo twice weekly and of course, on the other days, they recommend using their original strength DHT Blocking Hair Loss Shampoo.
Approximate Cost: $1.90/Fl Oz
Instructions for Use: Use approximately twice weekly, leave the shampoo on hair and scalp for 3-5 minutes
Ketoconazole Content: (1%)
5. L'emarie Hair Growth & Hair Loss Shampoo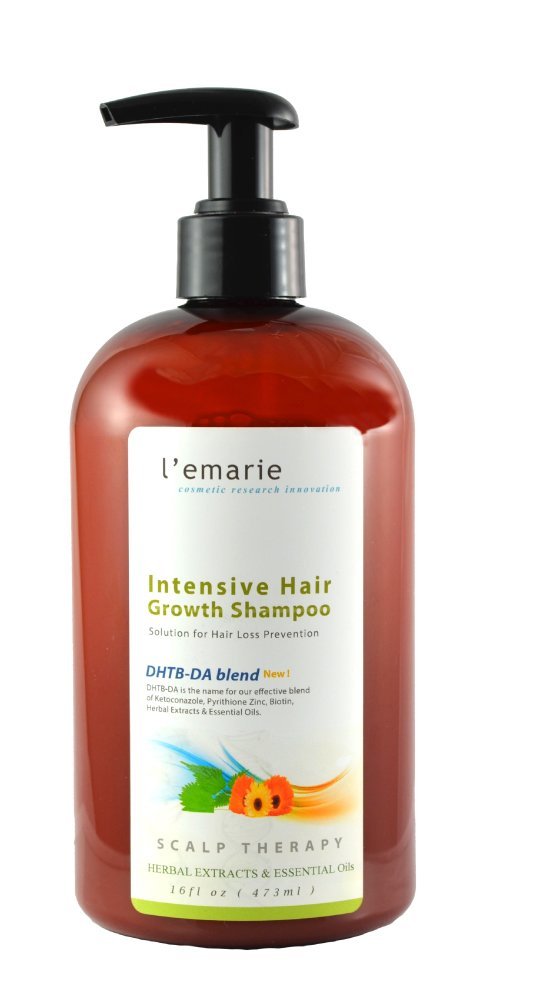 This is another 1% Ketoconazole shampoo that's created for the hair of both men and women. It's infused with multiple ingredients that can help eliminate DHT on the scalp and around follicles. L'emaire effectively cleans with a variety of oils including pumpkin seed and tea tree oil. It's scent-free which makes it great for sensitive skins.
Approximate Cost: $2.40/Fl Oz
Instructions for Use: Use on for adults and children over the age of 12. Lather into wet hair and leave for 3-5 minutes. Only use every 3-4 days for up to 8 weeks.
Ketoconazole Content: (1%)
6. Revita High-Performance Hair Stimulating Shampoo
Revita offers more than just a slick-looking bottle and sharp branding. The ingredient list of Revita is pretty impressive. Caffeine, ginseng, niacin, biotin, a host of natural DHT blockers, and not to mention the 1% Ketoconazole. DS Lab's Revita formula is one of the most advanced in the hair loss industry. They've got an expansive line of hair health and hair care products.
After speaking with a representative of DS Labs, we've confirmed they've been in business since 2007. They sell their products globally in over 40 countries and many of their products are recommended by top salons and dermatologists. This goes a long way in giving customers the peace of mind that they have someone to call if there's an issue with one of their products. DS Labs ships all same day orders of Revita before 2 pm. Their products are endorsed by a top dermatologist worldwide in hair and scalp area: Dr. Antonella Tosti. Dr. Antonella Tosti also serves as the DS Labs resident medical adviser.
Approximate Cost: $4.57/Fl Oz
Instructions for Use: 5x+/week, Leave in 3-5 minutes before rinsing
Ketoconazole Content: 1%
7. Regenepure DR Hair Loss Shampoo

This is another excellent shampoo that has quite a few other ingredients thrown in. This shampoo does not include sodium lauryl sulfate. And it balances out the ketoconazole with ingredients such as emu oil and aloe vera which are great anti-inflammatories. It is not marketed as an anti-dandruff shampoo, but it does contain 1% ketoconazole. Regenepure's solution also includes saw palmetto which has in multiple clinical studies shown promise as a natural DHT blocker.
Other notables include niacin which improves blood flow to the scalp and salicylic acid which helps clear your pores of dirt and sebum. If you have a sensitive scalp, this is going to be a lot easier on it on your scalp. And while not clinically proven like ketoconazole, the other ingredients found in Regenpure have shown promise in a variety of independent studies.
Regenepure has taken the scattershot approach with their ingredients. These ingredients may or may not help but at the very worst they will help promote healthy Furthermore many of the ingredients have been shown to benefit the hair and promote healthy resilient hair follicles. The bottom line is your still purchasing this shampoo for the key ingredient which is ketoconazole, everything else is a side benefit.
Approximate Cost: $3.10/Fl Oz
Instructions for Use: Use Daily
Ketoconazole Content: 1%
8. Lipogaine Big 3 Premium Hair Loss Shampoo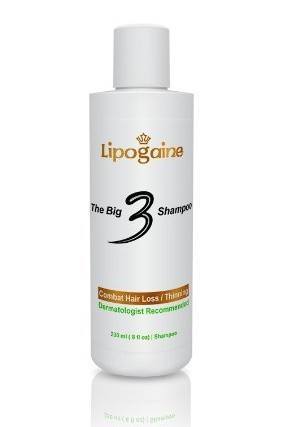 Lipogaine Big 3 is another excellent shampoo that does not include sodium lauryl sulfate. A further benefit of Lipogaine is that it is a volumizing shampoo, so it also makes the hair look great. It is cosmetically the best option if you are not going to supplement your ketoconazole shampoo with a conditioner or volumizer.
The ingredients line up in Big 3 is solid. Obviously it has ketoconazole, and as we know by now you can't have an effective hair loss shampoo without ketoconazole. Copper peptides and biotin are also included, which are building blocks of hair and many people claim they help your hair grow stronger. It also contains niacin which increases blood flow to the scalp. Wheat proteins, Vitamin-B6, and Zinc are another essential part of Big 3 and have some clinical evidence that these three when used together reduce scalp DHT.
It contains the usual suspect ingredients saw palmetto, citric acid, nettle root extract, red clover which are usually included in herbal DHT blocker products. It is important to remember the jury is still out on these herbal ingredients and their efficacy when applied topically. There is still no hard evidence that they will block DHT, but certainly, they couldn't hurt. Many hair loss shampoo manufacturers include these ingredients in their shampoo as a marketing strategy, as without them in the mix they know the product won't sell as well.
Lipogaine also included a handful of moisturizing ingredients. It contains emu oil, essential oils, and castor oil. This will help you maintain a moisturized scalp and prevent severe itchiness even after prolonged daily use.
Approximate Cost: $3.10/Fl Oz
Instructions for Use: 2-3x/week, Leave in 3-5 minutes before rinsing
Ketoconazole Content: 1%
9. Ketotosc Bathing Bar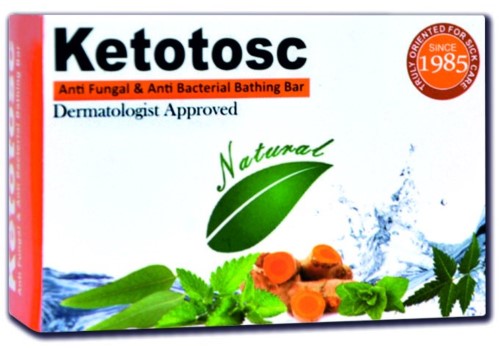 A slightly different option comes from India, in the form of a bathing bar- or shampoo bar- that's made with an anti-fungal and anti-bacterial ingredient list to help fight against dandruff and itchiness. The price is more than reasonable and is dermatologically approved for scalp application. It is a powerful soap, so you'll want to make sure to follow instructions on the frequency of use. It is still considered gentle enough to use on color-treated hair.
Approximate Cost: $5.29/Fl Oz
Instructions for Use: Wet hair thoroughly. Apply Ketotosc soap, generously lather, rinse thoroughly. Repeat. Use regularly to keep even the most stubborn dandruff at bay.
Ketoconazole Content: (Unlisted, We have reached out to the seller)
10. Ultrax Labs Hair Surge

This particular shampoo from Ultrax combines the power of Ketoconazole with the natural growth stimulation of caffeine, which has made it one of the top-rated shampoos for hair regrowth stimulation of 2020. As mentioned before, caffeine blocks some of the effects of testosterone within the skin of the scalp. The biggest con of this one is definitely the price. However, the consumer ratings for it are off the chart, so you can trust that it's worth the cost.
Approximate Cost: $7.50/Fl Oz
Instructions for Use: Massage and lather shampoo into the scalp and leave for 2-5 minutes. Use 5 times per week for optimal results.
Ketoconazole Content: (0.2%)
What is Nizoral? What is Ketoconazole?
Nizoral is a shampoo designed to help the user treat dandruff, hair loss, and other scalp conditions such as seborrheic dermatitis. Nizoral for hair loss is very effective because it contains ketoconazole. The popular Nizoral A-D shampoo contains 1% ketoconazole which is sufficient for scalp treatment and the reduction of follicular inflammation that contributes to hair loss. The topical formulas of Nizoral for hair loss have not been associated with any adverse effects. Nizoral also comes in tablet form and actually has the potential to cause liver damage over sustained long term use. It is a prescription only and used for anti-fungus purposes. Oral Nizoral hasn't been shown to have many benefits for hair loss.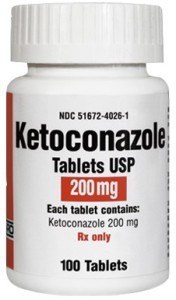 Ketoconazole is a synthetic antifungal drug. It used to be taken orally to treat a large number of fungal infections and in some cases is still used for this purpose. However less toxic options have become available in recent years. It has been discovered to aid in the battle against hair loss. It is an androgen receptor antagonist, meaning that it will compete against dihydrotestosterone to bind to androgen receptors in hair follicles. This competition is a good thing, the less DHT that binds to the follicles, the better. DHT damages hair follicles until they stop producing hair while ketoconazole has no such effect. Since Nizoral contains ketoconazole, it holds all the same benefits for hair loss sufferers.
How Do Shampoos that Contain Ketoconazole Work?
Many people get a little confused when first researching ketoconazole and its uses for hair loss and how it fits in the treatment picture. Ketoconazole comes in both pill and topical form. Commonly, Ketoconazole tablets are used as an antifungal agent to treat a variety of skin infections although oral ketoconazole has no use in the treatment of hair loss.
Ketoconazole in shampoos primary use is to eliminate scalp conditions such as dandruff. It does this by killing fungi and yeasts that grow on the scalp through interfering with their cell membranes. Ketoconazole stops the fungi from producing ergosterol, which cell membranes need to survive. It is marketed as an antifungal pill for people with dandruff or a skin condition. However, this is not its only use. Ketoconazole for hair loss is an effective way to treat scalp DHT.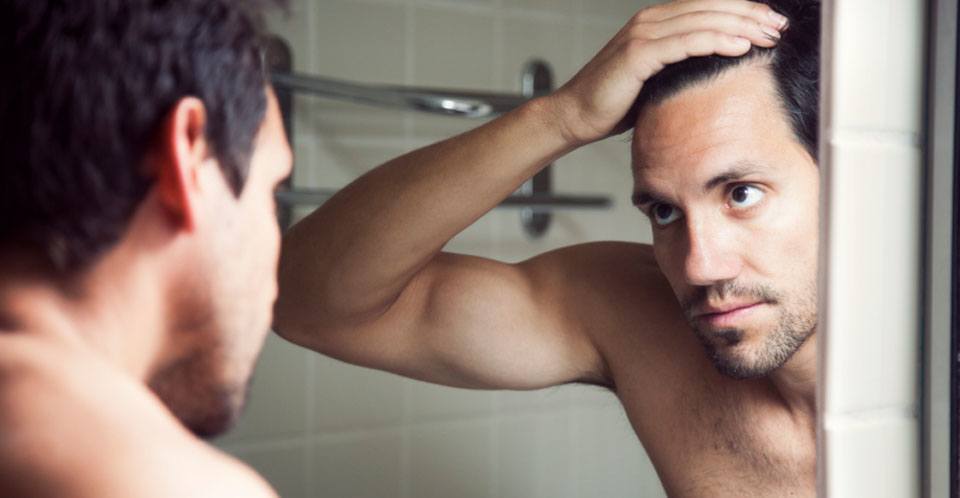 Ketoconazole Studies and Research
As mentioned, ketoconazole is one of the few hair loss treatment methods that is backed up with hard data. Ketoconazole has been fairly well studied and has many sources of documented results in its efficacy in preventing hair loss.
Here is a list of some of the more prominent studies:
Ketoconazole for Hair Loss: A Proven Method
A shampoo with ketoconazole must be a part of your regime. Without it, any other treatment you use will not be able to work optimally. Even when it comes to the tried and true Rogaine and Propecia, they too will work better on a scalp environment that is actively being treated with ketoconazole. So what is its application in regards to hair loss? Simply put, it is the only proven shampoo ingredient on the market that can help prevent or slow hair loss. Multiple studies have proven the effectiveness of ketoconazole as at the very least, a partial cure to hair loss.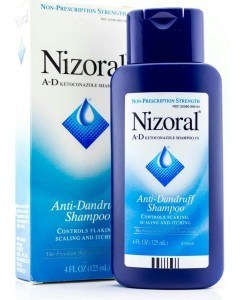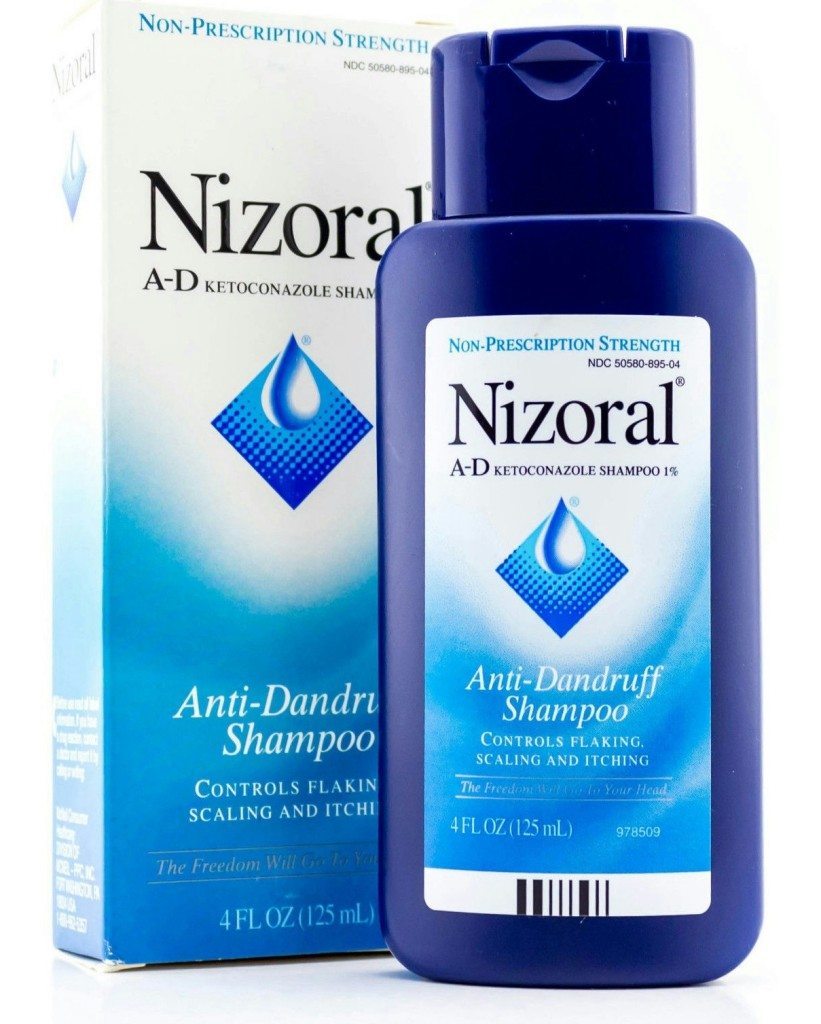 Shampoos like Nizoral Hair Loss Anti-Dandruff Shampoo are uniquely able to help handle one of the important secondary causes of hair loss: inflammation. Inflammation is present in every person that is experiencing hair loss. The itchiness, tingling, and sometimes even intense pain and/or irritation are one of the hallmarks of hair loss in both men and women. If you have tingling or itching, your hair loss will progress that much faster and treatments you are using will not work as effectively.
One of the problems with ketoconazole is that it can leave the hair slightly lifeless and flat. It essentially nukes the scalp and kills off any fungus etc growing on the scalp. This can particularly problematic when you already have thinning hair and then you use a ketoconazole shampoo and it makes it appear even thinner. If your hair has really started to thin out, or even if you are just in the beginning stages of hair loss, you may want to consider purchasing a thickening conditioner/volumizer. You would use this conditioner after the ketoconazole as well as on your days off.
How to Use a Ketoconazole Shampoo for Hair Loss
There are 1% over-the-counter and 2% prescription ketoconazole solutions available. The 1% solutions are entirely sufficient for hair loss prevention. To maximize the benefit to your hair, you will want to use the shampoo once every three days (or twice a week on scheduled days) whatever is easiest for you to remember and create a habit for yourself.
Apply the shampoo once as soon as you get into the shower and create a lather and massage into your hair and scalp for 1 minute.
Rinse thoroughly and repeat, then leave the lather on for a minimum of an additional 3 minutes.
Rinse off completely.
---