Last Updated on August 11, 2020 by Hold the Hairline Team
In this review feature, we take a closer look at some of these weapons of mass reconstruction. Check out our chart below for the best hair thickening shampoos for men and women currently on the market. Some of the products in our list our specialized purely to cosmetic thicken the hair and some are designed to bolster new growth and even prevent loss, so there's something for everyone depending on your personal goals!
There are a few different approaches individuals take to tackling hair loss. Some take a purely cosmetic approach, covering or enhancing the hair they have left to thicken the appearance of their hair. Some people incorporate preventative measures into their regime to halt or slow down hair loss. Often, individuals will use a mix of strategies to retain their youthful appearance. This multifaceted approach is aimed to not only prevent further hair loss but to augment the appearance of hair that is still standing strong. Whatever route you take to address your current hair situation one excellent product to incorporate into your daily routine is a thickening shampoo.
Comparison Table: Top 20 Hair Thickening Shampoos
Here is our comparison table of the best thickening shampoos for men. In our review section further down the page, we take a closer look at four popular options.
| Image | Product | Cleansers | Cost | Popularity |
| --- | --- | --- | --- | --- |
| | Dove Men+Care Fortifying Shampoo | Citric Acid, Caffeine | $0.35/Fl Oz | |
| | Avalon Organics Biotin-B Complex Thickening Shampoo | Aloe, Saw Palmetto, Biotin, Wheat Proteins, Vitamin E | $0.60/Fl Oz | |
| | Nioxin System 2 Cleanser and Scalp Therapy Conditioner | Peppermint Oil, Nettle, Saw Palmetto, Citric Acid, Biotin | $0.55/Fl Oz | |
| | Every Man Jack 2-in-1 Thickening Shampoo plus Conditioner | Tea Tree, Soy Proteins, Castor Oil, Aloe, Peppermint, Rosemary, Shea Butter, Lavender | $0.90/Fl Oz | |
| | American Crew Hair Recovery + Thickening Shampoo | Tea Tree, Wheat Proteins, Citric Acid, Rosemary, Biotin, Linolenic Acid | $1.25/Fl Oz | |
| | Hims Hair Stimulator DHT Blocker Shampoo | Salicylic Acid, Biotin, Tea Tree, Peppermint, Nettle Leaf, Niacin | $1.40/Fl Oz | |
| | Jack Black True Volume Thickening Shampoo | Nettle, Sage, Tea Tree, Sunflower Seed, Basil Lavender | $1.75/Fl Oz | |
| | Hair Restoration Laboratories DHT Blocking Professional Strength Shampoo | Caffeine, Pumpkin Seed Oil, Pygeum Bark, Biotin, Beta Sisosterol, Phyllanthus Emblica | $1.87/Fl Oz | |
| | Pura D'or Anti-Hair Loss Premium Organic Shampoo | Biotin, Pumpkin Seed, Nettle, Black Cumin Seed, Niacin, Saw Palmetto, Beta-Sitosterol, Vitamin E | $1.90/Fl Oz | |
| | HairMax Density Stimul8 Shampoo | Saw Palmetto, Peppermint Oil, Tea Tree, Gotu Kola | $2.40/Fl Oz | |
| | Regenepure - NT Hair Thickening Shampoo | Linolenic Acid, Lecithin, Caffeine, Saw Palmetto Extract, Niacin | $2.50/Fl Oz | |
| | Good Lab Blooming + Thickening Shampoo | Biotin, Caffeine, Pumpkin Seed Oil, Jojoba Seed Oil, Oleanolic Acid, Nettle, Saw Plametto, Tripeptides | $2.94/Fl Oz | |
| | ShapiroMD Triple Action Hair Therapy Formula | Saw Palmetto, Caffeine, EGCG, Wheat Proteins | $3.12/Fl Oz | |
| | Lipogaine The Big 3 Shampoo | Biotin, Caffeine, Argan Oil, Castor Oil, Nettles, Saw Palmetto, Beta Sitosterol, He Shou Wu | $3.12/Fl Oz | |
| | Hair Growth Botanical Renovation Sulfate-Free Scalp Stimulating Shampoo | Saw Palmetto, Aloe, Sage, Ginseng, Peppermint, Lemongrass, Clove, Cayenne Pepper, Vitamin E, Vitamin B5, Vitamin A | $3.20/Fl Oz | |
| | Lipogaine The Big 5 Shampoo | Tea Tree, Caffeine, Jojoba, Black Castor Oil, Saw Palmetto, Nettle Extract, Beta-Sitosterol, He Shou Wu | $3.25/Fl Oz | |
| | Hair Lab Thickening Therapy Shampoo | Argan Oil, Vitamin B5, Biotin, Caffeine, Nettle, Saw Palmetto | $3.60/Fl Oz | |
| | Revita High-Performance Hair Stimulating Shampoo | Ketoconazole, Caffeine, Emu Oil, Ginseng, Biotin, Copper Peptides | $4.60/Fl Oz | |
| | Ultrax Labs Hair Surge Stimulating Shampoo | Caffeine, Saw Palmetto, Ketoconazole | $6.25/Fl Oz | |
| | PhytoWorx Organic Hair Loss Shampoo with Plant Stem Cells | Plant Stem Cells, Peppermint, Tea Tree, Eucalyptus, Rosemary | $7.50/Fl Oz | |
Closer Look: 20 Best Hair Thickening Shampoos for Men and Women
Here is a list of thickening shampoos we have compiled. We have included a short summary of the benefits, strengths, and weaknesses of these shampoos. We will update this list regularly as we come across ideal thickening shampoos.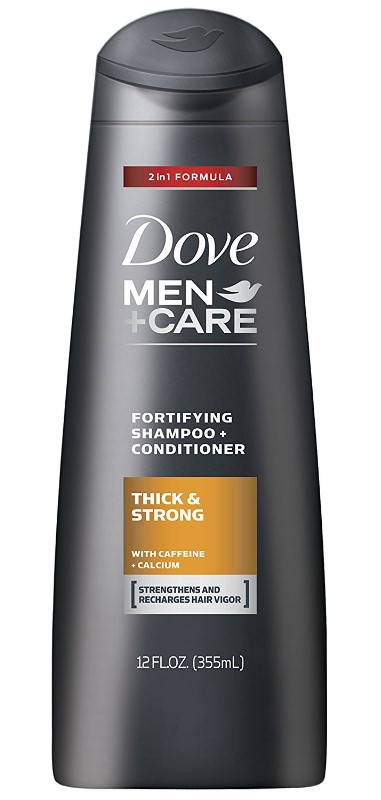 Our pick for the best budget hair thickening shampoo for men
Dove is a great drugstore brand that has made a fortifying shampoo+conditioner to help strengthen hair. It uses Caffeine and calcium to thicken strands and create resilient hair of all kinds. It's available in multiple sizes. The great thing is that if you use this, you can skip the step of the conditioner. Two Birds. One Stone.
Our pick for the best natural thickening shampoo
Avalon makes one of the most popular thickening shampoos for men on the market. Compared to stuff you can pick up at the grocery store, Avalon Organics has much fewer harmful chemicals. It is NSF/ANSI 305 certified organic. The ingredients list is packed full of natural substances and even contains some that are known to aid in preventing hair loss such as saw palmetto. Biotin is known to make hair follicles stronger and healthier.
The great thing about this shampoo is that it includes a biotin B-complex delivering this much-needed nutrient to your hair that much more effectively. It leaves your hair feeling soft and silky and works well against dandruff. If you have dry hair this will do wonders in making it moisturized while still giving it a thick appearance. The downside is that the bottle doesn't last very long, but Avalon offers multiple bottle packs at a reduced price.
Our pick for the best shampoo system
If you've read some of our other pages, you might have noticed that we are a fan of Nioxin brand hair products. This Scalp Therapy cleanser and conditioner two-step combination packs a punch. It removes DHT toxins and adds thickness to the hair shaft. It's also gentle enough for daily use. Nioxin shampoo systems are great for men and women, and they've got systems for color-treated and natural hair, as well as a variety of hair thicknesses.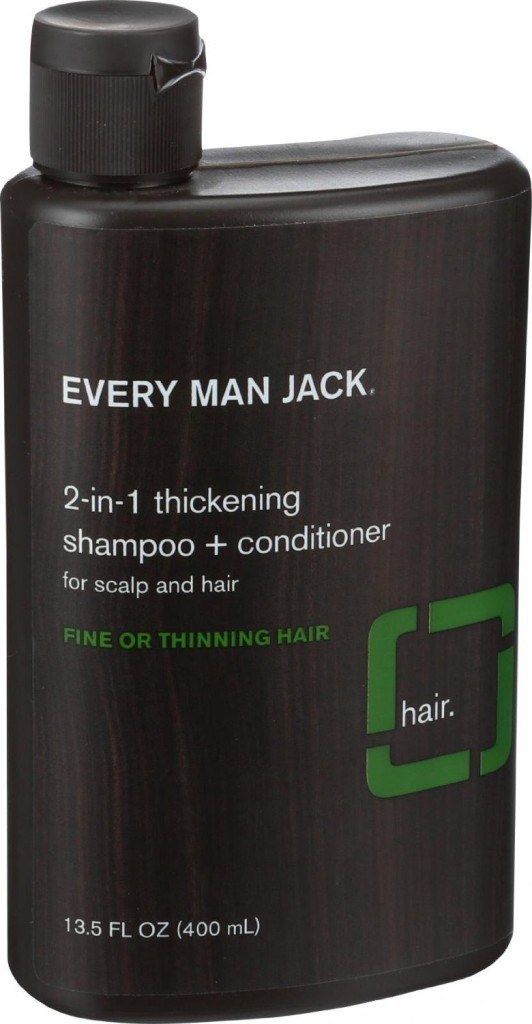 This is a newer shampoo that was recently released in 2014. The wonderful thing about Every Man Jack is that it is a 2-in-1 daily shampoo and conditioner. No more using two formulas. Talk about hassle-free. If you're a fast shower type of guy this is right up your alley. The ingredient list includes castor oil, aloe, shea butter, wheat protein, soy protein, and a handful of others.
It doesn't have many known DHT blockers, but it'll make your mane look thick and healthy. The smell is invigorating and refreshing. It is minty with hints of tea tree oil but still maintains a masculine effect. An added bonus is that the container looks ultra manly. Matched with the "Every Man Jack" branding, you can be sure anyone who may gaze upon it will approve of its powerful presence.

American Crew has made a name for itself in the game of men's hair care. Many use their pomades for styling on a regular basis. Why not trust them to thicken your hair, too? This shampoo is gentle, but adds thickness to strands and also gives you volume, which ultimately will help you style your hair as well.
Here's a shampoo from the new hip brand Hims. The branding is really on point but let's dig into the ingredients. Salicylic acid, biotin, tea tree, and nettle leaf are the big standouts. Salicylic acid has been shown to reduce scalp DHT levels. Hims also offers a Complete Hair Loss Kit (includes the shampoo) for about $40 bucks a month that gets you comprehensive hair loss prevention. For a thorough look at the Hims brand, see our Hims Review.


The most expensive in our list, but it is to be expected. Jack Black has positioned itself as a luxury men's grooming product brand. Their shampoo is very effective though it contains a bit more chemicals than the others we have mentioned.
They name their mix of ingredients "expansion technology" and it works well. Basil and white lupine are two of their secret ingredients that help thicken your hair and give you a flake-free scalp. It has received overwhelmingly positive reviews on the web and is one of the first choices of appearance-conscious men.
Most men's thickening style shampoos that come with caffeine cost an arm and a leg. Just check out the price tag on that Ultrax Labs shampoo further down the page. Hair Restoration Labs delivers a caffeine-infused shampoo with a number of helpful other ingredients to thicken hair and prevent further loss such as pygeum bark and pumpkin seed oil.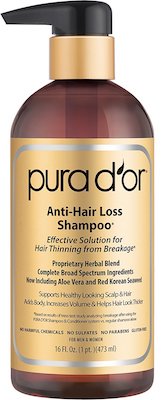 Pura D'or is another brand that has made multiple Review Lists throughout our site. This formula uses a combination of Argan Oil, Aloe Vera, and Red Korean Seaweed to help reduce breakage that can lead to hair loss. Strengthening the hair at the root means that it can grow to be full and healthy. It also uses small amounts of Biotin and other plant-based ingredients, making us put both of our thumbs up and earns this shampoo a spot on our top 15 list.
The HairMax Density Shampoo is bolstered by powerful ingredients such as tea tree, saw palmetto, peppermint oil, and Gotu Kola (Centella Asiatica). The HairMax Density Shampoo comes in 8.5 oz bottles and is relatively expensive compared to other hair thickening shampoos. HairMax also offers a density conditioner product that helps moisturize hair with its Vitamin E and essential fatty acids.

The Regenepure NT Hair Regrowth Shampoo for Hair Thickening and hair loss recovery is gentle, and won't strip your hair of the oils that make it look and feel healthy. Some have said that they've seen results after only a few washes.

Upstart Good Lab has brought a solid thickening shampoo to market. They also offer a complimentary conditioner and serum product. With a blend of thickening agents and DHT blockers, Good Lab contains an excellent lineup of ingredients. Caffeine, Oleanolic acid, nettle extract, jojoba seed oil, pumpkin seed oil, and saw palmetto are a handful of the highlights.
This shampoo was developed by two leading dermatologists Steven Shapiro and Michael Borenstein. We guess Shapiro's name was the catchier of the two! This shampoo appears extremely expensive at first, and it is towards the upper range of our list. Fortunately, you also get a matching conditioner when you purchase the shampoo through their website.
The shampoo features three DHT blocking ingredients while the conditioner is chock full of nourishing ingredients for silky smooth hair. One thing we really like about their website is that it lists their patents and studies that support their claims in the 'Work Sited // Sources' section.

The Lipogaine Big 5 Shampoo is an excellent all-natural hair thickening shampoo that is easier on the scalp then Lipogaine's Big 3 Shampoo. That's because The Big 5 doesn't contain ketoconazole. Furthermore, there aren't copper tripeptides (read more about copper peptides here) in this formula. Minus those two, The Big 5 has everything The Big 3 has and more. It has a massive list of 17 natural ingredients that have the potential to stimulate healthy hair growth.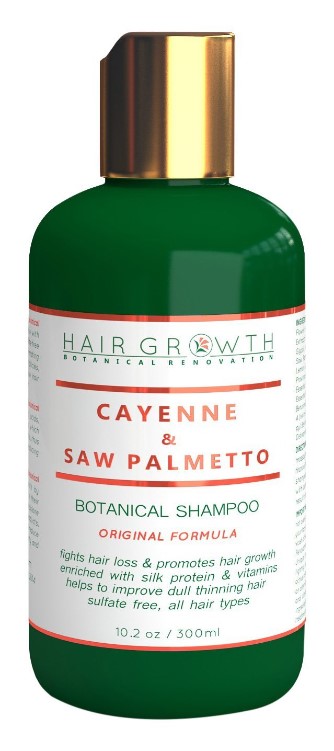 Cayenne Pepper? In hair? Hair Growth Botanical went there, and we like it. Combined with Saw Palmetto, the ingredients fight hair loss, and the natural oils help to strengthen and thicken hair in a safe way. With 100% organic ingredients, and sulfate-free, you can feel good about this being safe on your hair and going down your drain.
We highly recommend this hair loss prevention shampoo. While it doesn't have the long list of natural ingredients of Lipogaine's Big 5, it does contain natural DHT blockers like saw palmetto and nettle extract + the winning combination of ketoconazole and copper tripeptides.
It can be used as a daily driver hair loss prevention shampoo or once every two to three days if you're scalp doesn't like ketoconazole. Lipogaine does a lot in one bottle. It combats hair loss, thinning, and helps thicken your hair at the same time. It's dermatologist-recommended, and you will start to see results after just a couple of uses.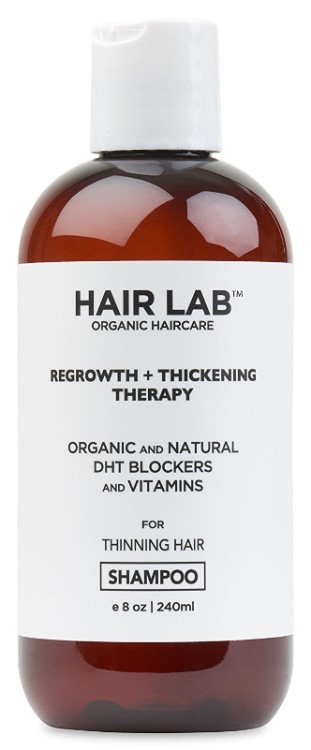 Hair Lab keeps things simple. Organic. Natural. Fight DHT. Thicken Hair. We like their motto, and we like the straightforward solution. Their formula uses natural biotin to stimulate your hair growth and keep things thick and healthy.
A US brand that we highly recommend trying out no matter where you reside is DS Labs. Their shampoo and conditioner lines are not only affordable but effective. The men's shampoo contains numerous natural hair thickening agents and lab-developed peptides that help boost volume and hair strand plumpness. DS Laboratories' stimulating shampoo is safe for minoxidil users and you will start to notice results after just one wash.
To achieve the best results, we suggest trying the shampoo out in tandem with the conditioner, which will help build collagen around each hair and prevent shedding.
One of the number one best sellers on Amazon is from Ultrax Labs and uses caffeine to help regrow hair and thicken strands. Partnered with ketoconazole, it blocks DHT to prevent hair loss. Lather into your hair and let sit for 2 minutes before rinsing and you'll be on your way to healthier hair.
PhytoWorx Organic Hair Loss Shampoo is a smaller brand, but that doesn't mean they need to be overlooked. It uses a rare plant stem cell that was discovered via research in Switzerland, and when combined with other ingredients it helps your hair from the root down. It's also sulfate-free, which means it's safe going down the drain.
Advantages of Thickening Shampoos
There are a few key advantages to using a special thickening shampoo as part of your daily repertoire:
Improve the appearance of hair. This one is pretty much self-explanatory, wash your hair with a high-quality thickening shampoo and your hair will look fuller, silky, and healthier. DHT-damaged hair follicles produce thinner hair, this cosmetic effect helps rebalance it.
Can be used as your primary shampoo. If you try and are pleased with the results of a thickening shampoo you may want to switch to daily use for the continued cosmetic effect. These shampoos aren't too harsh like Nizoral to prevent you from using them every day.
Sometimes includes other healthy ingredients. The two birds one stone effect. Feed your follicles some healthy nutrients and thicken your hair in the process. Some shampoos and conditioners in the above chart are composed of mostly organic ingredients, such as the Avalon Organics that has over 70% organic content.
Expands hair diameter. You guessed right, thickening shampoos will thicken your hair. Thickening shampoos and conditioners have ingredients that attach to each individual hair shaft and expand the diameter. This effect multiplied over the entire head can drastically change the appearance of your hair, especially if you just started thinning and still have some hair covering most of your scalp. It will make the thinning hairs that may be on their last legs to also appear thicker. Typically their ingredients are chosen mainly for thickening purposes, but sometimes they also include DHT blocking ingredients and or natural ingredients good for the hair. The options we are going to look at include both types of thickening shampoos.
Hold The Hairline's Take
Let's talk about the elephant in the room.
Do thickening shampoos work?
Yes, they are an excellent way to improve the appearance of your hair. It's not going to be a night and day difference, but it will be visibly noticeable. Much of the variance in results will be dependent upon the individual's type of hair and on what stage of hair loss they are currently experiencing. Compounding upon those factors is the fact that different hair thickening products will interact uniquely with different hair characteristics.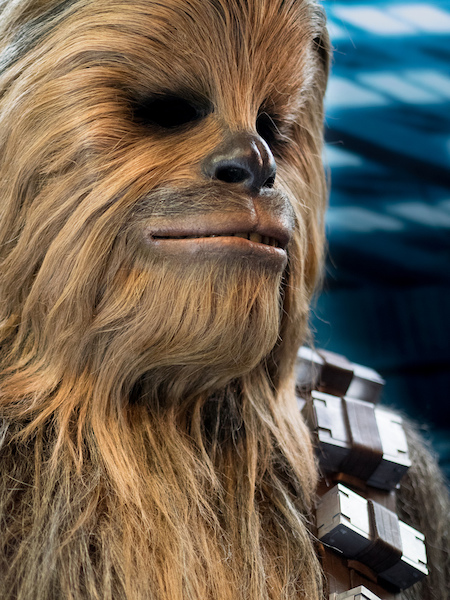 Some people naturally are born with much higher hair density than others. Blondes, for example, generally have higher hair counts then redheads and brunettes. Science has shown (for both males and females) that the average head of hair exhibits a density range between 175-300 hairs per square centimeter. Furthermore, the average human head will have an individual hair count between 100,000 and 150,000. This allows for a significant range of variance from individual to individual.
Keep in mind, thickening shampoos aren't likely to single-handedly prevent further hair loss — particularly genetic hair loss. Some of the shampoos on this page are more likely to reduce further loss while others are focused on cosmetic thickening only. As far as use directions go, there are probably two good ways to go about using a thickening shampoo and conditioner:
1. Everyday Use
The first way would be to get a combo pack — preferably one with some other good ingredients and use it daily as your primary hair care shampoo and conditioner. Then you don't need to worry about having all these different bottles and such. Because you're already using Nizoral every 3 days aren't you? If not, it is highly recommended to add a ketoconazole based shampoo to your hair loss regime. The bottom line no one wants to be tripping over a bunch of bottles when they step in the shower half-asleep in the morning. We recommend finding a good shampoo/conditioner set that you respond well to and sticking to that as your daily driver and supplementing with a ketoconazole shampoo every 3rd day or so. Keep it simple.
2. Occasional Use
The second way is to have a thickening shampoo and conditioner at the ready for those special occasions when you want to give your hair extra oomph. Maybe you've already got an anti-hair loss shampoo you're sticking with and want to stick to using that daily. Well, next time that date or big presentation rolls around you whip out the thickeners to step your hair game up for your special day.
Some hair types need to be careful about using thickening shampoos. If you have super thick hair and have wavy or curly hair type then these shampoos may give you that Afro or haystack look. If that's what you are going for mission accomplished otherwise you may want to steer clear or do a test run on one of your days off just to be safe.