Last Updated on August 25, 2020 by Hold the Hairline Team
Are there any hair loss prevention products out there with solid scientific research backing up their effectiveness?
Your answer is Minoxidil. And we aren't just talking Rogaine anymore. It's the only product that has been proven effective at slowing hair loss and regrowing new hair.
If you are serious about tackling your hair loss, Minoxidil should be a core part of your hair loss prevention regime.
Here we give you our picks for the top 15 best Minoxidil products on the market today. Each touts Minoxidil as an active ingredient.
Complete with full reviews on our top 5, we also clue you in on where to find the best deals on these treatments.
We also go over the efficacy of Minoxidil treatments, what makes them work, and the science that backs up their effectiveness.
Note that the products discussed here are independently chosen by our editors. At no extra cost to you, Hold the Hairline may get a share of the revenue if you buy anything featured on our site.
Comparison Table: Top 15 Products Containing Minoxidil
Here is our comparison table of the 15 best Minoxidil products.
As the article continues we also take a closer look at four popular topical additions to the Minoxidil treatments. We will also discuss Minoxidil products for women.
Stick around and get on the right track to a full head of hair once more!
Minoxidil Guide Part I: Minoxidil for Hair Loss Prevention
Minoxidil is an over-the-counter growth stimulant treatment. Initially created to treat high blood pressure it has become the gold standard of hair loss treatments without a prescription.
Both men and women who are suffering from hair loss can benefit from using Minoxidil. Whether you're treating a receding hairline, thinning hair or some bald spots Minoxidil has you covered.
In some cases, individuals who regularly use Minoxidil will experience significant hair re-growth. The downside is that it must be used indefinitely to retain any regrown hair as well as maintain hair follicles that otherwise would have been lost.
It takes approximately 30-60 days after discontinued use for hair loss to return to its normal rate.
Minoxidil has earned its place as part of the Big Three (Propecia + Ketoconazole + Minoxidil) which are three of the most proven and powerful hair loss treatments.
When an individual suffering from hair loss combines these three treatments they have a very high chance of stopping hair loss in its tracks.
Minoxidil Guide Part II: How Minoxidil Works
Minoxidil is considered an antihypertensive vasodilator medication originally meant to treat high blood pressure.
Quite by accident, it was discovered that it also promotes new hair growth and slows down hair loss.
It is still somewhat of a mystery as to how exactly Minoxidil works.
Recent studies carried out by L'Oreal suggest that Minoxidil works by activating PGHS (prostaglandin-endoperoxide synthase-1).
For a more in-depth view of the effectiveness of Minoxidil, studies, and clinical research visit our Does Rogaine Work page.
Here are some of the top pros and cons of using a Minoxidil hair loss product:
Pros:
FDA-approved hair loss treatment
Helps blood flow to the hair follicles
Stimulates and prolongs hair growth cycles
Increases hair shaft diameter and follicular size
No prescription is required
Helps prevent further hair loss in 4 out of 5 individuals
There's an 85% chance of stimulating new hair regrowth
Results are usually noticeable after about 4 – 6 months of daily use
Cons:
Must be used daily to see and maintain the benefits
It's a synthetic treatment
Stopping treatment will cause a return of hair loss
Can be hard to apply to the entire hair loss region of the scalp, particularly for individuals that have long and/or thick hair
One thing to keep in mind is that in many cases people will experience hair shedding within the first 2 weeks of use.
This is a good sign and means a new hair growth cycle is beginning.
No matter which product you choose you can expect a period where your hair gets thinner or falls out before it grows back thicker and fuller.
Minoxidil Guide Part III: Is There Such a Thing as Minoxidil Shampoo?
Wouldn't it be easy if you could get a dose of Minoxidil with your daily shower?
Sorry folks, there is no such thing as Minoxidil shampoo.
Unfortunately, Minoxidil cannot be effectively combined with shampoo formulations. Furthermore, it takes a while for Minoxidil to absorb into the scalp.
One study found that by hour 1, only about half the Minoxidil absorption was complete. By hour 4, nearly 75% was absorbed by the scalp.
The bottom line is you don't want to be sitting around in the shower for 4 hours while your Minoxidil absorbs!
In addition to this information, it makes the case for the fact that you probably shouldn't be applying a bunch of hair products to your scalp while the Minoxidil works its magic.
Your best bet is to apply Minoxidil and allow treated hair to sit uninterrupted for 8 hours. Either before bed or before a binge session of your latest Netflix obsession is recommended.
Minoxidil Guide Part IV: Minoxidil Frequently Asked Questions
Here are some of the most common questions about Minoxidil we receive:
I have seen products with 2% and 5% Minoxidil. Does 5% work better?
Products with 5% have been shown in studies to provide better results.
Is Minoxidil Safe?
This treatment is FDA approved in the US and Canada. However, it was meant to treat high blood pressure. If you are already on medications for this consult your doctor before beginning applications.
Also, if you have sensitive skin or are allergic to propylene glycol make sure the formula you're using is "PG Free".
Minoxidil 5% vs. 10% Which is Better?
A: While there are scientific studies proving that the 5% formulations are better than the 1% or 2% products, beyond 5% has not been formally studied. So, we cannot conclusively determine which is better.
While logic would state that 10% would offer faster results these formulas are much more expensive. We can't justify the additional cost.
Save your money and get something you know will work. Stick with 5% and if you aren't getting the results you want, crank it up to 10% and see if it works better for you.
Is Minoxidil Foam or Liquid Better?
There is no evidence supporting the claim that one works better than the other.
Some evidence suggests foam is less irritating to the scalp. The main difference is the cosmetic result after use.
Foam is better for manipulation and offers more control over the product. The liquid is easier to get through to the scalp but can be harder to control and messier.
What are the Most Common Side Effects of Using Minoxidil?
Some people may develop an itchy or irritated scalp from regular use. Another common side effect is extra facial hair growth.
Do I Have to Use Minoxidil Twice Daily?
While most manufacturers of Minoxidil products include instructions on their label to use twice daily, some recent evidence has suggested one time a day is sufficient.
The general consensus is although it works best when used 2x a day, using it once a day will also be effective (and better than not using it at all).
Is There a Way to Know if Minoxidil is Working for Me?
A good sign to look out for is hair shedding within the first 2-3 weeks of use.
Obviously, seeing new hair follicles pop up along and in front of your hairline, or on the vertex and top of the scalp, are also great signs that the treatment is working.
New growth typically appears after about 4 – 6 months of daily use.
Although the first new hairs may appear soft and downy, continued use leads to these hairs developing the same look and texture as the other hairs on your scalp.
The soonest you will see actual results would be about 2 months. But, you have to give it time before you abandon your efforts. Not everyone responds to Minoxidil the same and individual results will vary.
For some, there are results in 2 months, for some it could take 8 months. Continue daily use and you can make a fair assessment by splitting the difference.
Our Top 5 Best Minoxidil Product Picks
Below you'll find some of the most popular and top-rated Minoxidil solutions available.
Much of your decision should come down to whether you are looking for a standalone Minoxidil treatment or one with a bunch of added DHT blockers.
Rogaine or Kirkland will be your best bet for a Minoxidil only solution. Lipogaine and Hair Restoration Labs products are a great pick if you're looking for the best minoxidil with DHT blockers.
If you're looking for something with a little more bang for your buck consider a combination solution that combines a few of the "Big 3".
1. Lipogaine Complete Solution
Top pick for the best brand of Minoxidil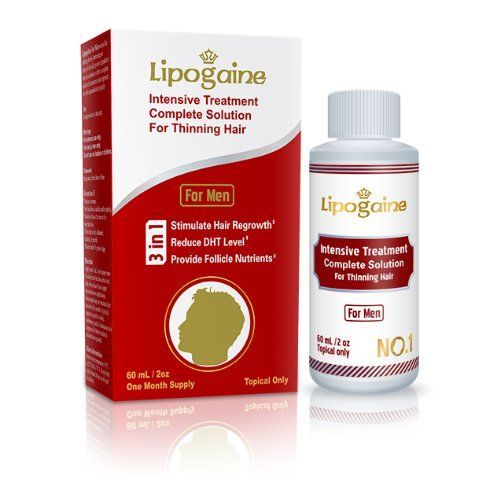 Lipogaine Minoxidil treatments are what we refer to as designer Minoxidil. Their Lipogaine Minoxidil for Women is our pick for the best minoxidil for women.
You get the one-two punch of Minoxidil plus a scattershot of other ingredients that have been shown to reduce DHT.
Minoxidil stimulates hair follicles and growth but is not known to inhibit DHT. Lipogaine is an attempt to provide a comprehensive solution to hair loss.
Lipogaine has a unique formula that has a mix of ingredients including a 5% Minoxidil concentration.
It also contains their propriety herbal blend "DHT-Blocker." Lipogaine claims their formula will eliminate 98% of scalp DHT. There have been a few clinical studies done on some of the additional ingredients that support the claim that they do aid in preventing hair loss.
In addition to Minoxidil, it includes: A proprietary herbal blend DHT blocker, apple polyphenol, biotin, biotinyl-tripeptide, niacin, saw palmetto, vitamin B6, and B12.
You'll pay a premium for all those supplementary ingredients though, this is nearly 2 to 3 times as expensive as a strictly Minoxidil formula.
However, it is worth a try if you want to get the best hair regrowth.
Lipogaine also has a product made exclusively for women.
2. Hair Restoration Laboratories Ultra Strength Hair Regrowth Treatment
Top pick for the best hair growth serum with minoxidil
Much like Lipogaine's formula, Hair Restoration Labs threw a slew of other ingredients into their product hoping to bolster the results of standalone Minoxidil.
Along with 5% Minoxidil, you'll find green tea extract, pumpkin seed oil, caffeine, cumin seed oil, biotin, azelaic acid, saw palmetto extract, borage extract, azelaic acid, and a variety of other hair-boosting vitamins.
That's a robust list of natural DHT blockers.
This Hair Restoration Laboratory Hair Regrowth Treatment is the most expensive treatment in our comparison table.
But, look at all the DHT-blocking, hair growth boosting powerhouses included in the ingredients.
Buying each of these products alone would cost you a fortune. So, it more than makes up for the higher price.
Like other Minoxidil products, this formula is applied twice daily to areas of thinning and balding. You want to wait at least 8 hours in-between applications.
An included dropper comes with the bottle making application easy.
3. MinoxidilMax Essengen-5 Propylene Glycol-Free Liquid
Top pick for best minoxidil solution for hair regrowth (fast drying)
Essengen-5 has the same effective ingredient as Rogaine and Kirkland Liquid Minoxidil.
The thing that sets this formula apart is the lack of propylene glycol. Many have sustained allergic reactions to this ingredient. Those with sensitivities can get the benefit of the Minoxidil without the allergic reaction.
People with long hair may have some trouble with applying this liquid Minoxidil. You can apply it to the top of the hair and gravity will help work it down through to the scalp. But, it can have a tendency to be a bit runny and harder to control than other foam formulations.
However, Essengen-5 dries fast and is much less greasy than regular liquid Minoxidil.
This is a great option for anyone with sensitivities to propylene glycol and who prefer a liquid formulation over foam.
4. Rogaine Foam and Rogaine Liquid
Top pick for the best minoxidil 5% product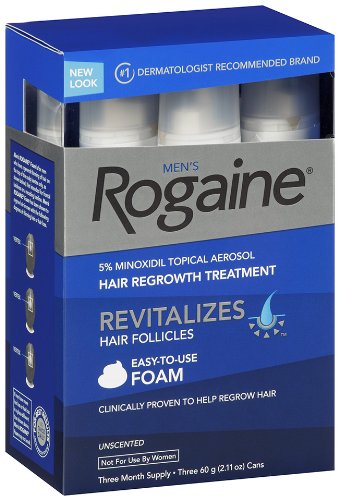 Rogaine is the gold standard in Minoxidil products and, by far, the most popular brand of Minoxidil.
You'll pay more for this than a generic version. But, sometimes it's worth buying the brand name.
Upjohn Corporation is the company that first marketed Minoxidil under the brand name Rogaine (Regaine in Europe and the Asia-Pacific) until the patent expired in 1996 and a whole slew of other companies came into the picture.
For women, Rogaine makes both a foam and liquid product (just like the two for men) that will help them maintain and regrow hair.
Below you'll find an image of the Women's Rogaine Foam packaging.
We personally love the Rogaine foam product.
For whatever reason, it seems like the easiest Minoxidil product to add to our daily hair routine.
When applied to wet hair it is pretty hassle-free to get a full spread on the entire top of the scalp, vertex, and frontal regions.
For those with long and/or thick hair, it is going to be much easier to apply than the liquid. The liquid can be runny and difficult to control when applying.
Rogaine Foam 1 Month Supply: 2.11 ounces total, Approximate Price Per oz $5.78
Rogaine Foam 3 Month Supply: 6.33 ounces total, Approximate Price Per oz $7.10
Rogaine Foam 4 Month Supply: 8.44 ounces total, Approximate Price Per oz $7.68
Rogaine Liquid 1 Month Supply: 2 ounces total, Approximate Price Per oz $6.25
Rogaine Liquid 3 Month Supply: 6 ounces total, Approximate Price Per oz $7.57
5. Kirkland Foam and Kirkland Liquid
Top pick for the best generic Minoxidil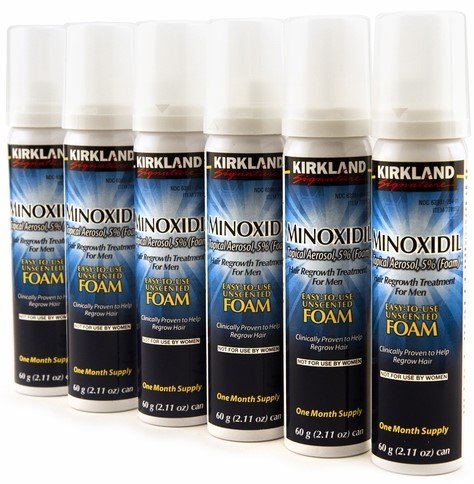 Kirkland Minoxidil is an excellent bulk option.
You can't beat their price on liquid Minoxidil at about $25 bucks for a 6 month supply. It is one of the least expensive choices and still gives you great results.
The liquid solution provides a dropper to help with the application process.
All of Kirkland's topical Minoxidil solutions are unscented and contain 5% Minoxidil.
Kirkland is known for bulk packaging. They offer the most affordable way to stay stocked up on nearly everything. Hair loss products are no exception.
Kirkland is the only company that offers 12 month supply packages of Minoxidil. Minoxidil's shelf life is about 2 years so you don't need to worry about this stuff going bad either.