Last Updated on January 16, 2019 by
In this post, we're going to take a look at the benefits of using argan oil for hair loss treatment. Argan oil has significant benefits for those suffering from hair loss. The oil was used traditionally to treat a variety of skin diseases. Its natural properties are a tremendous boon for a scalp plagued by dandruff and irritation. Argan oil is rich in natural phenols that are beneficial to hair follicles. Not only does it promote new hair growth, but also will help you grow healthy, thick looking hair.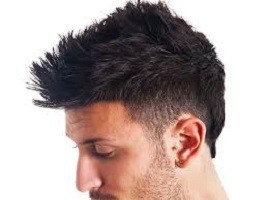 Many beauticians and dermatologists recommend Argan oil as a cosmetic treatment for the hair and skin. We recommend argan oil for a healthy head of hair alongside the big three hair loss treatment regimen.
What is Argan Oil?
Argan oil is composed of carotenes, fatty acids (80% unsaturated), phenols, tocopherols, and squalene.  Argan oil is a natural extract from the fruit of argan trees. These trees are found in large numbers in Morocco. The oil is extracted from the hard-shelled nuts found within the fruit. These nuts compose about 25% of the total weight of the fruit. Contained in each fruit is about 1-3 kernels which are rich in argan oil. Essentially, this means a great number of these fruits must be processed to extract a significant amount of argan oil.
Industry has tried to automate the process of extracting the precious oil, but has thus far failed. The consequence is that nearly the entire process must be done by hand. As you can imagine, this results in a much higher price for the consumer.
The fact that argan trees are almost exclusively found in Morocco is another contributor to the high price. Transportation costs are not cheap. As precious argan oil continues to grow in popularity for its multitude of uses, demand for the oil is at an all-time high. Thankfully, the Morrocan government plans to increase production from 2500 tonnes to 4000 tonnes by 2020.
Comparison Table: Top 10 Argan Oil Products for Hair Loss
Here is our comparison chart of all the best Argan Oil hair products on the market. We've organized it by type of product, and you will see that the review section reflects the chart for convenient reference.
The 100% Argan Oil is extremely concentrated, and a little goes a long way. So though it may carry a higher price tag, it is well worth the investment. Prices fluctuate frequently, therefor the cost per ounce should be taken as approximations. Do note that we do our best to update our pages with fresh information and products.
Review Section: 10 Best Argan Oil Hair Products
One thing to remember with these products is that a little argan oil is going to go a long ways. Even a small bottle of pure oil is likely to last at least a few months with frequent use.

99% Plant Based
Gentle Enough for Daily Use
Lavender and Vanilla helps Smooth Frizz
Sometimes the easiest way to incorporate argan oil into your hair treatment routine is using a daily conditioner. Pura d'or manufacturers many premium organic products. This conditioner is no exception. 99 percent of the formula is composed of vegetable base ingredients. This conditioner is free of harsh chemicals and artificial colors/fragrances, as well as sodium lauryl sulfate (SLS).
The key ingredient is the organic argan oil, though this conditioner contains a robust blend of natural ingredients in addition. It is a nourishing conditioner that is sure to enhance your hair's appearance with a healthy shine and maintain a balanced, clean scalp.
For All Hair Types
Color Protection
Intense Hydration
If you're looking for restorative moisture without hassle, that doubles as color protection, chek out one 'n only Argan Oil hair mask. It's derived directly from Argan Trees, and really requires no fuss. You can leave it in for 7-10 minutes after shampooing, and rinse. No heat, no towel drying, just simple.
It's base does contain canola oil, which is unique in the hair product realm, but when it's partnered with shea butter it has extra nourishing results. This product is made for all air hair types, and we especially suggest it for people of color and others who have densely curly hair.
Silk Amino Acids
No Artificial Scents or Dyes
It's hard to argue anything could be smoother than silk itself, something Maple Holistics set out to prove. Silk 18 not only is made with the repairing features of argan oil, but it's also made with silk amino acids. Vanilla, shea butter, and green tea also add to the restorative power of this conditioner.
We recommend you pair this conditioner with a healing and restorative shampoo so that it can go beyond just repairing your hair and help your hair to grow stronger and thicker.
This is sort of a unique review, as in you get four recommended products in one! If you really want to go all in on Argan Oil, you can replace your whole hair care system with it. OGX makes popular drugstore hair products that bring out the best natural ingredients to give you the best hair.
Up first we have the OGX Argan Oil Shampoo and Conditioner. You can use both of these every time you wash your hair.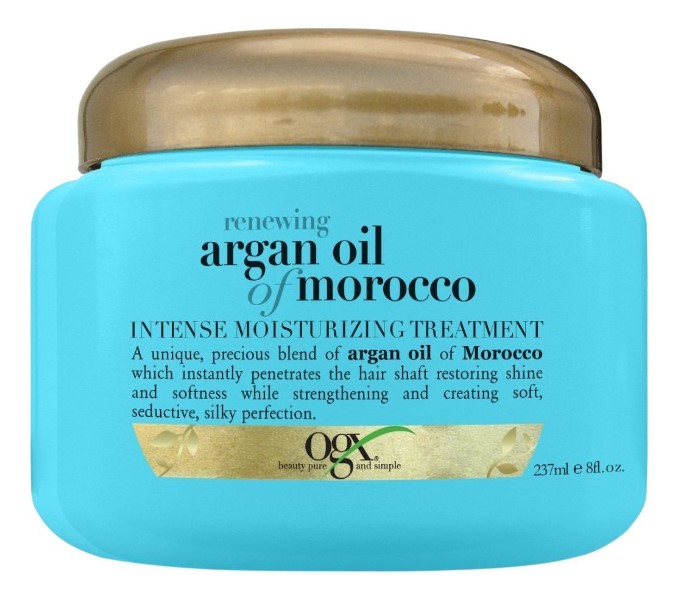 After washing and drying, you can apply the intense moisturizing treatment to your hair, and miraculously- leave it set for up to a full hour. It will strengthen your hair in unbelievable ways. We suggest using this only once a week.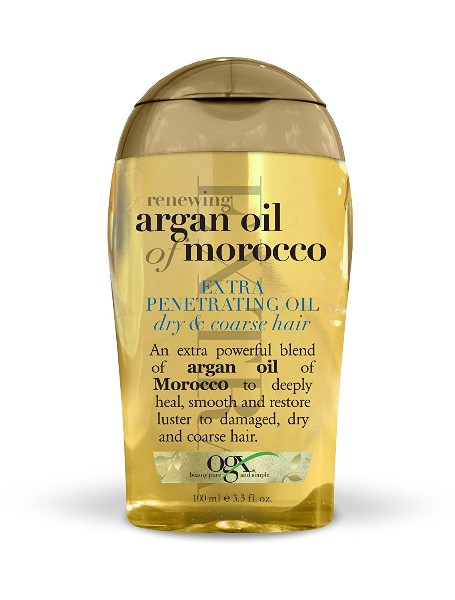 Up last in the routine, is the Extra Penetration Argan Oil. It hydrates and renews damage caused by heat and UV rays. You can use it after styling to protect your hair.
100% Organic
Cruelty Free
No Parabens or Sulfates
Hair Masks can be an effective way to moisturize and penetrate your hair during your shower routine. Though it takes a little longer, you only need to use it 1 or 2 times per week in order to see efficient results. You only need to comb it through shampoo, and towel dried hair, and let it soak for 5-15 minutes before rinsing.
Royal Formula's Argan Oil hair mask is a professional series product. It's also guilt free, as it is not tested on animals. One more bonus is that without parabens or sulfates, it's safe for color treated hair. You can clearly color us impressed by this product.

Cold Pressed
USDA Organic Certified
Safe for Body, Hair, and Face
Pura'dor is the manufacturer of one of the best organic hair loss prevention shampoos on the market. Coincidentally, they also manufacture a 100% pure argan oil product. This product has established itself as a bestseller on Amazon. Pura'dor's argan oil is renowned for its premium quality.
No chemicals are added to the product as well, so nothing will damage your hair. This is an all-natural product imported directly from Morroco.
Repair After Damage
Soybean and Keratin Proteins
Color-Safe Hair
If you're looking for a once-in-a-while argan oil treatment to help restore you hair after extra damage such as from the sun, chlorine, or chemicals, Hask has the product for you. This Argan Oil deep conditioner comes in a one time use package, that's a great addition to your regular routine.
Aside from Argon Oil, this repairing deep conditioner also includes Soybean and Keratin Proteins, that help to restore your hair to it's previous youth. We recommend partnering this treatment with regular use of a moisturizing conditioner, but it also works great if you have typically healthy hair and just need a pick-me-up.
Reduces Drying Time
Non Greasy
Lightweight
This is another great pure argan oil product. A less expensive alternative to the Pura'dor product, it is also an extremely popular argan oil on Amazon. Agadir makes a variety of argan oil products such as sprays, masques, shampoos, and styling products.
If you have longer hair, the spray is much easier to apply. Like the other options, you only need a few drops and it is enough to hydrate the entire scalp as well as hair follicles.
Salon Quality Product
Heat Protectant
Moroccan Grade Argan Oil
This argan oil treatment manufactured by Arvazallia is in the top 20 best selling hair growth treatments on Amazon. It can be used as a scalp moisturizer, deep conditioner, or leave-in treatment. It has a pump top making it easy to dispense the right amount.
The company backs the product with a 100% money-back guarantee. They are currently running a promotion on Amazon (60% off) and the product can be picked up for under $20.

100% Pure and Organic
Dropper Eases Application
Fair Trade Company
If you're looking for the best of the best, Poppy Austin offers the highest grade argan oil on the market. This is the top shelf Argan Oil sold in ritzy boutique salons, meaning it's a bit more expensive than the other options. Poppy Austin is known for manufacturing the highest quality beauty products. If you purchase two or more bottles of the stuff, they give you a 10% discount and free shipping.
Argan Oil can Improve the Condition of Hair Loss
There is a handful of ways argan oil indirectly contributes to the reduction of hair loss.
Maintaining a healthy scalp environment. Many authorities on hair loss such as hairlosshelp.com, emphasize the importance of a nourished and healthy scalp in the treatment of hair loss. Using this oil after a ketoconazole treatment is an excellent way to achieve an environment conducive to new growth.
Promotes hair growth. Argan oil stimulates production of keratin, essential to new hair growth. Studies have shown that stimulating the scalp with argan oil helps promote new hair growth.
Improve blood circulation to the scalp. The enhanced circulation to the scalp can help hair follicles get the nutrients they need to continue growing.
Moisturizes the scalp. Argan oil will help eliminate dandruff and other scalp conditions. Scalp build-up that contains DHT will damage hair follicle growth and clearing this up will aid hair growth.
Balance Hormone levels. Argan oil has a subtle effect on balancing the hormones of the skin and scalp. This is why one of its uses has been to treat acne.
Split end and frizziness treatment. Say, for example, you are experiencing thinning hair and are on a hair loss treatment regime. Thinning hair is more prone to a frizzy and disheveled appearance. One of the best things you can do for your hair is ensure this new hair that grows back grows in healthy and strong. Argan oil makes the hair you do have look better.
How to Use Argan Oil to Treat Hair Loss
The best way to use argan oil in combination with a hair loss regime is to massage this oil nightly into the scalp. This will stimulate the scalp and help open the pores. After massaging the oil into the scalp for about 2-3 minutes you will want to apply your topical formula such as a minoxidil treatment.
Leave on both treatments for the entire night to fully nourish the hair follicles. You will notice a significant improvement in the quality, appearance, and feel of your hair after a couple weeks of treating your hair.
Argan Oil and Ketocanzole
Another method of using argan oil as part of a balding treatment system is using the oil after a ketoconazole treatment. Ketoconazole is notorious for drying out the scalp as it is essentially nuking the scalp. Ketoconazole should only be used twice a week, so this is not a daily application method.
How to Apply Argan Oil to Your Hair
Here's a quick example of how to use oil in the hair from Sweet Essentials. 
Hold the Hairline's Take on Argan Oil for Hair Loss
Argan oil is not the miracle natural ingredient for the prevention of genetic hair loss. However, argan oil is an effective treatment of causes of temporary hair loss. This includes conditions such as scalp conditions and dietary deficiencies.
If you are suffering from genetic hair loss, keep in mind the hair loss battle is two-part in nature. Of course you want to regrow new hair and prevent hair from falling out, but you also want the hair you do have left looking good. It is likely that one of your main goals is minimizing the impact hair loss has on your appearance. After all, hair loss is generally diagnosed as a cosmetic condition.
One of the best ways to do this is controlling what you can, and part of that is the appearance of the hair that's still growing. Outside of cosmetic enhancement, there are some studies that suggest argan oil may help extend the hair growth cycle.
Ultimately, argan oil is a great supplement to a hair loss treatment regime for these reasons. Its hydrating effects will cosmetically enhance the appearance of your hair. Regardless of how thin your hair is or what stage of hair loss you are experiencing, argan oil will improve its condition.
---