Last Updated on January 16, 2019 by
Let's talk about the best hair loss treatment for female hair growth. Every day, you shed about 50 to 100 strands of hair. It's easy to not notice this loss, since us humans have 100,000 hair follicles (Cite 1) on the scalp after all. But what if you start seeing bald patches on your head? Or you've noticed your hairline's going higher, making your forehead more noticeable? Worse, the area above your head may have thinned!
Well, that's no longer normal. If you think that only men go bald, think again. As many as 40% of hair loss sufferers (Cite 2) are women.
The good news is, the best hair loss treatment for female baldness can help you hold your hairline.
Now the big question is, what exactly is the best hair loss treatment for you? In this guide, we'll cover female hair loss and the best treatment products available.
The Best Hair Loss Treatment for Women You Should Try: Top 10 Products
Now that you know what to look for in female hair loss treatments, let's look at some of the best-rated ones in the market.
HairGenics touts its Propidren supplements as clinically-proven DHT blockers. The manufacturer lists Saw Palmetto as one of the main ones, at 200 mg per serving. It also contains Beta-Sitosterol, Biotin, and Horsetail Extract among other DHT-inhibitors. Propridren is for both men and women suffering from hair loss. For it to deliver the best results though, you need to take at least two capsules every day, after eating.
The manufacturer also notes that it can take up to three months for users to see results. Aside from stopping hair loss, HairGenics also claim that Propidren can thicken hair. From there, users may notice significant hair growth. The good thing about this hair loss treatment is that it comes with a 100% money back guarantee. That shows how confident the manufacturer is that it works.
Hairomega DHT Blocker is an herbal formula containing 41 natural ingredients. The formula also includes 5000 mcg of Biotin, Pygeum, Saw Palmetto, and Beta-Sitosterol. It's an all-vegetarian supplement that contains no gluten. That's a plus for those with Celiac disease or gluten allergies. The Vitamin A, B, and E content of the product is also said to have hair root-nourishing effects. Those, combined with Copper, Zinc, and Selenium, aid in hair growth in both men and women.
Other notable ingredients include green tea and red raspberry antioxidants. These help reverse the effects of free-radicals, thus promoting better immune system health. Like Propidren, you also need to take two capsules every day. Take one after breakfast and another after dinner.
DasGro Vitamins contain a wide array of ingredients said to help treat hair loss in both men and women. These include Biotin, DHT-blockers, as well as Saw Palmetto. The formula also includes green tea and grape seed extracts, as well as Ginkgo Biloba.
It also comes with a full 90-day money back guarantee. It also boasts excellent ratings from actual users. These make it one of the best hair loss products for women you ought to try.
Another DHT-blocker from HairGenics, Propidren Topical is a serum for hair loss. It contains the same ingredients as the capsule version. But since it's a serum, you apply it straight on your scalp.
For the best possible results, apply 1 ml of the solution onto your scalp twice a day. In case you don't see any results within a month of use, you have a 30-day money-back guarantee.
Rogaine now has a female version for its popular Minoxidil Foam hair loss treatment. The Women's Rogaine 5% Minoxidil Foam boasts a formula designed for the specific use of women. According to the manufacturer, it's clinically-proven to regrow as much as 25% more hair. Plus, it also aids in promoting hair follicle activity and hair protein production. It's quite possibly the best product for women's thinning hair.
To use the foam, take half a capful and apply it straight on the affected area of your scalp. Using your fingers, massage the product into your scalp. Do this once a day. Keep in mind that Rogaine recommends its continued use. Discontinuing will trigger your hair to start falling again.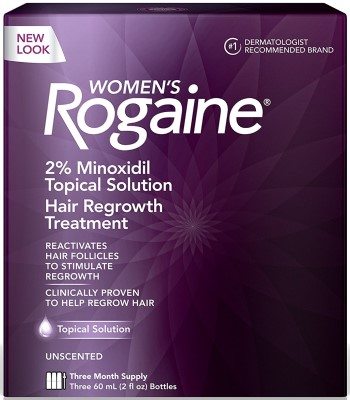 With the Women's Rogaine 2% Minoxidil Topical Solution, you get a three-month supply of the serum. Both products are clinically-proven, although they differ in application method. With this one, you apply only 1 ml of the solution using the provided dropper. Direct the dropper on the area of your scalp affected by hair loss. Do this twice a day for the best possible outcome.
Note that Rogaine isn't a miracle treatment, so you may still see some hair loss for a couple of weeks. To maximize results, use the product for at least four months as instructed. We've already established Rogaine as making the best hair products for women's thinning hair. This is just a less aggressive method.
The main ingredients of the Amplixin hair growth serum include Biotin and DHT-blockers. Amplixin further notes that all its ingredients underwent clinical studies. The serum's formula, in general, has shown to slow hair loss in both men and women. It also helps promote hair regrowth in users suffering from thinning hair.
Another attractive feature of this serum from Amplixin is its safety for all hair types. The manufacturer assures its safety for normal, oily, damaged, or dry thinning hair. To use, spray a good amount of the serum on your hair-loss affected scalp areas. Then, massage the solution onto your scalp with circular motions. Do this daily for the best results possible.
This hair regrowth treatment product contains 2% of the FDA-approved Minoxidil. Keranique claims it works best for women who want a long-term solution to their thinning hair. To use, apply 1 ml of the solution with the dropper onto your hair-loss affected scalp areas. Do this twice a day. Note that continued use is important since this is the only way to prevent further hair loss.
Equate's Minoxidil product has a fair amount of good reviews, but it also comes with some disclaimers. For starters, only people who suffer from hair loss on the top of their scalp should use it. The manufacturer also says it can only help people with a certain degree of hair loss.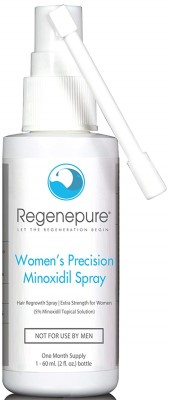 The Regenepure Precision 5% Minoxidil Spray boasts a formula designed for women. The spray allows for targeted application, allowing ease of and clean use. For best results, make sure you apply the product once a day. And like with other Minoxidil treatments, continued use is also a must with this spray.
The Lowdown on Female Hair Loss
Let's face it. Appearances matter in today's society. Both men and women take great measures to look and feel good about themselves.
Here's a fact that proves that:
17.5 million cosmetic procedures (Cite 3) took place in the U.S. in 2017.
Here's another one:
Hair loss treatment manufacturing in the U.S. has become a $4-billion industry (Cite 4).
Our point is, if you're worried about female hair loss, you're not alone. It's much more common than what you think. In fact, about half of women aged 50 (Cite 5) and older suffer from it.
What Causes Hair Loss in Women?
Sudden hair loss can result from certain illnesses, medications, dieting, and even childbirth. Gradual hair loss is much more common though, and has something to do with genes. This type of hair loss (androgenetic alopecia) affects 50 million men and 30 million women (Cite 6).
Researchers found a link between hereditary hair loss and hormones known as androgens. To be more precise, an androgen called "dihydrotestosterone" (DHT). Studies like this (Cite 7) show DHT has the biggest influence on the onset of hereditary hair loss.
In simpler terms, there are certain conditions wherein DHT kills hair follicles. The more of this hormone binding to your follicles, the lower the survival rate of your follicles. Note that even the tiniest amount of DHT can already trigger hair loss in women. The best hair product for women's hair loss will help prevent this.
What Makes the Best Hair Loss Treatment for Female Hair Loss the Best?
For androgenetic alopecia sufferers, DHT-blocking treatments make the most sense. Blocking DHT can help prevent even more hair loss, so you can keep your remaining strands. Also, since these treatments get rid of DHT, they can then give your follicles a chance to grow new hair.
DHT blockers, such as Finasteride (Propecia), works by getting rid of your hair loss' root cause. It inhibits the follicle-killing androgen, which then halts or slows hair loss.
Keep in mind that majority of Finasteride studies involved male participants. But some studies that involved women suffering from androgenetic alopecia showed promising results.
One study showed improvement in 62% of premenopausal patients (Cite 8) with pattern hair loss. Another study looked at the effectiveness of Finasteride with Dutasteride (Avodart). It found that together, they had positive effects on female pattern baldness.
Other Top Treatments for Female Hair Loss
Minoxidil and Ketoconazole are also other top treatments for hair loss. Take note that all three are the only FDA-approved hair loss treatments in the market.
While they work in different ways, they complement each other. That's why for the best possible results, you may want to include all three in your regime.
Minoxidil vs. DHT-Inhibitors
Minoxidil is different from DHT-inhibitors in the way that it helps treat hair loss. For starters, it's an antihypertensive vasodilator medication. That's the medical term for drugs that treat high blood pressure and widen blood vessels.
When used as topical solutions on the scalp, Minoxidil stimulates the hair follicles. This stimulation helps them get more nutrients and remain in the active growth phase.
Again, not all products containing Minoxidil hold up to their claims. Only the best Minoxidil treatments come with results proven by scientific research.
The Role of Ketoconazole
You've most likely encountered Ketoconazole in anti-dandruff and anti-fungal products. So, you're now wondering what it's doing in this list.
Well, that's because researchers found it has disruptive effects on scalp-DHT pathways. That means it helps by reducing the effects and levels of DHT in the scalp. That said, Ketoconazole products used with Minoxidil can provide better results.
Research Citations
2018 American Academy of Dermatology. "How Hair Grows" https://www.aad.org/public/kids/hair/how-hair-grows
2010 American Hair Loss Association. "Introduction"http://www.americanhairloss.org/women_hair_loss/introduction.asp
2018 GlobeNewswire, Inc. "New Statistics Reveal the Shape of Plastic Surgery" https://globenewswire.com/news-release/2018/03/01/1402022/0/en/New-Statistics-Reveal-the-Shape-of-Plastic-Surgery.html
2018 IBISWorld. "Hair Loss Treatment Manufacturing in the US


US Industry Market Research Report" https://www.ibisworld.com/industry-trends/specialized-market-research-reports/life-sciences/otc-medicines/hair-loss-treatment-manufacturing.html

2017 NAHRS. "Female Pattern Hair Loss" http://www.nahrs.org/PatientInformation(FAQs)/FemalePatternHairLoss(FAQ).aspx
2018 Genetics Home Reference. "Androgenetic alopecia" https://ghr.nlm.nih.gov/condition/androgenetic-alopecia#genes
2014 National Center for Biotechnology Information. "Assessment of the usefulness of dihydrotestosterone in the diagnostics of patients with androgenetic alopecia" https://www.ncbi.nlm.nih.gov/pmc/articles/PMC4171668/
Archives of Dermatology. "Finasteride Treatment of Female Pattern Hair Loss" https://www.researchgate.net/publication/7228691_Finasteride_Treatment_of_Female_Pattern_Hair_Loss