Last Updated on January 16, 2019 by
Emu oil might not have struck you as being good for your hair, but continue reading this guide to learn the proven benefits of emu oil for hair loss and growth.
Your hair is important. Not just for cosmetics or aesthetics, but it actually serves a purpose. The hair on our body acts as a thermoregulator for our body. It also helps with our immune system. But if it's so important, how do we take care of it.
Over the centuries people have used various things to try and keep hair healthy. The first soaps weren't all that great for your hair. People used lye based soaps to clean their hair. And this definitely didn't bode well for hair.
Today we use a lot of different kinds of shampoos in our hair. And we tend to dry out our hair and damage it with our constant washing routines. It's highly important to keep your hair moisturized if you want to keep it around for a long time. This is where Emu Oil for hair comes in. Emu oil for hair is a great way to augment your hair maintenance or growth routine.
In This Article
Up first, are some of our favorite emu oil hair products. Our top picks are coming to you in the form of a comparison table and product list, with all of the necessary features and benefits highlighted for you.
After that, similar to our other natural remedies articles, we've got information about what Emu Oil is, and what makes it so great for skin and hair.
10 Best Emu Oil Products for Hair Growth
Here is a quick look at our Top 10 Picks for the best emu oils for hair! We've got them in order of price ascending, just like our review section below.
Our Top 10 List of the Best Emu Oils For Hair Products
There are so many products out there. How do you choose? We'll we've got you covered. Below you'll find ten emu oils for hair.
If you're looking for a non-topical treatment for your hair loss, but want to try emu oil, we highly recommend trying emu oil softgels. The Thunder Ridge Emu Oil caplets not only promote hair and skin health, they are also promoted to support heart and vascular health since they are loaded with great essential fatty acids.
If you're looking for a cleansing system, to take your emu oil hair treatment a step further, we suggest this shampoo set from Healthy Hair Plus. It contains 100% Grade A Emu Oil- the best of the best- to help make your hair softer and more manageable, while also promoting hair growth. This shampoo and conditioner helps to maintain a healthy scalp and keep your skin moisturized- which is great for the roots of your hair.
A little bit goes a long way with this Fro Butter, that uses Emu Oil as it's primary ingredient to help promote hair growth. It thickens, protects, and smooths out all hair types. It also contains Shea Butter, Pumpkin Seed Oils, and Coconut Oils. You only need to use this emu oil hair product a few times a week to get great results.
Blue-Emu is NOT pure emu oil. While it's not primarily used for hair, the reviews say that people have found success in using it in their hair and on their body.
Another 100% natural emu oil product, Gaia Purity's oil comes with a lifetime guarantee. Although it's not certified by the AEA, a lifetime guarantee is a good sign. Companies that put a guarantee like this on their products have credibility.
The guarantee says that they will return your money if you're dissatisfied. And this no matter where you purchased it.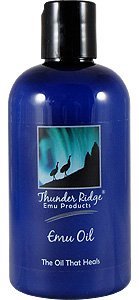 The standard setter in the Emu world is the AEA. And Thunder Ridge is certified quality by the AEA. It comes in a small 9-ounce squeeze bottle. And again it's pure, 100% emu oil for hair and other parts of the body. The instructions for use are simple. Shake well and apply generously.
If you're looking for 100% pure emu oil for hair, then Cavin Schoon is your oil. It comes in a small spray bottle. And the company claims their oil comes from farms that don't use pesticides. Ingredients are 100% natural. But if you're looking for "organic," not all of their products are such.
Here is another organic emu oil. Leven rose claims that their Emus are not modified genetically. So, you can be assured that no harmful practices were used to bring you your oil.
The oil comes in a small bottle with a dropper. This is less productive when it comes to emu oil for hair. Although you usually only need a little bit of oil for your whole scalp.
This is the first organic oil in our lineup. If you care about organic products, InstaNatural's is your Emu Oil. It comes int a little spray bottle. And it claims all the same things for emu oil that we've already covered.
When you hear "Ultimate Emu" you think of an Emu with a cape. But this oil claims to be professional strength. If the claim of 100% emu oil is true, there cannot be varying degrees of pure emu oil. So, don't worry about labels like "Professional Strength." All you need to know is that it's pure.
What Is Emu Oil?
Emus are farmed for their meat in Australia, Canada and Europe for their red meat.
While most of us probably haven't had an Emu burger, we might want to know that our oils aren't coming to us in an inhumane manner. And they're not.
Emu oil is a by-product of the farming and butchering process. It's from the fat off the back of an Emu. And that fat would normally be discarded anyway.
Almost 70% of the fatty acids in emu oil are the good kind. But we're not going to talk about ingesting emu oil today. We're talking about applying it to your hair.
Emu Oil For Hair: How Does It Work?
Emu oil, of course, is a natural substance. It has no adverse side effects, so you shouldn't worry about using it on your scalp. When you use emu oil for hair growth, you're reducing inflammation in your scalp. This alone is healthy for your scalp. And when it comes to hair loss, you're looking at one of the causes being an inflamed scalp.
Another benefit of emu oil for hair loss is its non-comedogenic properties. That is a fancy way of saying it doesn't clog your pores. While none of these things really grow your hair. They do promote growth and reduce elements that might be detrimental to hair growth.
So, Emu oil is extremely good for you hair. And it won't feel greasy when you apply it to your mane or scalp. This is due to the fact that it's a good emulsifier. And it will absorb This is due to the fact that it's a good emulsifier. And it will absorb well into your skin.
So, if you're going to use emu oil for hair loss, you should pair it with a product that actually grows hair. You'll see the benefits in no time if you take this advice.