Last Updated on January 16, 2019 by
Hair loss is so common, effecting the majority of men and some women, it is no wonder people turn to herbal remedies like saw palmetto for hair loss. There has been much interest in a more natural means of treating hair loss. An alternative to prescription drugs such as Propecia is what many individuals who are enduring the condition of hair loss are after. Saw Palmetto appears to be one of the most promising herbal DHT-inhibitors. It has been used for such ailments as low sex drive, inflammation, migraines, low sperm count, bronchitis, diabetes, prostate cancer, and hair loss. The results for its effectiveness of treating such conditions are mixed and evidence is limited.
The main reasons people have turned to saw palmetto is because they want to avoid the side effects of the current treatment options or the cost of hair transplants. Hair transplants can be upwards of five to ten thousand dollars depending on the density and surgeon. Saw palmetto on the other hand, is relatively inexpensive and can simply be taken by mouth 1 to 3 times a day.
Overview of Saw Palmetto for Hair Loss
Here's a quick summary of saw palmetto's relationship to hair loss:
Saw palmetto is a native plant to the warm climate of the Caribbean. Researchers have discovered it was used by Mayans and Native Americans in medicinal applications.
Side effects of taking saw palmetto daily are mild. The most common side effect of saw palmetto is an upset stomach when taken first thing in the morning. However, there has been some reports of it increasing the risk of bleeding, make prostate cancer more difficult to detect, and libido decrease.
Most data suggests that saw palmetto interacts in the body similarly to Finasteride, suppressing DHT levels, and perhaps suppressing scalp DHT when applied topically. That being said, the scientific community remains skeptical largely due to lack of data.
There is some sparse research suggesting both topiccaly applied and orally ingested saw palmetto will decrease hair loss. Head to our 'Saw Palmetto Hair Loss Studies and Research' section for more.
You may want to consult your doctor before taking saw palmetto; especially those who take Finasteride and Dutasteride are encouraged to see their doctor before adding saw palmetto to their daily routine.
What is Saw Palmetto?
Saw palmetto is a fan palm, a low growing plant with flowers, though it can reach heights of 10 feet in warmer climates. It is also referred to as a dwarf plant, and is native to the Carribean and North America. Primarily found in Florida and Georgia, its berries are the most valued part. Saw palmetto extract is extracted from the berries. When you buy a bottle of saw palmetto extract, this is the source of the extract. The technical name for these fruit berries is Serenoa repens. Serenoa repens has been used in traditional and alternative medicine to treat a number of illnesses and conditions. The leading condition and most documented is saw palmetto's treatment of benign prostatic hyperplasia (BPH). Early research indicated that it moderately improved urinary and flow conditions, but later research has been inconclusive. Native Americans were known to use the fruit as not only a food source but to treat many urinary and reproductive system problems.
Medical Uses of Saw Palmetto
Some countries in Europe currently use saw palmetto as an alternative medicine for BPH. Germany's regulating authority of herbal medicines recently added saw palmetto to their approved list. In America, saw palmetto is not often prescribed and is usually only reserved for men seeking alternative treatment. It has been used as a pre-surgery medication, research shows that taking 320 mg of saw palmetto for 2 months prior to prostate surgery reduces the time spent in surgery and the development of problems during surgery. Keep in mind, the DHT found in the prostate is not necessarily the same as the DHT found on the scalp. The Mayo Clinic gives saw palmetto an A rating for prostate issues and a C rating for hair loss issues. A C rating means there is "unclear scientific evidence for this use," and that further research is necessary.
Other uses of saw palmetto include:
colds and coughs
asthma
chronic bronchitis
pelvic pain
migraine
sore throat
increase urine flow
enhance sex drive
Saw Palmetto for Hair Loss
Will it stop hair loss dead in its tracks without any side effects whatsoever? We wish, but it sounds like only some men benefit from the use of saw palmetto. There is no doubt that business has capitalized on the hype by offering a wide range of saw palmetto products suggesting results for hair loss users. Experts believe it acts in a similar way to finasteride by blocking the enyzme called 5-alpha-reductase which is the enyzme required for testosterone to convert into DHT. Some men have reported taking saw palmetto helps them regrow thicker, better hair. Unfortunately, evidence is mixed and inconclusive on saw palmettos effectiveness in treating hair loss. Though it may act as finasteride in its treatment of benign prostatic hyperplasia, whether this extends to hair loss is undocumented. Hair loss is linked to the hormone testosterone, as the conversion of this hormone into a molecule called DHT is the main culprit of hair loss. DHT causes hair folliciles to thin over time, eventually eliminating them completely. Researchers have found that the natural components of saw palmetto that block the enyzme work in a similar way to the synthetic ingredients in prescription hair loss medications.
It does not have approval from the FDA as a treatment for hair loss. If you're looking for FDA approved treatments, you'll want to start here.
Pros
Probably an excellent supplementary/secondary hair loss treatment.
Relatively inexpensive when compared to other hair loss products.
Taking saw palmetto orally can easily be assimilated into a hair loss treatment regime.
Can be taken by both men and women, unlike some more powerful anti-androgen medications.
Cons
Probably not the one and done hair loss treatment.
Assuming it works, you'll need to keep using it daily for as long as you want to prevent hair loss.
Saw Palmetto Hair Loss Studies and Research
The bulk of the evidence has been collected on its effectiveness as a enlarged prostrate treatment. Very little clinical research has been done on saw palmetto and its relationship to hair loss. One study linked to below, found favorable results for 60% of participants. These studies are some of the only published trials to date.
If you turn to undocumented social evidence, which should be taken with a grain of salt (or a rather large pinch of salt) there are hundreds of people claiming they've had great results on forums and whatnot. You'll also see guys who reported that they mega dosed saw palmetto for 6 months and nothing happened. There are many factors to be considered such as the potency and what type of saw palmetto they were taking, and if they used it religiously or not. Frankly, it's hard to know how it will effect you personally until you try the herb yourself.
Risks of Taking Saw Palmetto
There are not many risks in the consistent use of saw palmetto. The most notable adverse effects are increasing the risk of bleeding and its affect on sex hormones (which appears to be mild). It may have blood thinning agents and in at least one report of heavy bleeding when undergoing surgery. The main thing to avoid when taking saw palmetto is not taking it alongside other drugs that work in the same way. For example, taking this with Propecia or another BPH drug would probably not be a good idea. It also should not be taken by females who are using birth control pills that contain estrogen as an active ingredient. Saw palmetto may reduce the effectiveness of such birth control drugs. In a limited number of cases, minor discomforts such as headache, dizziness, fatigue, and upset stomach have been reported. If you are concerned about the risks, consult with your doctor before taking saw palmetto.
Things to Look for when Buying Saw Palmetto
You want to make sure you're getting the real deal. Make sure to buy only from reputable companies and read the label closely. The product label should indicate that the contents are standardized. Furthermore, it should indicate that it contains 85 to 95% fatty acids and sterols. If you've decided to give saw palmetto a whirl, there are a few basic guidelines you should follow to make sure you're giving it a fair go.
Saw palmetto comes in different forms: whole dried berries, liquid extracts, tablets, and powdered capsules. The study we linked to in our research section had participants taking 200 milligrams twice daily. We suggest at least taking this much to see whether or not it works for your hair loss. If you're unsure about taking saw palmetto, consult with your doctor. These participants were taking tablets so you'll want to purchase saw palmetto in tablet or capsule form. Furthermore, you want saw palmetto extract, not just saw palmetto. The extract is a concentrated form and has the most active compounds. Again, find an extract standardized to 85-95% TOTAL FATTY ACIDS. That's what you're looking for. We have a few products below that meet such guidelines and are from reputable companies. To avoid nausea and an upset stomach, we suggest taking saw palmetto with breakfast and dinner or a snack.
5 Best Saw Palmetto Products
Here's some of the most popular products containing saw palmetto.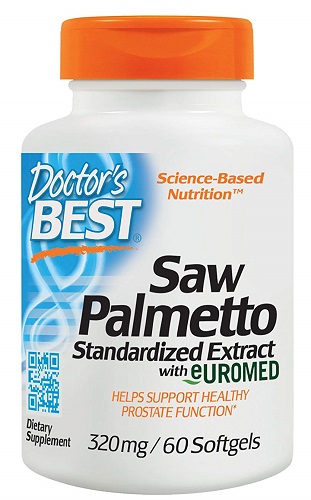 Doctor's Best is a reliable supplements brand. Their saw palmetto is guaranteed to contain 85 to 95% saw palmetto fatty acids + plant sterols, ensuring you get the herb's key active ingredients.
Per serving: 320mg saw palmetto
60 count / 2 month supply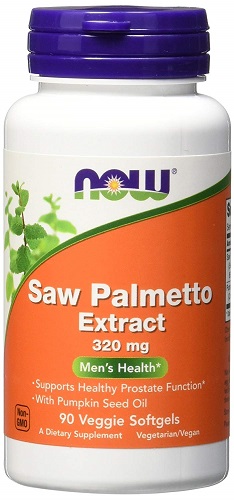 NOW Foods is likely the largest supplements supplier online. This differs from other pure saw palmetto options because it includes 80mg of cold-pressed pumpkin seed oil in each serving.
Per serving: 320mg saw palmetto, 80mg pumpkin seed oil
90 count / 3 month supply
This formula is a saw palmetto complex containing other nutrients that bolster men's health such as zinc, uva ursi, and pumpkin seed oil. As with other saw palmetto supplements, it supports prostate health, urinary flow, and may decrease hair loss.
Per serving: 160mg saw palmetto, 40mg pumpkin seed oil, 15mg zinc, 5mg vitamin B-6, 5mg uva-ursi extract
120 count / 6 or 3 month supply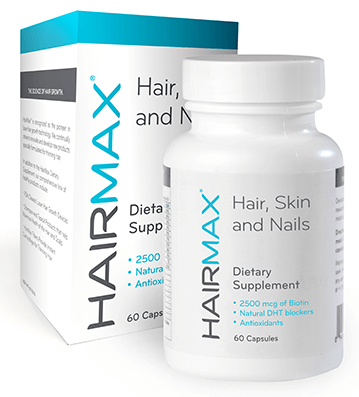 The Hairmax formula is a broad spectrum DHT blocker. It doesn't have nearly as much saw palmetto content (80mg) so if you are looking to isolate and try out saw palmetto alone we recommend the others in our list. Nevertheless, this has other ingredients alongside saw palmetto such as he shou wu, stinging nettle, beta-sitosterol, and biotin that may enhance your results.
Per serving: 80mg saw palmetto, 240mg plant sterols, 60mg stinging nettle, 50mg he shou wu (fo ti root extract), 2,500mcg biotin + other ingredients
180 count / 3 month supply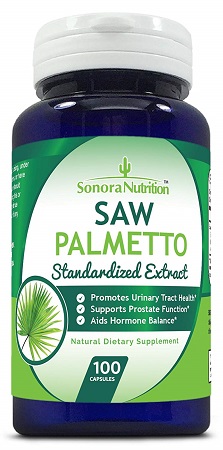 As with the Doctor's Best product, Sonora's supplement is 100% saw palmetto. It is standardized to contain 85% fatty acids and sterols. Sonoroa mentions on their listing that saw palmetto is believed to fight hair loss, aid hormonal balance, and provide a number of other benefits for men.
Per serving: 320mg saw palmetto
100 count / 3 month supply
We also have a page about shampoos for hair loss, some of which include saw palmetto in their line up of ingredients.
---