Last Updated on January 16, 2019 by
Stinging nettle root for hair might sound a little suspicious with the word stinging in its name, but we're going over how you can use this supplement for hair loss. Hair loss is one of the most common health problems people of all ages face. But despite its prevalence, a lot of people don't know what causes it.
People can lose hair for a variety of reasons. Sometimes the follicles can become damaged or die. Frequent hair bleaching and dyeing can also cause significant damage that could result in hair loss. Some people may be genetically predisposed to it or could be losing hair from old age. The jury is out on the true causes of hair loss, but there is one thing that could help hair grow back. Meet stinging nettle root.
Stinging Nettle Root For Hair: Product Comparison Chart
Here's a quick look at our top picks for the best nettle root products for hair loss prevention. We've got them in order of price ascending to make it easy for you to shop. Our review section reflects this same order if you want to learn more about each product.
| Image | Product | Type | Botanicals | Cost | Popularity |
| --- | --- | --- | --- | --- | --- |
| | Swanson Premium Brand Stinging Nettle Root | Supplement | Nettle Root | $0.10/Capsule | |
| | HairMax Women & Men Hair, Skin & Nail Formula | Supplement | Nettle Root, Saw Palmetto, Plant Sterols | $0.22/Capsule | |
| | SEDU Smooth + Shine Shampoo with Nettle Leaf and Keratin | Shampoo and Conditioner | Nettle Leaf Extract, Keratin | $0.73/Oz | |
| | Klorane Shampoo with Nettle | Shampoo | Nettle Root, Scopoletine, | $1.48/Oz | |
| | Urtekram Organic Nettle Shampoo | Shampoo | Nettle, Rose Geranium Oil, Bergamot Oil | $1.55/Oz | |
| | Ortiga Nettle Hair Loss Shampoo | Shampoo | Nettle Root, Herbs | $1.95/Oz | |
| | Traditional Medicinals Organic Nettle Leaf Tea | Tea | Nettle Leaf | $4.85/Oz | |
| | Stinging Nettle Liquid Extract by HawaiiPharm | Oil | Stinging Nettle | $9.98/Oz | |
| | Herb Farm Stinging Nettle Blend Extract | Oil | Nettle, Cane Alcohol | $11.20/Oz | |
| | Isabella's Clearly GAIN Hair Growth Serum | Hair Mask | Nettle, Peppermint, Rosemary, Ginger | $11.35/Oz | |
Our Top 8 List of the Best Stinging Nettle Root Products
Stinging nettle root is an effective and natural hair loss treatment. If you're here, you must be feeling eager to use it for hair loss.
There are a lot of great products on the market, start off with some of these popular choices:
Do you want to step up your nettle root game and have products that go beyond shampoo? If you want a stinging nettle supplement to add to your diet, this is what you need. A stinging nettle supplement has the added benefit of helping parts of the body that go beyond hair. It'll be a part of your diet and can help your overall health.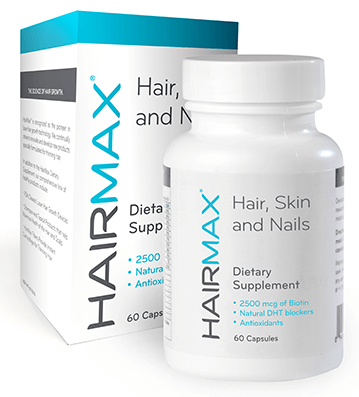 Unlike many of the other products in this list, this HairMax supplement is a broad spectrum DHT blocker. It contains 60mg of nettle root extract per serving. Along with that, you get other blockers such as saw palmetto extract, plant sterols, and he shou wu (fo ti) root. It also acts to improve hair health, with 2500 mcg of biotin to help you produce more keratin as well as niacin to help improve blood circulation to the hair follicles.
This is a fairly new option to the market, from SEDU. They've combined the smoothing and shining power of Keratin with Nettle Leaf extract to combat dry and damaged hair and fight hair loss simultaneously. The blend is effective yet gentle enough for daily use.
This Klorane product is loaded with natural nettle extract and is a great choice for shampoo. The product is very gentle and can help reduce oil build-up. If you feel like your hair has some extra grease, this could be the ideal shampoo for you.
Amazon's choice for nettle shampoo comes from Urtekram. This anti-dandruff, certified organic nettle shampoo is top shelf quality. It features botanical ingredients such as rose geranium oil and bergamot oil, working in harmony with stinging nettle to fight hair loss symptoms. Because it is free of many harmful chemicals often found in shampoos, it is color safe and will be gentle on delicate hair.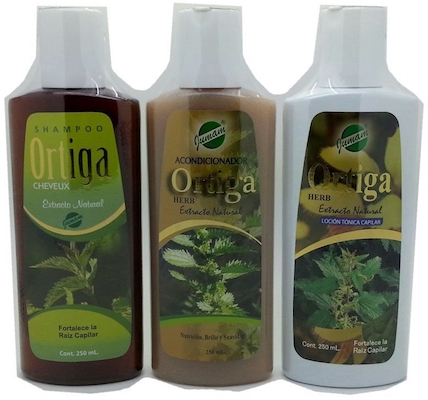 This shampoo is ideal for people that want to regrow their hair and also get a deep hair cleansing when they're in the shower. The shampoo has an astringent quality that penetrates strands deeply and can help get rid of troublesome build up. Despite its deep cleaning properties, it also can leave the hair with a lot of body.
Do you want to take a different approach to hair loss? Consider going beyond supplements and products and try out a healthy drink. Stinging nettle tea can give you some of the benefits of the herb, but without having to use a hair product or traditional supplement. For hair loss purposes however, we recommend using a supplement.
Are you worried about products that could dry out your hair? This product is alcohol-free. If you're sensitive to the drying effects of alcohol, this is the product for you. This particular stinging nettle root extract is also organic, non-GMO and is 100% gluten free.
Are you the kind of person that wants every option available when you're looking for health supplements? If you want to try a little bit of everything, look into using this powerful serum. Stinging nettle root is only one of the ingredients in this product. Serum Contain 8 utilizes ginseng, stinging nettle root, saw palmetto, peppermint, butterfly pea, Ginger Root, camellia seed, and burdock root.

If you want a product that does it all, GAIN is what you're looking for. This powerful hair serum boasts of a lot of qualities. The product promotes growth and fights against hair loss by strengthening the hair root and the follicle. The lightweight formula keeps your hair nourished without the side-effect of weighting it down. As a bonus, it doesn't contain any chemicals or preservatives and it's made in the United States.
The Wonders of Stinging Nettle Root
A herb with the word "stinging" in the name may not sound like something you'd want to use, but a stinging nettle for hair loss supplement could be what you need to grow back your locks. Stinging nettle root actually has a rather long and rich history in medicine.
The stinging nettle gets its name from the fine hairs that cover its root and stem. Those hairs contained irritating chemicals that would bother the skin of people that came in contact with the plant. Somehow people found that putting the plant on areas that already were experiencing pain would help lessen discomfort.
Some researchers believe that the chemicals in the plant have anti-inflammatory properties, or that they could interfere with the body transmits pain signals. People in Medieval Europe have used both the leaves and the root of the stinging nettle plant to help a variety of ailments. It was commonly used as a diuretic to rid the body of extra water. It was also used to help soothe aching joints.
For awhile it would have been hard to find a common health problem that wasn't treated with stinging nettle root. This wonderous plant was used to treat arthritis, eczema, gout, and even anemia.
How a Stinging Nettle Supplement Could Save Your Hair
As you can see the stinging nettle root has a variety of uses. Recently people have been using nettle root for hair loss and some have been using nettle root for hair growth have been amazed with the results. One of the main reasons why people have been using nettle root for hair loss has to do with the plant's proven anti-inflammatory properties. It isn't discussed often, but scalp inflammation is a major cause of hair loss. Most people aren't aware of the damage an inflamed scalp can cause because they don't know that they have a problem.
Dandruff and flakes, sensitivity during styling, and even a scalp that feels slightly warm to the touch can all be signs that your scalp is inflamed. Chronic inflammation can cause the cells in your scalp to activate a self-destructive mechanism. It can cause significant damage to the hair strands and the follicles that they grow out of. Stinging nettle root doesn't just help ease inflammation. It has different ways to fight hair loss. It can also help inhibit the production and release of a hormone that can cause hair loss. The stinging nettle root is also loaded with antioxidants which can help repair damage from free radicals.