Last Updated on August 11, 2020 by Hold the Hairline Team
Is your hair thinning? Are you looking for the perfect product to stop hair loss in its tracks? If so, there are plenty of shampoos out there that offer thicker and fuller looking hair. But none work better than the best biotin shampoos.
The best biotin shampoos incorporate essential vitamins for science-backed hair regrowth and rejuvenation. The result? Thicker and fuller hair that's affordable, safe, and most importantly, effective. This article takes you through the best biotin shampoo options on the market and sheds some light on the science behind this incredible vitamin. We'll also present you with peer-reviewed journals and well-researched findings to backup our claims and help you get back on track. Let's get started.
10 Best Biotin Shampoos in 2020
First let's take a look at the best biotin shampoos currently on the market.
Our pick for best biotin shampoo for hair growth
DS Labs is one of the most reputable companies in the hair loss industry, and Revita Shampoo matches those expectations. This blend features a plethora of healthful ingredients, including biotin, taurine, caffeine, rooibos, and more. But what makes it really unique is the nanosome delivery system that continuously releases the active ingredients for long-term hair health and invigoration. Recommended by dermatologists worldwide.
Snapshot:
Perfect for hair growth, thickening, and overall health
Unisex; works on all types of hair
Includes biotin, taurine, caffeine, and more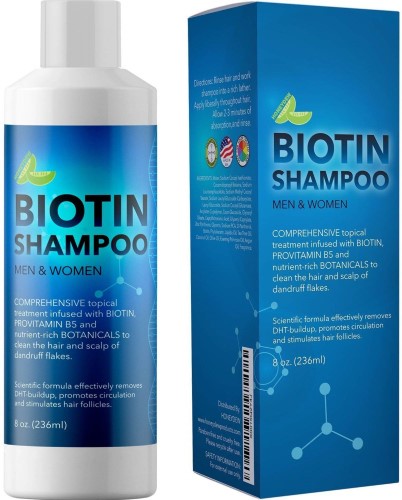 Our pick for best shampoo with biotin oil for hair
If you're seeking an affordable biotin shampoo with exceptional ratings, look no further. The Maple Holistics B-Complex Shampoo incorporates the most effective hair loss ingredients in one easy treatment. Rejuvenate from root to tip with DHT-blockers, invigorating botanics, and vitamins that fortify and strengthen your scalp and locks. With a jojoba and argan oil base that's paraben and sulfate free, you can expect a nourishing 'poo for growth and stunning looks.
Snapshot:
Ideal for scalp health and hair growth
Unisex; perfect for all hair types
Includes biotin, argan oil, tea tree, and more

Our pick for best biotin shampoo for thinning hair
What if there was one product that could tackle hair loss from 5 different angles? Sound too good to be true? Well, Lipogaine Big 5 Shampoo has done just that with a unisex biotin shampoo that'll nourish your hair, stop breakage, and even stimulate new growth. This product contains all natural ingredients with no harsh chemicals or unsafe formulas. Plus, Lipogaine is a top brand and is well regarded as an industry juggernaut with exceptional products.
Snapshot:
Prevents thinning and improves overall hair health
Unisex; best for early stages of hair loss
Includes biotin, caffeine, argan, castor, and more

Our pick for one of the highest rated biotin shampoos
Chances are you've heard of Renpure Biotin Shampoo due to its effectiveness and incredible affordability. This shampoo contains B-Complex vitamins combined with collagen and moisture-oriented ingredients for luscious locks all day long. The unique blend utilizes sulfate-free, plant-based cleansers that are gentle on your scalp but effective at keeping your hair happy and healthy.
Snapshot:
Increases hair strength and thickness
Best for females seeking to nourish hair
Includes Biotin, collagen, keratin, and more
Our pick for one of the best biotin shampoo and conditioners
How about a biotin shampoo and conditioner combo for the ultimate hair care treatment? Well, Mill Creek Biotin Shampoo & Conditioner offers just that. Start off with a totally organic and paraben-free cleanser and finish with a biotin-infused conditioner that'll keep your strands protected and ready for action. This all-natural formula is great for both sexes and works best when used to nourish finer hair.
Snapshot:
Strengthens the hair shaft with organic ingredients
Unisex; works best for fine hair
Includes biotin, aloe vera, peppermint, and more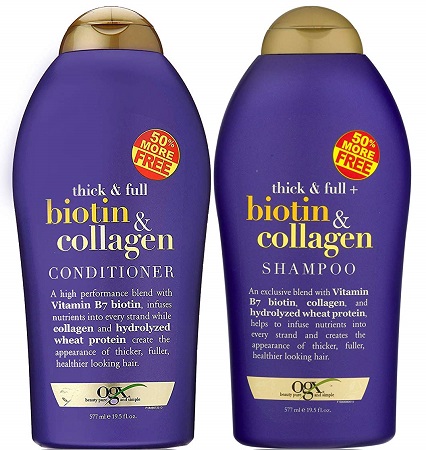 Our pick for best biotin collagen shampoo
OGX is another top brand, and their Biotin Shampoo + Conditioner has been making waves in recent years. Used together, the shampoo and conditioner add volume and dimension while creating fuller and more luscious hair. Moreover, the unique ingredient blend of biotin and collagen results in thicker and more texturized hair no matter whether you rock fine, curly, or frizzy locks. Best of all? Both products are safe to use and incredibly effective.
Snapshot:
Creates thicker and fuller hair
Unisex; works on all types of hair
Includes biotin, collagen, proteins, and more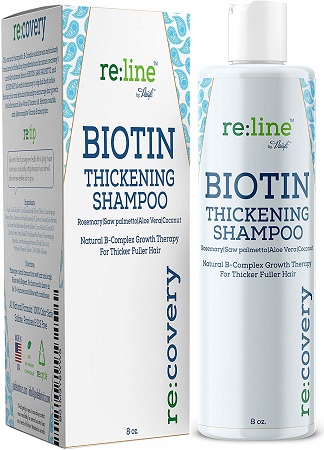 Our pick for best multipurpose biotin shampoo
If you're seeking a hair care treatment that thickens and strengthens while leaving your hair with unbelievable volume and oomf, this is it. Reline Biotin Shampoo includes a variety of unique ingredients including botanics like aloe vera, saw palmetto, and even coconut! Combined with the B-complex biotin, this hypoallergenic formula blocks DHT (a hormone linked to hair loss) to strengthen and regrow hair in both men and women.
Snapshot:
Thickens and promotes growth
Unisex; works to rejuvenate thinning and damaged hair
Includes biotin, saw palmetto, hemp seed, and other botanicals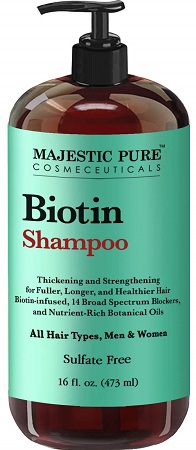 Our pick for best natural biotin shampoo
Majestic Pure's Biotin Shampoo is an all-natural cleanser that inhibits DHT while promoting growth and enhanced volume. How so? It boasts a proprietary blend of biotin, vitamins, herbs, and more to promote thicker and longer locks. It's great for men and women, and it's safe to use daily. Moreover, it's one of the highest rated hair loss products on the market with near-perfect customer reviews.
Snapshot:
A holistic approach that nourishes and thickens hair
Unisex; perfect for longer locks
Includes biotin, vitamins, herbs, and more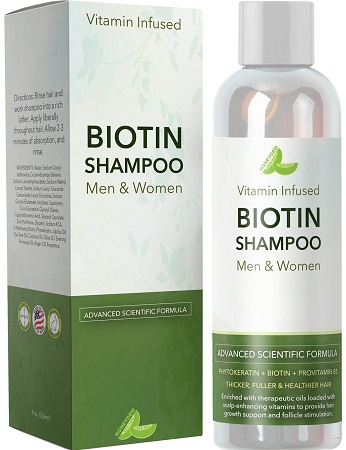 Our pick for best sulfate free biotin shampoo
Stimulate your hair follicles to regrow and strengthen from root to tip. Honeydew Biotin Shampoo starts with a jojoba oil base, then adds incredible hair care ingredients like biotin, keratin, zinc, and more to cleanse your scalp and promote new growth. Moreover, it rocks all natural ingredients that are safe to use and effective on all types of hair, beit frizzy, oily, dry, or otherwise. Say goodbye to thinning and hello to a happier, healthier scalp.
Snapshot:
Strengthens and regrows hair
Best for men with male pattern baldness seeking a natural cure
Includes biotin, keratin, zinc, jojoba, and more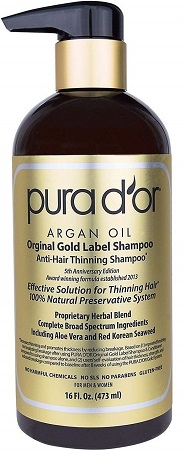 Our pick for best biotin thickening shampoo
PURA D'OR is regarded as one of the best brands in hair loss and thickening products. That's because they use all-natural ingredients to guarantee thicker and fuller hair in a matter of weeks. This blend utilizes unique ingredients like nettle, cumin, pumpkin seed and more to target hair loss from every angle possible. Adored by men and women alike, PURA D'OR will help you regain your confidence and, most importantly, improve your overall scalp and hair health. Plus, it's made right here in the USA!
Snapshot:
Nourishes, thickens, and promotes hair growth
Unisex; perfect for all types of hair
Includes biotin, argan oil, green tea, and more
What is Biotin Shampoo?
Biotin, also known as Vitamin B7 or Vitamin H, is a natural vitamin that's involved in the human body's metabolic processes. It breaks down various carbohydrates, proteins, and fats to keep the body healthy; it also aids in the production of strong hair, skin, and nails. But what makes it so essential for hair health?
Biotin plays a large role in the synthesization of keratin, an essential protein that's a building block of the hair follicle. To that end, it's essential that the body have enough biotin circulating through the body to remain healthy and ready to stimulate new hair growth. Fortunately, biotin is found in a variety of foods, and most individuals get their daily dose through a healthful and well-rounded diet.
However, there are instances when diet alone simply doesn't produce enough biotin. And that's where the best biotin shampoo comes in. When mixed into a topical shampoo, biotin acts to strengthen and nourish the scalp for healthier and fuller-looking hair. Moreover, it's been extensively documented to result in improved hair growth and overall vitality.
Biotin Hair Growth & Loss Studies and Research
Now really – does biotin shampoo help hair growth or is it just another false claim?
We get it. The internet is fraught with false information that simply doesn't match reality. Fortunately, biotin is the real deal, and we've done the research to back it up. Here is a comprehensive list of prominent studies that show how biotin helps nourish and strengthen hair:
Benefits of Biotin Shampoo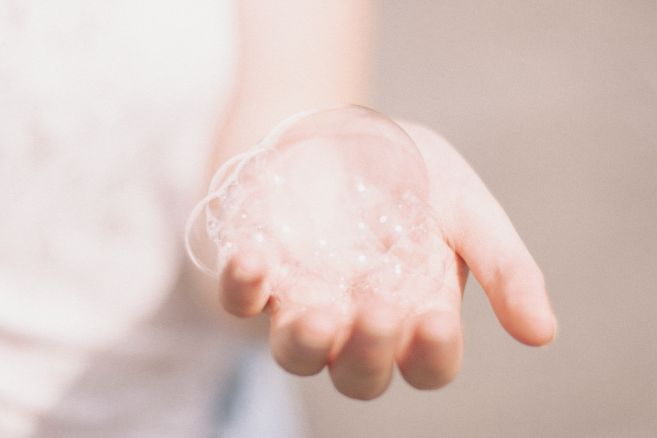 Biotin shampoo offers a great deal of value in one little bottle. Let's take a look at what the best biotin shampoos have to offer:
Healthier Hair. First and foremost, biotin shampoo supports healthy hair with less breakage and fray. That's because the top biotin shampoos are mixed with vitalizing ingredients like plant-based cleansers, oils, and holistic conditioners.
Safe & Effective Results. There are virtually zero biotin shampoo side effects due to the all-natural ingredients found in top products. In fact, most of the bestselling biotin shampoos are loaded with sulfate-free, paraben-free, and vegan ingredients.
Nourished Scalp. Hair starts at the root, and both regrowth and revitalizing require a healthy scalp. Biotin shampoos accomplish this with invigorating ingredients and oils that support overall scalp health and encourage new growth.
Hair Regrowth. We're not just talking thicker looking locks or fuller looking hair. Biotin is the real deal, and you can expect genuine hair regrowth, especially when added to a full hair care regimen.
Furthermore, each shampoo comes with its own special formula and unique blend of ingredients. Check the label and reviews to find the best fit for your hair care needs.
Choosing the Best Biotin Shampoo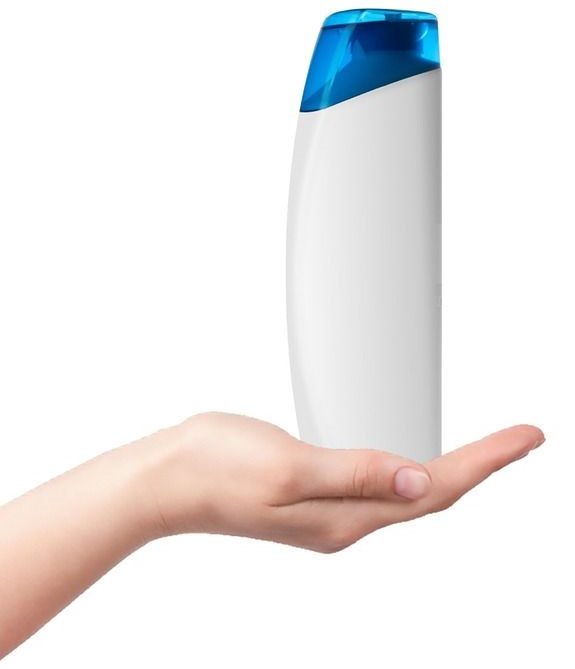 There are a number of different factors to consider when choosing the best biotin shampoo for your care routine. Let's have a look:
Intended use
Ingredients
Brand
Reviews
Cost
Whether you're seeking improved scalp health or genuine hair regrowth, there's an option out there for you. Consider your intended use and carefully inspect the product listing to find the option that best matches your hair care goals.
Be sure to take into account brand reputation and product ratings, as these play a critical role in assessing a shampoo's effectiveness. Also, keep in mind that prices range from $10 to over $50 per bottle. While higher-end shampoos typically work best, our list includes great options that can get you started on any budget.
Biotin Shampoo Review Video
So, does biotin shampoo work? After conducting thorough research on the best biotin shampoos, the answer is a resounding yes!
If you're looking for even more evidence, check out the following review of Pura D'or, a biotin shampoo featured on our list. Joyce describes her experience with the brand, and she even details tips and tricks for getting the most out of your hair care routine: