Last Updated on January 16, 2019 by
The search for the holy grail of hair loss cures continues. How close are we, really? Unfortunately, not as close as we'd hope my friend. The only thing to do for now is soldier on with the less than ideal options until the white knight of hair loss scientists rides in with a cure for us all.
Many pharmaceutical companies and researchers are in the search for a hair loss cure. This is because 7 out of 10 men and 4 out of 10 women suffer from androgenic alopecia (genetically caused hair loss) in their lifetime. In the United States that amounts to around 80 million men and 40 million women currently suffering from hair loss. Of course, a permanent cure would relieve a huge percentage of the population.
A cure for hair loss would be one of the most exciting scientific studies to come along in the health field in a long time. Likely, a cure for male hair loss would also crossover and be a female hair loss cure as well. It would also make a lot of money for whoever patents it first, too.
In this article, we discuss the promising hair loss cures on the horizon. Some of these are much closer to mass market, while others are further out (year 2020 or greater). What are the upcoming hair loss cures for women and men? Let's find out.
The Hair Loss Cures 2019: What are Your Options Today?
In this section we take a look at current hair loss cures in 2019. Using one or more of the treatments below is your best shot at keeping your hair around. However, if a cure is defined as a permanent fix to an ailment, these are far from that definition. Each of these treatments have their own limitations. Most are seen more as hair loss management treatments, rather than permanent hair loss cures.
The most permanent solution for those who have lost or are losing their hair is hair transplants. Follicles are harvested from the back of the head and seeded into bald areas. Techniques have vastly improved and no longer do these look like fake "plugs". Skilled surgeons can provide the patient we a very natural looking head of hair. A recent technological innovation is robotic assisted hair transplantation which help the surgeon be more precise and keep scalp scarring minimal. The limitations?
They aren't increasing your total hair count, just shifting around the hair you have left. Furthermore, it doesn't stop future hair loss and sometimes additional transplants are required. Oh yeah, and it costs around $10,000. The results, however, can be astounding- hence the video we've shared below.
Finasteride (brand name Propecia) is the closest to a hair loss cure pill that scientists have discovered to date. This is a DHT hair loss cure. DHT is made when 5 alpha reductase converts testosterone, and Propecia has been found to be an effective inhibitor of DHT by preventing this process from happening. It works internally, at the root of the cause. Therefore, DHT sensitive hair follicles in the front and top of the scalp don't have to fight off nearly as much DHT.
Finasteride has limitations though, such as the requirement of daily treatment, a limit to how many damaged hair follicles it can revive, and that it may lose its effectiveness overtime for some people. This drug has shown to be better at preventing further hair loss than reversing it (regrowth). Just keep in mind that some side effects might make the hair loss seem more appealing.
This medication goes by the name Avodart. It is used for the treatment of BPH also known as enlarged prostate. However, there are a large number of users using it for the off label purpose of treating hair loss. Remember the 5 alpha reductase we mentioned that Propecia blocks? Well there are two types of 5 alpha reductase. Type I and Type II. Whereas Propecia has only been shown to block type II, Avodart blocks both types. This effect overall lowers DHT levels even more, further reducing the risk of damaged hair follicles. However, it faces the same limitations as Propecia. It must be taken daily and may lose its effectiveness overtime.
Minoxidil, popularly known as brand name Rogaine, works much differently than Propecia. It does not inhibit DHT, but it increases blood flow and therefore nutrition to the scalp and hair follicles. This has been shown to revive dormant follicles to a healthy state of growth in some users. Whereas Propecia has much more consistent results, minoxidil is more dependent on the user. Dramatic results such as new regrowth can be seen in individuals who respond well, but they are the minority. Minoxidil, like Propecia, is much better at hair maintenance. It will help you keep the hair you do have for longer, but only if you use it daily.
The most popular low-light laser therapy product is developed by Hairmax. They have a series of Hairmax Laser Combs. Treatment is applied weekly or more frequently. Notably, the Hairmax Laser Comb was the 3rd product to receive FDA approval for treatment of genetic balding. It followed Minoxidil and Finasteride. Though some scalps are very responsive to this laser treatment, others seem to only reap the benefit of slowing hair loss. Another downside is that each treatment session takes about 15 minutes, where the laser comb must be directed towards thinning and bald areas. Unless you have a handy device such as the one in the image, you stuck doing things manually.
Unfortunately nutritional supplements are hit and miss. While the risks of side effects go down which is attractive, clinical data is sparse. In most cases the individual has to conduct their own experimentation. At 6 months a pop for a fair trial, this is a time consuming process. Time is a very limited commodity especially in the hair loss game. As we know, it is easier to do preventative maintenance than reverse hair loss. Nevertheless, natural DHT inhibitors like saw palmetto and nettle have worked to prevent hair loss in some users.
The "Vampire Treatment"
The vampire hair loss treatment takes after the vampire facelift, which is completed on the face to reduce lines, acne scarring, and wrinkles. While not a new method, it is just becoming popular in its ability to treat the cosmetic condition of hair loss. This is also known as platelet rich plasma therapy. Scientists reported in the British Journal of Dermatology May 2013 issue that restoring hair growth on bald patches is possible by injecting them with platelet rich plasma.
It is called the vampire treatment because blood is taken from the patient that removes the platelet rich plasma. Then, the PRP is injected back into the scalp. This energizes the scalp with new active blood flow. Treatment is available at select clinics but widespread adoption may become the norm. It is less invasive than hair transplants but costs more if you count the cost of doing many sessions.
Future Hair Loss Cures: What are Your Potential Options in the Future?
In this section we discuss some of the future hair loss solutions that will be coming out in the coming years. There are a few hair loss cures coming in or around 2020, and hopefully there will be a mass market solution. It is no surprise that 'hair loss cures 2020' is an extremely popular search term in Google. You'd think by that time we'd figure out how to stop hairs from falling out of heads.
These new hair loss cures look promising, but will they really be a cure or just another Propecia? Let's look at the positives and negatives of each upcoming treatment.
Two clinical trials have been ran as a proof of concept for Histogen. Terminal hair count and hair thickness noticeably increased after just 12 weeks. Due to this success, Histogen plans to conduct a Phase 1 Clinical Study in the United States. This will be an injectable which when injected into the scalp will stimulate dormant hair follicles and induce new hair follicle formation (think Botox but for hair follicles instead of skin cells). HSC660 is an ongoing female hair loss trial that will run for 22 weeks and a late stage (Phase 3 trial) for men has initiated in Mexico. Histogen founder Gail Naughton even went so far to reveal commercialization, "We'e in very late-stage negotiations with some huge retail partners," she says. It may not be a magic bullet, but it would sure be nice to have an alternative/supplement to Rogaine that actually stimulates growth.
Swedish company Follicum is doing PhaseIIA clinical studies on application of their modified peptide formula directly injected to the scalp. It is fully recruited and will consist of injections of FL-005 on participants over a 3 month period. The estimated market launch if all goes to plan is 2020 or 2021.
Recent update: "Breakthrough" in South Korea (11/21/17). We don't want to get anyone's hopes up prematurely, and we definitely hope this is not just another false alarm, but this recent discovery does seem to hold some promise. At best it would probably be 3-5 years out for wide availability, we think it's still worth checking out. Professor Kang-Yell Choi of South Korean University Yonsei lead research indicating that they may have discovered a new protein that controls hair growth. The study in the Journal of Investigative Dermatology as well as a news article in the Korea Herald are good places to start reading about this new development.
RepliCel is a form of cell therapy that has a lot of folks excited. This is also known as RCH-01 and RepliCel is collaborating with global cosmetic company Shiseido. RepliCel will be an injectable like Histogen or Botox for example. It is basically hair transplants on steroids, but they are migrating cells instead of hairs. Their goal is to take a seed biopsy then multiply it in the lab for about 3 months. After replication, they inject it back into the scalp where it is needed. RepliCel has completed a phase 1 clinical trial and will enroll 160 male participants with mild to moderate hair loss for their Phase 2 trial. In other news RepliCel announced a research collaboration with University of British Columbia. They goal is to create a map with protein and gene expression of hair follicle cells to help RepliCel further improve their cell therapies i.e. hair loss prevention products.
Follica is developing a wounding device that when coupled with a hair stimulant like minoxidil, is found to be more effective at triggering new growth. They like to call this wounding process 'skin disruption'. The idea behind this treatment is that after the skin is wounded, cells migrate to that area to repair. They then must choose between two paths: healing the skin (making epidermis) or making hair. It is there where Follica sees the window of opportunity, where they can encourage the cells to do the latter and regenerate new and more hair.
Tofacitinib (Xeljanz) and Ruxolitinib
Drugs normally used for rheumatoid arthritis and bone marrow cancer, they are now being studied for their uses as a hair growth medicine. These are a new class of medicines labeled as JAK inhibitors. In one study, 6 out of 9 patients dramatically went from bald to a full head of hair after taking Ruxolitinib for 5 months. In another study several subjects were able to regrow full heads of hair. Unfortunately, sustained use of such drugs will have severe side effects. Many of these concerns would be side stepped if a topical formula could be developed. Researchers at the Department of Dermatology and Genetics and Development at Columbia University Medical center are now studying other JAK inhibitors in placebo controlled studies.
7/26/18 Update: After positive early data, various trials of JAK inhibitors such as Ruxolitinib and Xeljanz are underway. Columbia researchers have had positive results with Xeljanz in 11 out of 12 subjects achieving some regrowth with no adverse side effects over 16 months of treatment. Investigators at Stanford and Yale are conducting three trials of oral and topical tofacitnib and Locks of Love Foundation is fuding another ruxolitinib study. At this time, there are about 15 publications looking at JAK inhibitors and their relationship to alopecia and its variants.
Stem Cells (AKA Hair Cloning or Hair Multiplication)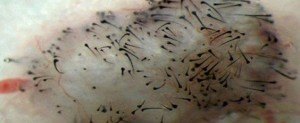 For hair transplant clinics, this is the ultimate goal. Bald people would make a mad dash to their clinics to get their new heads of hair. Since the main limitation of hair transplantation surgery is how many hairs can be harvested from the back of the scalp before it appears thin, stem cloning (the growing of dermal papilla cells) will solve that problem in totality. Recent research that has taken place in California has taken a big step toward the cure for hair loss.
At the Sanford-Burnham Medical Research Institute, they showed that stem cells derived from human skin to grow hair when grafted onto the skin of mice. A paper describing this research, which was published on January 21st 2015 can be found here in the PLOS One medical journal. Dr. Alexey, a member of the research team made the following written statement: "Our stem cell method provides an unlimited source of cells from the patient for transplantation and isn't limited by the availability of existing hair follicles." Once successfully developed, this could transform a fully bald man or woman to the head of hair they had as a teenager. The main challenge now will be replicating their results in large-scale human trials.
Propolis
A substance produced by bees, Propolis was found to help hair growth in mice. A group of scientists from Hokkaido University in Japan caused a good deal of hype in hair loss circles following their discovery. However, it appears that this may only cure hair loss that is a result of inflammation such as alopecia areata. Little is known about its benefits for treatment of androgentic alopecia.
DNA-Testing
While not a cure for hair loss, this will clear up the muddy waters no doubt. DNA-testing is just starting to be commercially available and by 2020 you'll be able to count on the likelihood that it will be much more advanced and affordable. Knowing for a fact at an early age whether or not someone will be predisposed to losing their hair will make a huge difference.  This will help that individual be able to plan, budget, and research their options before their hair even begins thinning.
Hair Loss Cure Videos
Here are some of the videos discussing hair loss prevention technology:
---