Last Updated on January 16, 2019 by
More hair is clogging up your shower drain these days. You feel like you're watching helplessly as your crowning glory becomes less glorious. Perhaps you've even tried some special shampoos, but they don't seem to work for you. You may not be ready yet for drastic measures like surgery, we understand, and assure you there might be other options. One thing to consider trying something natural, such as olive oil for hair growth.
This natural method of hair regrowth may be just what you need to get back your luscious locks. We're a big fan of all the home remedies that might exist in your pantry or cabinets. Using natural treatments, like rosemary or olive oil for hair loss is a great option for those who prefer to stay away from chemicals. Natural oils will also help to strengthen your hair, and prevent it from drying out and breakage.
What's Here?
In this addition to our Natural Remedies series, we're honing in on the Best Olive Oil Hair Products. Up first is a comparison table so you can see a quick summary of our picks from around the hair product industry. After the chart, you'll find our review section with product descriptions and summaries that we've compiled to make shopping easier for you.
Further down the article, we'll check out facts and information about olive oil, and what makes it so great for skin and hair, and give you a few tips for how to work it into your current routine.
Best Olive Oil Hair Products Comparison Chart
Here's an easy to browse chart that has all of our olive oil for hair growth product picks in one place. If you're on mobile you can click the plus signs to expand the table and access more information such as price range and popularity.
Speaking of price range, we've put the table in price ascending and lined up our review section below in the same way so that you can reference things easily.
| Image | Product | Type | Botanicals | Cost | Popularity |
| --- | --- | --- | --- | --- | --- |
| | Olive Oil Hair Mayonnaise | Hair Mask | Oat Protein, Egg Protein, Tea Tree Oil | $0.33/Fl OZ | |
| | ORS Olive Oil Shampoo | Shampoo & Conditioner | Rosemary | $0.54/Fl OZ | |
| | Sofn' Free Milk Protein & Olive Oil Deep Conditioning Treatment | Hair Mask | Milk Protein | $0.56/Fl OZ | |
| | Organic Root Stimulator Olive Oil Hair Lotion | Hair Lotion | Castor Oil, Coconut | $0.69/Fl OZ | |
| | African Pride Olive Miracle Growth Oil | Oil | Soy, Coconut, Jojoba, Grape Seed | $0.86/Fl OZ | |
| | Palmer's Olive Oil Hair Mask | Hair Mask | Nettle, Sage, Keratin, Soy | $0.92/Fl OZ | |
| | Regis Designline Olive Oil Hair Products Set | Shampoo Set | Vitamin E & K | $1.82/Fl OZ | |
| | GIOVANNI Cosmetics Super Potion with Avocado and Olive Oil | Serum | Avocado | $3.72/Fl OZ | |
| | Ancient Greek Remedy Oil | Oil | Almond, Grape Seed, Lavender | $3.75/Fl OZ | |
| | Perfect Hair Serum | Serum | Coconut Oil, Almond, Aloe | $14.79/Fl OZ | |
Top 10 Best Olive Oil Hair Products: Hold the Hairlines Picks of 2019
If you aren't interested in making your own olive oil rinse, shampoo, or conditioner, never fear! There are plenty of great products out there for you. Check out some of our suggestions for olive oil hair products below.
Put the bread away! This isn't for a sandwich, it's for your hair loss. Olive Oil Hair Mayonnaise may not sound appealing, but it's made with amazing natural ingredients that will moisturize and make your hair so much stronger. We really suggest daily use to see the best results, and you'll be able to brag that more cholesterol is actually good for you! As an added bonus, Vitale is cruelty free, guaranteeing that they aren't testing on animals before the product goes live.
When paired with the ORS Olive Oil Conditioner, this olive oil shampoo hydrates every nook and cranny of your hair and scalp. Dehydration causes last hair damage and breakage, and can have long lasting effects. Using at least one of these products will help to repair while protecting from future damage. Lather the olive oil shampoo close to the scalp to help it to stimulate your hair follicles, fight against DHT, and help growth.
Combining the strengthening power of milk proteins, with the repair and restorative features of olive oil might be one of the best duos on our list so far. To stop the breaking of your dry or damaged hair, apply thoroughly and comb through after shampooing. Then cover with a cap and use a heat dryer for 10-15 minutes. You'll notice visibly healthier hair and more growth after just one or two uses.

If you're not a fan of the oil consistency, or have a hard time working it into your hair, a good option for you might be a hair lotion. Similar to an olive oil hair mask, Organic Root Stimulator Olive Oil Hair Lotion is easy to spread throughout your hair, to restore moisture and protect hair from weather and high heat. It's mild enough that you can use it every day. especially on the ends of your hair to help prevent split ends and breakage.
Apply this African Pride Olive Miracle Growth aisle to your hair and scalp when you just need that extra kick of moisture. What's unique about this particular olive oil hair product, is that you can heat it and use it as a hot oil hair and scalp treatment. It's a great option for a scalp massage, which will help twice as much to stimulate hair growth.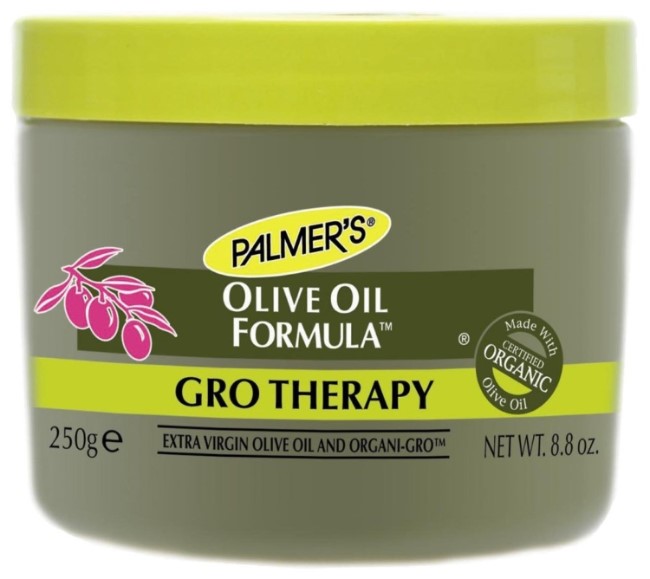 Pamer's isn't first known for it's hair products, but they sure do know moisturizing and this Olive Oil Hair Mask is just that. Coming in the form of a therapeutic balm, the extra virgin olive oil leaves hair silky and shiny, without excess grease. It's made to help prevent split ends and other damage, and can be rubbed into the scalp to promote healthy hair at the source.
If you're looking for a higher quality salon type product, Regis' Designline has come out with three must have products for your hair care routine. First is the olive oil shampoo and conditioner. When used in tandem, these two products will penetrate your roots and help your hair grow and stay healthy. The third product is the leave in conditioner, which is especially great for on the go, or if you're suffering from particularly dry hair.
Avocado is one of the upcoming popular oils that we haven't take a close look at yet when it comes to how it can help hair growth. Yes, Avocados are good for more than just tasty guacamole, it contains fatty acids that are ultra moisturizing, and when combined with the packed in power of Olive Oil we feel confident you'll get results you can be happy with. The serum should be used in sync with a high quality shampoo and conditioner to take your hair growth to the next level.
When in doubt, consult the ancient philosophers. No one knows olives better than the Mediterraneans, so we can't be surprised that they have been using olive oil as a restorative serum for lifetimes. This 100% natural oil blend features extra virgin olive oil, mixed with almond, grape seed, and lavender essential oils to get the most from each drop. This hair, skin, and nails serum is vegan and unrefined, so you aren't getting anything synthetic or harmful.
If you haven't already heard, coconut oil is an amazing natural remedy to try using to help stimulate hair growth and prevent the progression of hair loss. Why not combine it with olive oil for a double whammy? Perfect Hair made this serum to help tame frizzy hair and give you a sleek look, while simultaneously giving you a healthier scalp and mane.
---
What Should I Know About Olive Oil?
In this article we go over the benefits of using olive oil for hair growth, and different ways that you can use it to help your scalp and hair follicles stay healthy. At the end of the page, you'll find out 5 favorite olive oil hair products that will help stimulate healthy hair and growth.
What Is Olive Oil?
Olive oil is a rich, flavorful oil often used in cooking or to make salad dressing. It originated in the Mediterranean and has a heavy presence in virtually all styles of cooking in the region. The oil is credited as being a heart-healthy fat due to the fact that it is for the most part made up of monounsaturated fats. It's also high in Vitamin E and K which both offer a slew of health benefits.
Women in the Mediterranean region have been using olive oil as a beauty treatment for their hair and skin for generations. It turns out that they were onto something. This study indicates that the antioxidant effect of olive oil can reduce the effects of UVB radiation. This means that using olive oil as a moisturizer may reduce the risk of skin cancer.
But that's not the extent of olive oil's power. Olive oil for hair growth may also be a thing. Let's take a look at how this is possible.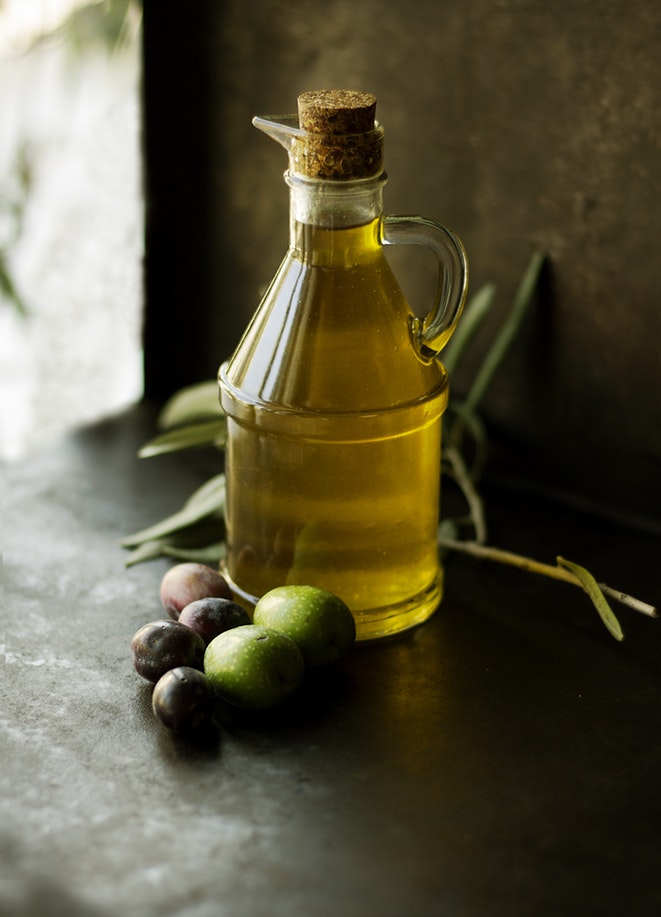 What Causes Hair Loss?
Not all hair loss is caused by the same thing. There are various reasons that a particular person could be losing their hair. Here are some of the most common ones.
DHT Hormone
Genetics play an important role in hair loss. In particular, it is tied to how much dihydrotestosterone (DHT) your body produces. You might have noticed the word "testosterone" in that mouthful up there. The DHT hormone is not testosterone, but it is related to it.
This is also why you tend to see more of this type of baldness in men. Although, if you are experiencing female pattern baldness, you know it is not limited to men. DHT lives in hair follicles and its presence has a damaging effect. Simply put, it causes the follicle to grow narrower until the hair no longer has space to grow out.
Alopecia
Alopecia is an autoimmune disorder in which the body thinks that hair follicles are bad guys and go on the attack. It can leave the sufferer with unattractive random bald patches. There are various forms of alopecia, but for one of them, inflammation is a key culprit. This inflammation can come about through allergies, a compromised immune system, or something else entirely. Whatever causes the problem, if you can deal with the inflammation, your hair may begin to grow again.
Chemical and Heat Damage
Some people expose their hair to some pretty hefty abuse. Curling irons, hair dryers, perms, coloring agents, and even some shampoos and hair treatments can take a toll. Over time this damage adds up and weakens individual hairs. It is not common to see all out baldness as a result of mistreating your hair. But it is common to see thinning, brittle, and otherwise lackluster locks as a result of this abuse.
Olive Oil For Hair Growth
So what about olive oil for hair growth? Is olive oil good for you hair? If most people are balding because of genetics and the interplay of hormones, what can olive oil do?
Amazingly enough, olive oil for hair growth can do a lot.
Though there are no definitive studies, it appears that olive oil can actually reduce the presence of DHT. Less DHT in the follicles means they can widen up enough again to allow the hair to grow.
But that's not all that olive oil can do.
Olive oil contains a compound called oleocanthal. This compound appears to have strong anti-inflammatory properties not unlike Ibuprofen. Researchers are even hopeful it could be used as a natural alternative to this drug.
What does this mean for your hair? Well, if you suffer from alopecia as a result of inflammation, olive oil could be an effective treatment for you. The Vitamin E and other nutrients in olive oil are also very nourishing. If you're experiencing thinning hair due to external damage, olive oil for hair growth could be your solution. Olive oil nourishes the scalp and helps to strengthen individual hairs. This makes them less likely to break or split.
Olive Oil Uses Method
An easy way to use olive oil for hair growth is to make your own olive oil shampoo. You only need a few ingredients and it doesn't take much effort. There are various olive oil uses recipes that you can try. Here's a basic one to get you started.
First, you'll need to gather the ingredients. You'll need:
1 cup of olive oil
1 teaspoon of evening primrose oil
2 teaspoons of apple cider vinegar
1 teaspoon of baking soda
All you have to do is put them in a container and shake them together. Make sure that you break up any clumps from the baking soda. Then use it to wash your hair, massaging the scalp for a couple of minutes. You may want to let it sit on your hair for a few minutes to allow good penetration. Then, rinse your hair well and sit back and enjoy the benefits of your homemade olive oil hair treatment!