Last Updated on August 25, 2020 by Hold the Hairline Team
You may recall Simon and Garfunkel croning "Parsely, Sage, Rosemary and Thyme…" in their 60s hit, Scarborough Fair, featured on the soundtrack of The Graduate and based on a medieval English folk song. But have you ever pondered the benefits of these members of the mint family beyond those haunting lyrics and the delightful aromas and flavors they add to our foods? The benefits of herbs are numerous, consumed as part of regularly prepared cuisines, as well as used in fresh, dried, and extracted forms for specific medicinal purposes. Rosemary, in particular, has a wealth of health benefits in addition to its beauty, fragrance, and taste. One of the lesser-known of these benefits is the use of rosemary oil for hair growth and rosemary oil for hair loss.
Comparison Table: Hair Growth Products Containing Rosemary
Here's a quick chart comparing the top rosemary products of this year.
What is Rosemary?
Native to the Mediterranean, Rosemary is a perennial evergreen shrub, characterized by its dark, green leaves, blue flowers and strong scent. The benefits of this amazing plant are numerous, using rosemary oil for hair growth is just one of many options. Rosemary contains anti-inflammatory compounds, is a good source of Vitamin A and has been used throughout history for improved memory.
Rosemary for Health
Rosemary's other health benefits include:
supporting the immune, circulatory and digestive systems
antibacterial qualities
analgesic (pain-relieving) qualities
mood enhancement
anti-aging aide
Rosemary for Body Care
Due to the properties mentioned above, rosemary is used in many products related to the care of the body, both inside and out. Used in mouthwash and toothpaste for its breath-freshening and antibacterial qualities, rosemary supports both oral hygiene and dental health. It can also be used as a treatment for specific dermatological conditions as well as to hydrate and beautify the skin.
The rosemary plant has a restorative and rejuvenating effect on the skin when taken internally by drinking teas, by eating foods prepared with fresh or dried rosemary leaves or through the application of lotions and creams infused with rosemary essential oils.

Rosemary for Hair Care
Is rosemary good for hair, too? Delightfully, yes! The benefits of rosemary for hair are diverse and numerous. Though it is not advised to ingest rosemary oil or apply it directly to the skin, it has a variety of uses and benefits for the body, specifically, the hair, when mixed with other oils. Rosemary for hair loss is a common use.
Rosemary oil has been found to be beneficial for hair health in general, and more specifically for hair growth. As mentioned above, rosemary supports the circulatory system, stimulating blood circulation to the head, and most important for hair care purposes, to the scalp.
In addition to relieving the itch and dryness of dandruff, as an essential oil, rosemary stimulates the hair follicle enabling hair to grow longer and stronger. It has been found to slow down premature hair loss and graying as well.
Other benefits of rosemary essential oil for hair also includes to darken and strengthen hair used as a rinse or when mixed with oils and massaged into the scalp. These are just some of the many uses of rosemary essential oils.

Rosemary Essential Oil for Hair Growth:
blood circulation in the head
relieves itchiness, dryness, and dandruff
stimulates growth
strengthens hair strands
slows premature hair loss and graying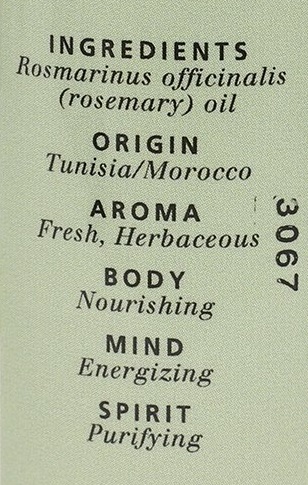 Rosemary Treatment for Hair
Wondering how to use rosemary oil for natural hair? Are you an aspiring herbalist, like to go "au naturale" or simply out to save a few bucks? Rosemary treatments for hair come in many forms. Here are some tips on How to Use Rosemary Oil for Hair options from psychotherapist and natural hair care guru, Nikki Walton, also known as "Curly Nikki":

Rosemary Infusions
This is a rosemary hair rinse made from simply boiling fresh rosemary in water. Can be used immediately after steeping; cleans, shines, battles gray, treat dandruff, and scalp issues.
Rosemary Oil
Similar to the rinse, rosemary oil can be made with just two ingredients: fresh, crushed rosemary, and a non-heat sensitive oil. Requires a few weeks to sit before use; stimulates hair growth, treats dandruff and scalp issues, shines.
Rosemary Vinegar
Add fresh, crushed rosemary to apple cider vinegar. Also requires a few weeks to sit before use; cleans, shines, conditions.
7 Best Rosemary Hair Care Products
Don't have the time, patience, or interest in crafting your own hair care products? No worries – there are many rosemary product options out there for hair care, in general, as well as those that address hair loss and growth. The following is a sampling of those that utilize rosemary essential oil for natural hair treatments.
Best Rosemary Oils
This product is 100% pure Rosemary Essential Oil from Morocco. Aura Cacia is part of a co-op, owned by its members since 1976. Made without animal testing and paraben-free, this rosemary essential oil for hair loss will is one of the best pure oils for the value. Contains: Pure Rosemary Essential Oil.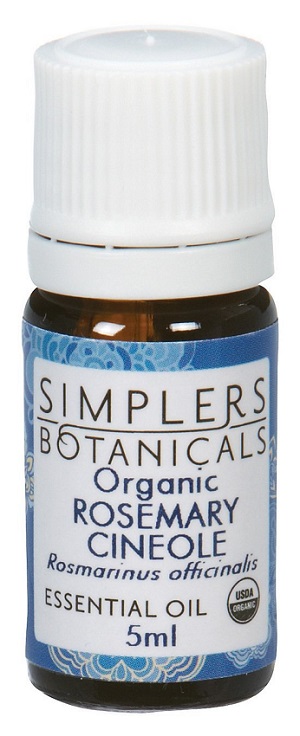 Rosemary Cineole Organic Essential Oil by Simplers is 100% certified USDA organic, distilled on-site in Tunisia. Their therapeutic quality products are made by a staff of herbalists and specialists with a "passion for quality, purity, and integrity". Contains: Organic Rosemary Cineole Essential Oil.

Rosemary Cineole and Rosemary Verbena Essential Oils by Veriditas are 100% USDA organic and ECOCERT, ensuring that both the product and practices are good for the earth and the life it supports. If you're looking for rosemary oil for hair growth, look no further. These products are sourced from Morocco and Corsica, France respectively. The name Veriditas is derived from the Latin words "green" and "truth", coined by Hildegard to describe the "divine healing power of nature".

Best Hair Care Products with Rosemary Oil
It appears that there isn't much that Soulflower's Cold Pressed Castor & Rosemary Hair Nourishment Oil doesn't do. From promoting hair growth and strengthening hair roots, to shining, conditioning, detangling, de-frizzing and moisturizing, use of this product is like a spa day for your head and hair. 100% pure organic, vegan, Indian formula. Contains: Pure Rosemary Essential Oil, Pure Cold-Pressed Castor Oil.


Designed to prevent and stop hair loss while accelerating hair growth, Sweet Sunnah's Black Seed Rosemary and Carrot Nourishing Hair Oil also strengthens and conditions the hair and soothes the scalp. Made from an infusion of rosemary and other herbs (sage, nettle, lavender), vitamins (A&E), and oils (sunflower, black seed, carrot, and jojoba), this may be a good choice for those seeking products with rosemary essential oils specifically for hair loss.
The Black Seed Hair Growth Oil Formula promotes healthy hair growth, too, specifically designed to fight DHT buildup, which has been associated with early hair loss.

Rosemary Conditioning Hair Oil, by Weleda, nourishes and restores moisture to the hair and scalp, softening ends, and adding shine. Made from rosemary sustainably cultivated and wild-harvested in Spain, Weleda was founded by Dr. Rudolph Steiner, a key figure in the biodynamic agricultural movement and one of the first female doctors in Europe, Dr. Ita Wegman.
Weleda products are created with the intention of reconnecting the body with its "natural rhythms". 75% of product ingredients come from organic, biodynamic or wild collection and fair trade farming practices.

The Fertile Roots Organic Hair Growth Set by Laritelle offers a complete hair care package (shampoo/conditioner/oil) bursting with nourishing and enriching ingredients for the care, nourishment, and growth of your hair. These products contain a blend of 100% certified organic herbs (rosemary, clary sage, ginger, clove bud) and oils (argan, jojoba) designed to stop hair loss and promote hair growth.
Rosemary oil for hair growth combined with these other essential oils will lead to stronger and healthier hair. They also rejuvenate and restore damaged hair while nourishing the scalp. Earth-friendly and non-toxic, Laritelle is committed to environmental practices, down to its packaging, which is recyclable glass or BPA-free plastic.