Last Updated on August 25, 2020 by Hold the Hairline Team
If you've already looked at our suggestions for women's shampoos, now take a look at the best hair growth products for women. Most people think of hair loss as being something that only men deal with. In reality, though, lots of women struggle with thinning hair or hair loss, especially as they get older. In fact, 40 percent of all women will have visible hair loss by the time they reach 40. If you're a woman starting to notice hair loss, don't panic.
There are lots of reasons why you might be experiencing this, and there are plenty of products on the market that will help you prevent additional hair loss and support hair growth.
Read on to learn more about the best hair growth products for women, including our picks for Top 10 Hair Growth Products for Women.
10 Best Hair Growth Products for Women
Now that you know more about how to choose the best hair regrowth products women, it's time to start shopping.
If you're not sure where to begin, these ten best hair regrowth products for women are all high-rated by consumers.
Best Hair Regrowth Shampoos for Women (+ Conditioners)
1. Pura D'or Hair Loss Prevention Shampoo and Conditioner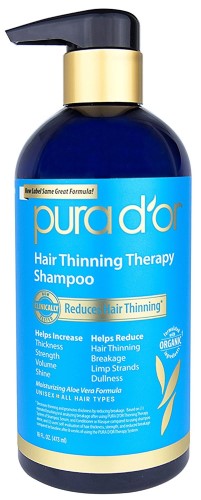 The Pura D'or hair loss prevention shampoo and conditioner regularly rank among the best hair growth products for women and men. Not only do the shampoo and conditioner prevent additional hair loss, but they also support healthy hair growth. They do this by strengthening the hair and increasing circulation to the scalp. They also are loaded with essential nutrients that reduce damage and speed up the healing process.
This shampoo and conditioner also contain dihydrotestosterone (DHT) blockers. These ingredients are androgen blockers. Since high androgen levels can cause hair loss, lowering them can promote hair growth. We've got this particular product on many of our product summary pages on Hold the Hairline. It's easily the best hair growth shampoo for women.
2. Lipogaine Big 3 Shampoo
The list of the best hair growth products for women would not be complete without a mention of Lipogaine's Big 3 Shampoo. Color safe, free of harsh chemicals, and used by both women and men, The Big 3 Shampoo features a key component in aiding against hair thinning and loss: ketoconazole. This shampoo contains nutrient-rich ingredients like emu oil, nettle extract, biotin, peppermint, and castor oil. These ingredients may help prevent hair loss and encourage healthy new hair growth.
3. Ultrax Labs Hair Surge Caffeine Hair Growth Stimulating Shampoo and Conditioner
You can also pair the Ultrax Labs hair serum with a matching shampoo and conditioner. Like the hair serum, this shampoo and conditioner contain caffeine to stimulate hair growth and ensure the hair follicles are working properly. They also contain a wide range of essential oils and other natural ingredients that promote healthy, fast-growing hair.
4. Hair Restoration Laboratories DHT Blocking Hair Loss Shampoo
Hair Restoration Laboratories makes another great DHT-blocking shampoo that strengthens the hair and stimulates the scalp. Many people see results after just a few months of using this shampoo. It's free from potentially problematic ingredients like parabens and sulfates. It also contains biotin, vitamin E, and essential oils for extra strength and scalp protection.
This shampoo is one of the best selling shampoos on our men's top hair loss prevention shampoo page. The combination of saw palmetto, pumpkin seed, caffeine, green tea, biotin, and pygeum bark offers a potent combination of natural DHT blockers. For some extra oomph, get their Professional Strength product that contains a massive list of ingredients + ketoconazole.
5. Dermachange Hair Growth Shampoo and Conditioner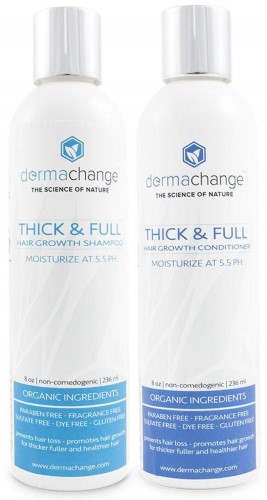 Another great shampoo and conditioner for hair growth are the Dermachange Hair Growth Shampoo and Conditioner. This organic shampoo and conditioner contain organic manuka honey, coconut extracts, and essential oils. With all these nourishing ingredients, you'll promote a healthy, nourished scalp and will soon see soft, thick, and silky hair.
When you use these products regularly, your hair will be healthier, stronger, and less likely to thin or fall out.
Best Female Hair Growth Products: Serums & Natural Supplements
6. Ultrax Labs Hair Lush Caffeine Thickening Treatment Formula Serum
This hair growth serum has been shown to thicken hair by up to 150 percent! It contains caffeine, which can minimize hair loss and stimulate follicle growth to help your hair grow back thicker and healthier.
The hair growth serum also adds lots of fullness and body to your hair. This helps minimize the appearance of hair thinning and hair loss while you wait for the serum to work its magic and help your hair grow back.
7. Lipogaine for Women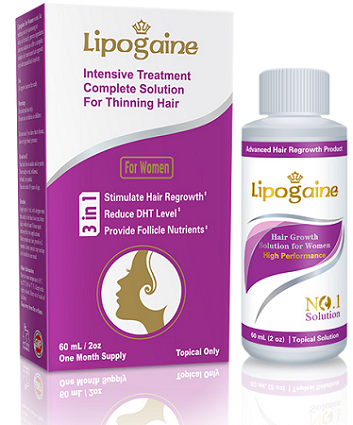 Lipogaine for Women is a complete formula that delivers 2% minoxidil as well as Lipogaine's time tested proprietary blend of DHT blockers. It is the most popular 'designer' minoxidil available on the market. Minoxidil is the active ingredient found in the most popular hair loss treatment of all time: under the brand name Rogaine.
The Rogaine for Women product is a great place to start, but it does not contain all the ingredients found in the Lipogaine formula, only minoxidil. While it is difficult to say how much these other ingredients will help, there are some promising studies surrounding herbs like saw palmetto, beta-sitosterol, and azelaic acid.
8. PhytoLife Natural DHT Blocker Supplement with Saw Palmetto
Saw Palmetto is native to the Caribbean and has long been used for its ability to promote faster hair growth in both men and women who are struggling with hair loss. The main reason saw palmetto works so well is because of its natural DHT-blocking properties. Many hair growth shampoos, conditioners, and styling products contain saw palmetto as the main hair growth ingredient. You can also take saw palmetto in oral supplement form.
9. The Roots Naturelle Virgin Hair Fertilizer
The Virgin Hair Fertilizer from The Roots is a great option for people who are dealing with hair thinning, hair loss, or breakage. This deep conditioner contains essential oils and a variety of natural oils like olive oil and almond oil. These oils nourish the scalp and stimulate the roots to promote faster hair growth. It's an especially good product for women who have curly hair, weaves, and/or colored hair.
Some of the nutrients you'll find in this conditioning treatment include:
Vitamin C
B vitamins
Vitamin A
Vitamin D
Vitamin E
Iron
Magnesium
10. Castor Oil

Many women use castor oil to help promote eyelash growth. But, you can also use it to speed up your hair growth or regrowth. Castor oil has natural anti-fungal and antibacterial properties, and it helps nourish the scalp and hair follicles to promote healthy hair and fast regrowth.
Castor oil works great when it's used on its own and when it's added to a conditioner or other leave-in treatment.
Common Causes of Female Hair Loss
Before you start shopping for products hair growth products, it's important to first figure out why you're losing hair in the first place.
Some of the most common causes of hair loss in women include:
Genetics: If other women in your family have struggled with hair loss, there's a good chance that you might deal with it as well.
Stress: A dramatic life change or chronic stressor can create imbalances in the body that lead to hair loss.
Thyroid disorders: Hair loss is a common symptom of both hyper- and hypothyroidism.
Nutrient deficiencies (especially iron and vitamin B12): Iron and vitamin B12 are both important for healthy hair growth (as well as other bodily processes); a deficiency in either one of them can lead to hair loss or thinning.
Sudden or dramatic weight loss: When you lose weight too quickly, your chances of experiencing nutrient deficiencies and/or hormone imbalances increase.
Hormone imbalances: If you have too many androgens (male hormones), you may experience a shorter hair growth cycle and may end up experiencing hair loss.
Menopause: When you go through menopause, your estrogen levels drop and you may lose hair as a result.
Aging: The hair also naturally thins out as you age, which can cause you to appear as though you're losing hair.
Next Steps
Once you determine the potential cause of your hair loss, you can start taking steps to correct the problem. Sometimes, you need to work with a doctor or specialist to correct imbalances or minimize stress in your life.
Other times, the solution is as simple as cleaning up your diet or taking some dietary supplements.
In addition to making these kinds of lifestyle changes, you can also utilize hair growth products at the same time. These products can help prevent additional hair loss, and they can help speed up the hair regrowth process.
How to Choose Hair Growth Products
There are lots of options to choose from when it comes to fixing hair loss, including shampoos and conditioners, topical products, and oral products. But, these options aren't all created equal. In order to see the best hair regrowth for women, you need to make sure you're using high-quality products.
The following guidelines can help you sift through all the different products available on store shelves or online so you can determine which ones will work best for you.
Ask for Recommendations
As with any type of product, the first thing you should do when you're looking for hair growth products is to talk to people who have struggled with hair loss in the past.
Reach out to women who have dealt with hair loss and ask them which products they recommend. You can also reach out to people on online forums or social media groups if you don't know anyone personally whom you can ask.
Read Reviews
Once you have recommendations for a few different products, check online to what people are saying about these products in reviews. This will help you determine whether a product is truly a good one or one that only works for a few people. You'll also be better informed about any potential side effects certain products may cause.
Check the Label
Some ingredients are known to be more beneficial for hair growth than others. It can be confusing to try and figure out which products are the real deal. But, if a product contains any of these well-known ingredients, chances are better that it will be effective at promoting hair growth.
Biotin
Keratin
Niacinamide
Pantothenic Acid
Vitamin C
Of course, these are not the only ingredients that are good for hair growth. But, products that contain them are typically more reliable than ones that do not.