Last Updated on August 11, 2020 by Hold the Hairline Team
Who doesn't want long, flowing mermaid hair? Hair growth is so important and so sought after that there's a whole industry around it. A $4 billion industry to be exact. Whether it's from an ill-advised chop or a recent bout of hair thinning or just because it's time for a change, the best hair growth serums and products can help you get back to your dream locks.
The Best Hair Growth Serums On The Market
Now, let's get to what you've been waiting for. The best hair growth serum products on the market. Read on to discover the solution that you've been looking for.
This hair growth serum claims to support the strengthening of the hair root and to encourage blood flow to the scalp. Through this, it encourages healthier hair growth.
It's good for stopping thinning hair and treating alopecia. (Alopecia is also known as spot baldness and it's when you have bald spots or thinning patches on your scalp.)
This hair serum also encourages hair repair by locking in moisture, encouraging shine, and controlling frizz. It repairs, softens and strengthens your hair all in one go.
This hair oil is made with a mix of natural oils and botanical and is said to leave hair feeling thicker, healthier and shinier.
It promotes thick, long hair growth. It also, when used properly, reduces the time needed to blow dry hair, which can help promote hair healthiness and, in turn, hair growth. This serum also softens and detangles hair, which can help prevent hair breakage.
This serum is 100% castor oil and is said to help with hair growth all over the body (head, eyebrows, eyelashes, etc.).
You'll want to turn it into a hair mask by mixing it with jojoba oil and peppermint essential oil. Apply it to wet hair, let sit for 15 minutes, and then shampoo and condition as normal.
It's 100% natural and organic and is suitable for use with all hair and skin types. It is also free from any additional additives.
The main ingredients of this hair growth serum are Biotin and DHT-blockers. Because of this, it slows hair loss in both men and women and promotes hair regrowth in those who have thinning hair.
It is suitable for use with all hair types – whether your hair is normal, oily, dry, or damaged.
To use it you'll want to spray a decent amount of the serum onto your hair – paying special attention to thinning or affected areas – and then massage the solution onto your scalp to promote blood flow and absorption.
This treatment actively encourages hair growth by cashing in on the unrivaled nourishing properties of the powerful antioxidant Argan Oil.
This is an ultra-light hair oil that is instantly absorbed by hair and which helps to improve control, elasticity, and health. All things needed to promote hair growth.
To use, apply a small amount to hair once per day, and work through the strands to cover from root to tip.
This product plumps up existing hair to increase hair follicle diameter by 9%. It works to instantly plump each strand of hair to encourage fullness and density.
It also strengthens hair fiber to prevent breakage and promotes a healthy scalp. Both of which help with natural hair growth. This product is safe for all hair types, including color and chemically treated hair.
Other Things To Try
In addition to the serums listed above, vitamins and supplements are a great thing to try. There are a number of them on the market but a nice, healthy Biotin supplement is always a great place to start.
Additionally, shampoo and conditioner treatments are another great thing to try. Whether they're individual or they come as a treatment system, they can help promote healthy hair growth and a healthy scalp.
Hair Growth Basics
The biggest necessary factor when it comes to promoting hair growth is a healthy scalp. And the best hair growth serum and products help you to stimulate blood flow to the scalp.
On average, hair grows about half an inch per month. And your hair (and skin and nails) is composed largely of protein. Therefore, a diet rich in healthy proteins will help your hair grow longer and stronger.
Get to the Roots
Hair grows from the root (also known as a hair 'bulb') where the cells group together to form a keratin known as hair protein. The hair follicle feeds off of tiny blood vessels while it grows so any lack of nutrient or hormonal imbalance will make it hard for your hair to grow and prevent hair health.
In fact, the absence of certain things, like:
iron
zinc
niacin
fatty acids
selenium
folic acid
antioxidants
biotin
protein
and vitamins A, D, and E can lead to poor hair health and hair loss.
If you're low on one of these – or a few of these – this may explain why your hair is less than lustrous.
Your Hair is What You Eat
Sticking to a diet and vitamin supplements that provide you with things from that list will help keep your hair healthy and growing.
But that's not always enough, is it? Sometimes we just have thin hair or our hair won't achieve the thickness, volume or length that we're hoping for. So when that happens it's time to turn to other things.
Some Tips To Keep In Mind
Even if you're using a hair growth serum or product to get that full, thick, long, lustrous hair that you're looking for, you still need to make sure you're taking good care of your hair and scalp. This will prevent you from undoing the hard work of the serum or product you're using.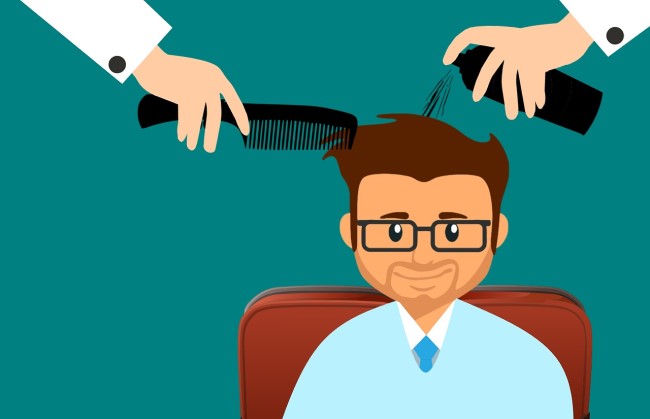 1. It Takes Time
You definitely need to practice patience because even with a hair growth serum or product your hair isn't going to grow overnight. Keeping your hair healthy and treating it well will help speed up the process, but it's still going to take some time.
2. It Takes Maintenance
Make sure you're going in for regular trims. This prevents split ends and keeps your hair healthy and strong. It also prevents the splits from traveling up towards your scalp which can cause breakage higher up and which will frustrate your hair growing fantasies.
3. It Takes Moisture
You want to make sure you're using conditioner every time you shower. The conditioner will help replace lipids and proteins in your hair, keeping it healthy and glowing.
And speaking of showers – don't shampoo every time you shower. While shampoo's main purpose is to wash away dirt and product build-up and other nasty stuff, it also strips your hair of its natural oils. These natural oils are essential for keeping hair healthy and happy and soft.
4. It Takes Nutrients
Also, take some hair boosting supplements, like biotin. These will give you the vitamins you need to keep your hair and scalp healthy and growing well.
How Hair Growth Serums and Products Work
There are four main kinds of hair growth serums and products: ingestible, topical, herbal, and shampoos and conditioners.
Ingestible and herbal hair growth products tend to be vitamins and similar things. Although herbal hair growth products can also include things like coconut oil and olive oil.
Topical products include things like serums, special masks, and, yes, shampoos and conditioners.
But how do the topical products work?
The Answer
The bad news first: there is no miracle serum yet.
You won't regrow hair in new places – but you will promote scalp and hair health and be able to create thicker hair and promote growth in places where hair already exists.
This will up your volumizing regimen and make it easier to hide areas where hair may be patchy. It'll also create thicker hair in areas where hair may be thinning.
The way serums and hair growth products work is by stimulating blood flow to the scalp. Because of this, products that contain menthol or peppermint oil are especially good as this helps the scalp be reinvigorated.
Making The Best Hair Growth Serums Worth It
You want to make sure you thoroughly massage the serum into your scalp because this will "wake up" your skin and hair follicles. An invigorated scalp means improved circulation to blood vessels, which carry the nutrients from the serum or products to the right place. This keeps the hair follicles working efficiently to make the most use of your hair growth product.
When your scalp has poor circulation your hair and scalp become unhealthy, which leads to breakage, thin hair, and brittle hair.