Last Updated on August 11, 2020 by Hold the Hairline Team
60% of the products you use on your body and hair find a way into your bloodstream and organs. Toxic chemicals are everywhere, even in our hair care products. They can lead to serious side effects and long-term health problems down the road. You may already know that you don't want yourself or your family to use shampoos with toxins in them, so how do you choose? What is the best organic shampoo?
In this article, we'll discuss which toxins you'll want to avoid and which shampoos are best to keep your hair tip-top and your body chemical-free.
Toxins to Avoid in Shampoos
Before we get into the best organic shampoos, we'll need to talk about the toxins you don't want in your shampoos. Most "name brand" shampoos are chock full of them, so you'll want to ensure anything you buy from now on is free of it.
Sodium Lauryl Sulfate
Sodium lauryl sulfate, otherwise known as SLS, can cause depression, liver damage, rashes, and diarrhea. It can even cause eye damage if it accidentally finds its way into your eyes. You can find it in a variety of cleaning products, so you'll definitely want to make sure your hair care is free of it.
Parabens
Parabens are a common preservative found in many mainstream cosmetics. While most people don't notice them, some have severe allergic reactions to it. This can cause itching and swelling of the skin or dermatitis. It is associated with an increased risk of skin cancer and skin damage. It is especially important to avoid if you have a sensitive scalp.
Polyethylene Glycol
Polyethylene Glycol, also known as PEG, is found in many conditioners. It is used in antifreeze and may be known to cause cancer.
Best Organic Shampoo: Top 9 Organic Shampoos
Now, let's get into the recommendations! Here are our choices for the best organic shampoo for hair loss on the market.
1. Pura d'Or Shampoo
Best Organic Shampoo for Thinning Hair

Pura d'Or is a fantastic brand for helping you combat thinning hair or hair loss. If the hair on your scalp is thinning, you'll want to protect it as much as possible. This is where Pura d'Or comes in. The shampoo, which is widely available in a selection of stores online and off, is free of parabens, sulfates and is gluten-free. It is hypo-allergenic, made for the most sensitive scalps in mind.
Bonus Features
For those who care about the animals, it is actually cruelty-free as well. This means no animals were harmed in the making of the shampoo, nor were any of their byproducts used. Made in the USA, it is meant to invigorate your scalp and help stimulate hair growth in the natural way. Pura d'Or is loaded with biotin or vitamin B7. It is the vitamin associated with helping to keep your hair and nails as healthy as possible.
2. The Honest Company's Honest Shampoo
If you're a true minimalist, the Honest Company's Honest shampoo is absolutely perfect for you. Not only is it shampoo, but it also acts as a body wash. This is perfect for the individual who likes to travel and not take too many products, as this one is a double act.
In addition to its dual nature, Honest Shampoo is free of SLS, sulfates, parabens, synthetic fragrances, and formaldehyde. It gets its hint of vanilla and orange from utilizing completely natural extracts. Although it may be an irritant if you're very sensitive to shampoos with any kind of scent, the shampoo and body wash is all-natural.
Bonus Features
It contains a dose of aloe and chamomile to keep your skin nourished and soft. Honest Shampoo is made with a very gentle recipe that allows even babies to use it. If it gets in your eyes, it should not sting, unless your eyes are extra-sensitive.
3. Rahua Shampoo
Best Organic Shampoo for Hair Growth and Volume
Rahua is for the individual who wants to splurge a little bit. This shampoo is a bit more expensive, but those who use it often say it's totally worth it. With coconut oil as the star ingredient, it helps reinvigorate your hair. Many people love it because it strikes a balance between keeping your hair not too oily and not too dry. Included in the shampoo is Rahua oil, which is rich in omega-9. It has a slightly woodsy scent due to the Palo Santo oil in it but doesn't contain any synthetic fragrances.
Bonus Features
Rahua Shampoo has coconut oil, which can work to help with hair growth. It's free of sulfate, parabens and is gluten-free. It is also vegan and cruelty-free. Although it's still in its niche cult status, some people swear by the shampoo being the best they've ever used. If you or someone you know needs to be spoiled, this might be the perfect gift.
4. Big Shampoo by LUSH
Best Organic Shampoo
Cruelty-free and organic lovers alike are all naturally big fans of Lush. This British brand has created an entire line of delectable products that are both almost all vegan and natural. It has 17 ingredients, with all but four of them being naturally occurring. Big does have synthetic perfume, which for some people can cause irritation. However, there is only a small amount of it.
Big's main ingredient is hand-harvested coarse sea salt. It utilizes fresh seawater and seaweed to create this delightful oceanic mix. This fan-favorite is meant to give your hair a little boost, adding even more volume to your glorious mane!
Bonus Features
Lush offers a line of natural package-free shampoo bars. However, they do contain sodium lauryl sulfate or SLS. Lush has a whole section devoted to SLS in their shampoos, so it is up to you to decide if you should use it.
5. Art Naturals Argan Oil Daily Shampoo
Best Organic Shampoo for Hair Loss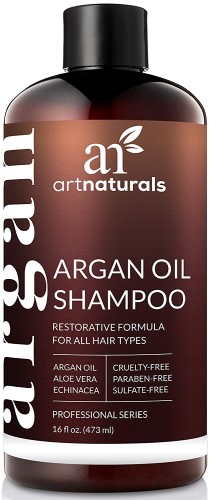 Art Naturals' Argan Oil Daily Shampoo is perfect for when you want that fresh out of the salon feel without the price tag. It'll save you an immense amount of time, as you can get the feeling just stepping out of the shower.
Argan oil comes from an Argan tree and is fully plant-based. Hailing from Morocco, it is featured heavily in their cuisine. Recently, it's become a major product for cosmetics and become increasingly popular. As a result, Morocco had to plant more argan trees just to accommodate the export! It's a great natural ingredient to keep your frizzy hair in control.
Bonus Features
For individuals that are worried about hair loss, it may help with hair growth. You'll simply need to massage it into your scalp. Argan oil can be tricky to use, as if you use too much of it, it will leave a greasy residue. That's why you'll want to purchase something like Art Naturals' shampoo. It gives you just the right amount of argan oil for your hair, while still getting it clean and not greasy.
This is the perfect shampoo to start out with if you're eyeing up argan oil to use as a leave-in conditioner. It's priced a lot cheaper than most shampoos that rely heavily on it as the main ingredient. It's cruelty-free and vegan, not something all argan oil shampoos can testify to. Using this, you'll have a clear head and a clear conscience.
6. milk_shake's Silver Shine Shampoo
If you have blonde hair, you might have been tempted to purchase any number of non-organic haircare made especially for you. Instead, try milk_shake's Silver Shine Shampoo. This shampoo is organic and environmentally friendly, while still helping your blonde hair stay bold and not brassy. You can also use this shampoo on white or grey hair to help keep it looking as bold as the day you colored it.
Bonus Features
This shampoo contains blueberries, raspberries, and strawberries to help keep your hair in the best shape possible. While it is environmentally friendly, milk_shake's signature ingredient is a milk protein. This means that it isn't vegan, and by some definitions, cannot be cruelty-free.
7. Ethique Organic Shampoo Bar
Best Organic Shampoo Bar
Want to keep your mane tamed and don't want to create even more waste? Or, do you want to bring it with you on a trip without having to worry about how much it weighs as a liquid? If so, you might want to opt for an organic shampoo bar. As we mentioned previously, Lush does offer its own brand of package-free shampoo, but it does contain SLS, which many people find troublesome.
Ethique is a solid eco-friendly bar of organic shampoo made with Samoan coconut and cocoa butter. You won't be scrimping on the shampoo with this one either. In fact, one bar of shampoo is equivalent to three bottles of shampoo. Ethique is made specifically for those with frizzy hair and will help you keep it tame. You can throw it in your travel bag and jet out the door!
Bonus Features
For those who are unsure about shampoo bars, they function very similarly to soap bars. That is that they lather up underwater. You can run the bar through your hair while you're under the showerhead, or you can lather up the bar in your hands. Either way, you'll still get the same stunning results as you would from any other liquid shampoo.
8. Seaweed Bath Company Shampoo
Best Organic Shampoo for Dry Hair
The Seaweed Bath Company started after a quest to find a solution for individuals with sensitive skin and sensitive scalps. After discovering that many women in Ireland went to seaweed spas, they found that this natural ocean plant could help women with all hair and skin types. Thus, Seaweed Bath Company was born.
The Seaweed Bath Company has a full range of products based on seaweed, all of which utilize sustainably harvested Maine bladderwrack (brown) seaweed. The seaweed detoxifies, hydrates and replenishes hair, giving it back its vitality. All of their products also contain aloe, which is known for its ability to soften and moisturize hair. It also contains Vitamin E, an important vitamin for hair growth.
Bonus Features
Vitamin E is often found in the best skincare products on the market, as it can help protect against chemicals and help keep the skin from aging. The Seaweed Bath Company's shampoos are all cruelty-free and not tested on animals. They're also free from gluten and parabens, two items that some individuals find irritating on their skin. If you're looking to boost your hair, the Volumizing formula is highly recommended.
9. Make Your Own!
If you're looking for something truly natural, get back to your roots and make your own shampoo. You don't have to have any magical degree or knowledge to do so. In fact, you can make it on your own with just a few ingredients.
For this shampoo, you'll need a few essential oils to get started.
Combine 15 drops of lemon essential oil, 10 drops of peppermint essential oil, 10 drops of rosemary essential oil, and 25 drops of melaleuca essential oil.
Combine the oils with 1/2 cup of Castille soap and one cup of filtered water.
Stir until you have your desired formula, and you have 16 ounces of all-natural shampoo.
Which is the Best Organic Shampoo for You?
When choosing the best organic shampoo, it's a good idea to ensure that it meets your specific needs. You may be fine with one ingredient, but find another causes you itchiness or makes your hair feel thinner. Deciding what exactly shampoo works the very best for you, you may need to experiment a little bit. It might be that you'll go through two or three before you settle on your holy grail. Or you might find it on the first try if you're lucky.
If not, you can always opt for creating your own shampoo yourself, ensuring you have full control of the ingredients.
Visit us here to learn more about natural ways to repair thinning hair.